Persuasive Sales Letter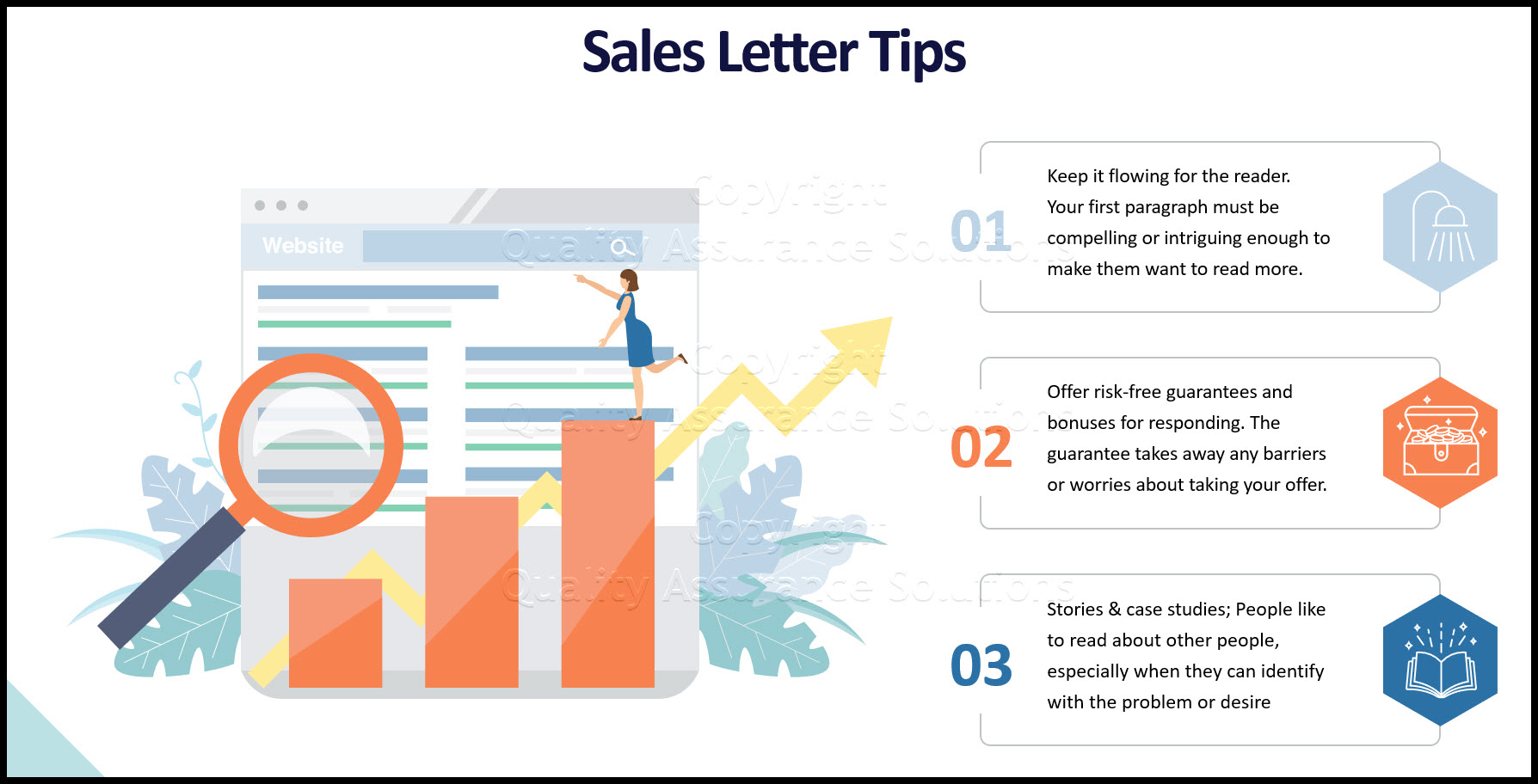 Discover the most important things for creating a persuasive sales letter.
Persuasive Sales Letter Tips

Question: What would you say are the most important things to consider about the content of a sales letter?
1 - Keep it flowing for the reader.  From the headline expand the promise you made.  Your first paragraph must be compelling or intriguing enough to make them want to read more.
Concentrate on informing and explaining why this is the perfect offer for your reader.  Include reasons why – especially if you are making an extremely attractive offer; benefits others have enjoyed and they could too; quote case studies and stories.
2 – Offer risk-free guarantees and bonuses for responding.  Be careful though, don't expect a 100% guarantee to sway your reader if you haven't convinced him (or her) this is the right offer for him.
A guarantee is used purely to take away any barriers or worries about taking your offer.  It encourages the person who is 'uum-ing' and 'ah-ing', who thinks it is a good deal but still has a slight reservation about going for it.  It tips the balance in your favor.
Remember, your prime purpose is to clearly explain why this offer is relevant and beneficial.  Also explain the bonus benefits too.

3 - Stories & case studies: In your persuasive sales letter, demonstrate how other people's problems were solved or how they enjoyed a greater result through your offer.  People like to read about other people, especially when they can identify with the problem or desire the other person had. 
BUT – don't tell the whole story immediately.  Keep your reader hooked, spread it through your letter – don't give them the 'punch-line' until after you've explained how your product or service delivers the solution.

TrainingKeeper Software. Keep, organize and plan all your employees' training and activities. Software includes multi-user support with reports, certs, and calendars.

Keep It Interesting
Question: You advocate a persuasive sales letter should be written in such a way as to keep it interesting and relevant to your prospect.  What tips do you have to help the writer?

1 - Focus on the reader not you, your company, service or product.  Even when you are describing the benefits of your product or service, write it from their perspective.

For example:

"Our unique weight-loss program is designed to reduce your weight by at least 10lbs each month"

could be written as…

"In your first month on this unique weight-loss program you lose at least 10lbs – and continue losing until you reach your ideal weight."

Write your letter as normal then search for 'we'; 'our'; 'my' and check if the sentence can be turned around.  It usually can.

2 – Write in a present tense.  Because we are thinking about what the reader will gain from taking our offer, we usually write in the future tense.  You want the reader to be immersed in the results and feelings they get from taking your product or service.  Writing in a present tense – as if they are experiencing it right now does that for them.  It involves the reader rather than letting them be a third-party observer of something that may (or may not!) happen.  After writing your letter search for 'will' and 'll and modify your sentence.

3 – Use 'live language'.  'Write as you speak'.  For people who have not done this before, this is the most difficult aspect of writing direct response letters.

One of the most frequent slips is using the word 'that'.  It gets slipped in when writing – yet the same sentence spoken out loud does not include the word.  Although it doesn't detract from your message, it can make the reading the persuasive sales letter stilted and stiff – not as natural as talking.  After writing your letter, search for the word 'that' and read the sentence aloud.  Does it flow more naturally without it?


Employee Handbook Kit includes two Employee Handbook templates for Professional & Manufacturing. Includes over 60 policies and benefits templates.
4 – Use 'Active' not 'Passive' language.  This takes a bit more practice to get to grips with.  Using active or action orientated language brings your sentence to life…
For example:
"The door was opened by Susan for Julie" - passive
"Susan opened the door for Julie" - active
5 – Keep your content simple and easy to read.  Use short words and sentences.  Vary the length of your paragraphs.  It gives your page a more attractive look.  Don't let your writing ramble.
"Never use a long word when a short one will do. If it is possible to cut a word out, always cut it out. Never use the passive when you can use the active. Never use a foreign phrase, a scientific word, or a jargon word if you can think of an everyday English equivalent." - George Orwell

Quality Assurance Solutions
Robert Broughton
(805) 419-3344
USA
email