Sales Planning Strategy

Use this sales planning strategy when sending out your sales letters. 

We make sales by communicating; whether by letter; email; talking; website; newsletters; flyers; brochures.  All are intended to get your message out to your marketplace. Let's have a look at a simple sequence of communication that is effective in getting sales…
You've probably heard advertising agencies or publications say you need to run an advert at least 6 or 7 times for people to notice and respond.  I tend to disagree with this wide sweeping statement.  I believe it all depends upon the type of advert, how well targeted the publication is and how well formulated the advert is. If all of these elements are spot-on you can expect results from the first advert placed.
However - there's always an 'however' isn't there?  The same can't always be said for direct response communication into a new marketplace, whether by email or letter.
If the person you are writing to does not know you or your business; has never even heard of you – then your first job is to familiarize them with the benefits of what they can get from you.  The real reason – from their point of view – as to why they should do business with you.  (I'm assuming here that you have done your research and selected only people who have already demonstrated an interest in what you offer).
And – provided you create your message in an evocative, compelling way – it is as easy as 1-2-3! (By the way, it doesn't matter what medium you use – electronic, postal mail, or whatever – the principle is the same).

TrainingKeeper Software. Keep, organize and plan all your employees' training and activities. Software includes multi-user support with reports, certs, and calendars.

Sales Planning Strategy
This simple process has worked very effectively.

1)  Start your sales planning strategy by writing an introductory message.  This message must be compelling and could, perhaps, give a hint of what's to follow.  For my client, we sent a 1-page letter from a staff member telling the prospect, who was specifically targeted, that she thought her Managing Director 'had lost the plot' because of the crazy deal he was about to launch to them.

She told the reader to look out for the package from her MD, which should arrive within 2 – 3 weeks.  The P.S. said the reader could phone if they wanted to get in ahead of the crowd.

This first letter created a flurry of phone calls.

2)  Your second message expands further on the first.  If you've used your first letter as a teaser – as I did for my client – your second gives the full story.  It clearly explains all about the service or product you are offering; the benefits the reader will enjoy; testimonials from other customers/clients who have already benefited; bonuses being offered and a call to action (the response you want from your reader).

For my client, this was the 'package' from the MD explaining more about the offer.  It satisfied the people who had read the first letter and were curious to know more – but not curious enough to phone up.   It generated inquiries about, and appointments for, the free demonstration he was offering.


Employee Handbook Kit includes two Employee Handbook templates for Professional & Manufacturing. Includes an additional 22 policies and benefits templates.
3)  A follow-up reminder.  In each of your messages always refer to the fact that you have written before.  This sales planning strategy creates consistency of communication in the recipients mind and they become more familiar with you, your offer and the benefits you intend to deliver.

In my client's campaign, we followed up with a message from the first sender asking if they'd received the package because she hadn't seen their name on the demonstration list and she was concerned that they'd missed it.

Sending a reminder is perfectly acceptable and many people will thank you – especially if the offer has a time-limit they might have missed because they got too busy.

When sending your 'missives' test using different media – we used a letter for the first contact, then a package which included an audio CD / CDRom presentation; followed by a reminder postcard.

The other elements of contact could just as easily have been an email, a newsletter or a phone call.

---
---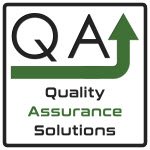 Quality Assurance Solutions
Robert Broughton
(805) 419-3344
USA
email