Bad Business Card Idea
and Self Marketing
Is your business card idea just for handing out at business meetings, because everyone else does so? Or is it a real marketing tool for you?
Provided you've got the design and content right it can be one of the hardest working marketing weapons in your arsenal.
But only if you use it properly to position yourself.
And that's where the quality of the card you use counts. It speaks volumes about you and your business.
Quality Speaks Volumes
Start-up business people know they need business cards. But often they go for false economy by using the cheapest methods possible to get their cards organized. Now, don't get me wrong, I'm not saying you have to spend a fortune on your business cards. What I am saying is the card should look like a quality card – no matter where you got it from.

TrainingKeeper Software. Keep, organize and plan all your employees' training and activities. Software includes multi-user support with reports, certs, and calendars.

Self-Print Cards
The entrepreneur, sole-trader, quality professional and other individual professional sometimes print their own business cards using the many 'business card' products available and an inkjet printer. Be careful…

These cards are often flimsy in order to feed through the printer and consequently, give the impression of 'a business with no experience or history'.

Handing these out, at business meetings in particular, can send out the wrong, damaging message. On top of that, inkjet printing smudges and runs if it gets wet – giving a less than favorable impression to the people you want to engage with. This is not a good business card idea.

On-line Printed Cards and a Bad Business Card Idea

Many websites offer free business cards. They provide a selection of available designs, and you can add whatever details you want. The cards  often come with a good-quality  weight and feel good to hand out.

There's just one thing that spoils these for you, which makes this another bad business card idea.

If you are only paying postage, the company supplying the cards must carry some means of recompense. And they have… YOU are doing their marketing for them.

They print their website URL on the back of your cards. So every time you hand one out you are advertising their website and, by default, you also imply you don't consider your business cards important enough to pay for them.

If you don't take your business cards seriously – why should anyone else?

By all means use these sites; they can be very cost effective. However, as a minimum, pay the small amount they ask to remove THEIR website details off the back of YOUR cards.


Employee Handbook Kit includes two Employee Handbook templates for Professional & Manufacturing. Includes an additional 22 policies and benefits templates.
Does Your Card Pass The Tactile Test
Test it for yourself: Close your eyes, and feel your business card. Does it honestly give the impression of quality, professionalism, trustworthiness and integrity?
If it doesn't, you just might be throwing future sales away when new business contacts get the wrong impression about you.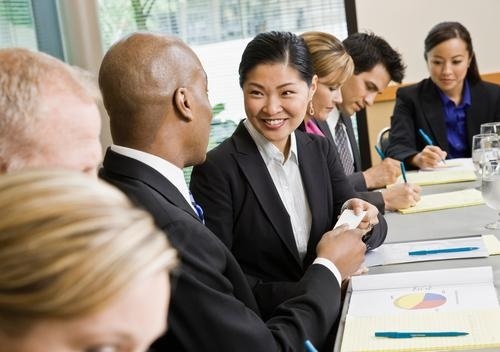 Do You Still Need Business Cards?
You've got a website. You've got a Facebook page. Why in the world do you still need business cards?
Imagine this: You're at a professional networking event or a business trade show. You've met someone you'd like to keep in touch with, someone with great ideas who wants to do business with you. She asks for your card.
"Search for me on LinkedIn." is not the correct response. Likewise, "I'm on Facebook." doesn't pack quite the same punch as a good-looking business card.
Just because the business world has entered the digital age does not mean you can forgo all the offline office protocols and marketing collateral. A business card idea remains a tangible reminder of you and your company. It sparks memories of a real-world encounter. It speaks for you when you aren't there. It's something people can hold and see, even when they're out of their coverage area or their iPhone isn't charged.
Good Business Card Idea
So get some cards. Rely on an old standby. But don't be afraid to give it a spin of your own. Personalize and update your business cards, and you'll stand out from the crowd.
Let your colors fly. People tend to hold on to colourful business cards because colourful designs catch people's attention. So why skimp on printing costs?
Heavier and better paper will give your cards a more professional feel. The good news is it doesn't have to kick up the price.

If you use both a landline and a cell phone for business, think about leaving your mobile number off your business cards. When you hand someone your card, you can say "You might have better luck reaching me on my cell." Then write your cell number on the card before you hand it to them. This is a great way to make the recipient feel like they're getting personal attention and access to your direct line. It's a little psychological trick that makes your card a little more valuable.
If you are the business owner, and you don't have a large company with multiple divisions, it might be a good business card idea to omit your title. "CEO" doesn't mean much if your business is a one-person start-up. You're probably also the marketing manager, the accountant, and the janitor.
If your business is entirely online, or if you provide a service that doesn't require a brick-and-mortar location, there's no need for a physical address on your cards. Your name, your business name, your email address and your phone number will suffice. Add your Twitter handle or your business website address—they're important. Resist the temptation to cram tons of information into the small space. If you do, it'll just result in an ugly mess.
A quick response (QR) code on your business card can direct whoever scans it to your website, to a promotional offer, or to just about anywhere else in the digital realm. QR codes can take up a lot of space on your card, so if you can't find a creative or visually interesting way to incorporate them, think about leaving them off.*
Distinctive designs get attention.

Organize Business Cards
The trusty Rolodex isn't as ubiquitous as it once was. Sadly, many people in the business world don't take the time to organize and store business cards they receive. They should!
If you don't want to deal with it, smartphone technology offers you a workaround. A variety of apps let you photograph your card, then save the info into your phone and set the picture as the contact's photo. Voila—a Rolodex that fits in your pocket.
The ways we network and conduct business have evolved. Still, many of the most important professional tools are the ones that have been around for a long time. Business cards still have the power to leave an impression. We can control whether that impression is good or bad. So be creative. Be bold. Set yourself apart with a modern spin, and you'll get ahead with your business networking.
Contributing Author includes Marshall Jones.
Article partially written, edited and posted by Quality Assurance Solutions
---
---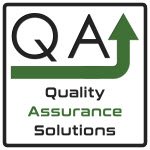 Quality Assurance Solutions
Robert Broughton
(805) 419-3344
USA
email