Small Business Mailing Lists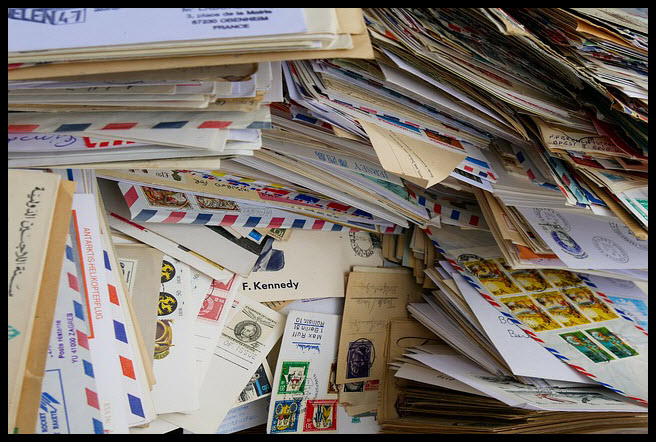 Many businesses, especially if they are breaking into a new market, purchase small business mailing lists to reach new prospects.
Types of Small Business Mailing Lists,
When you buy small business mailing lists, you do not necessarily 'own' the list, you cannot always use it ad infinitum. Mail list brokers frequently offer different arrangements:

1. Rent the list for one-time use only
2. Rent for multiple uses within a specific time-frame
3. Rent/buy for multiple uses without limitations.

The price they charge per record depends upon which of these options you choose and the information they supply. Note, they seed their list with dummy contact details, so they can check if a list is used more times than been paid for.

A generic list (Managing Director/Marketing Director/Buyer) which does not contain named job holders usually costs less than a list giving you the name of the specific person to contact.

Small business mailing lists including telephone numbers and email addresses could cost more.

If the list has been created from people who've responded to a particular offer that aligns well with your business you may have to pay a premium rate.


TrainingKeeper Software. Keep, organize and plan all your employees' training and activities. Software includes multi-user support with reports, certs, and calendars.

Selecting Your List
These will be cold prospects, but you should still try to select a list that matches your target audience as closely as possible.

This is easier with some list suppliers than others.

For example, some supply a data record describing the list content, how it was generated, when it was last updated and what the prospects likely respond to.
There are huge numbers of mailing list suppliers. Some generate the list themselves. Other's broker lists from other companies – effectively acting as a 'go-between'.

Where brokered, the list owner may have a condition that your mailing must be approved before they release the list. This demonstrates the owner's integrity to make sure they don't inundate their customers with irrelevant junk mail. And that, in turn, means the readers respond more likely to your offer.

Check these items when sourcing your mailing list – any professional list supplier will meet this criteria:
Accuracy of the list. How well prepared is the small business mailing lists; correct spellings, correct titles (Mr, Mrs etc), correctly typed town names and postcodes… are the postcodes in capital letters? Inaccurately typed addresses gives the wrong impression to the recipient as well as risking your mail going astray.
When was it last updated? If it is more than a month or so I would be a bit skeptical about the usefulness of it. Some mailing list suppliers state they run an update process on the list before supplying it. If they do, check exactly what that update covers.
Is the list examined against the preference services:
Mailing Preference Service

MPS

*/Corporate Mailing Preference Service

CTPS


Telephone Preference Service*

TPS


Fax Preference Service

FPS

[*Crucial if you are targeting consumers].
Is it checked for duplicates, moved, deceased?
Do they offer a deliver-ability guarantee? Always include a return address on your outgoing envelope. Ue purely the address – not the company name – on the back of the envelope. This returns any letters that can't be delivered. It allows us to keep our database up-to-date.  It lets you check count accuracy of your purchased list.

Get Green Belt Certified with this extensive on-line course. Learn the Six Sigma tools and steps. Earn 25 PMI PDU. Start implementing Six Sigma today
Reading the Datacard
The information supplied by small business mailing lists suppliers varies, some are very informative, others slightly less so. I'd advise using these datacards purely as a starting point. Once you feel you've found the right list for your product/offer you can contact the list supplier for further qualification before buying.
A Hypothetical Case

Let me introduce you to Lee Walker (an imaginary business person for the purpose of this story).
Lee produces a valuable and informative newsletter for property owning landlords. He wants to reach as many private landlords as possible to promote a subscription to his monthly newsletter.
Lee's target audience is predominantly male with a good income level. He wants prospects who have shown a clear interest in Property Investment as these are the people who are more likely to have purchased properties and then decided to rent out until the current housing market recovers; effectively becoming Private Landlords.
The challenge for anyone targeting landlords is finding them, especially if they don't use Letting Management Agents.
Lee decides to check what's available from small business mailing lists suppliers and gets this datacard from the supplier that may match his requirements.
Let's take a look at the card and see what he's basing his decision on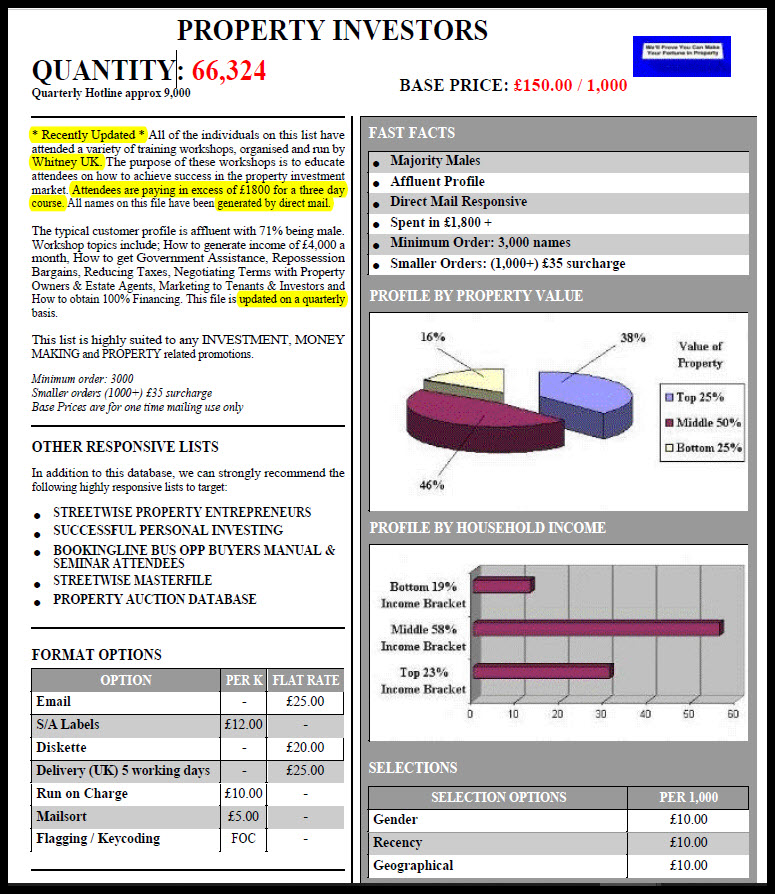 In the description, top of the first column, it says Recently Updated. Lee needs to check just how recent 'recent' is.
The list contains people who are serious about property investment (they must be to spend £1800 to attend a property investment workshop)
The description of some of the workshops these contacts have attended include 'Marketing to Tenants & Investors' – which matches the profile Lee has defined.
It states the list contains 71% male prospects with 81% being in the middle – higher income bracket. This implies they will have the means to pay a monthly subscription for quality information that could save them time, money and landlord legislative problems.
The list is described as Direct Mail Responsive. This is an important consideration because Lee intends to promote his newsletter via a direct response mailing campaign.
The list complies with the Data Protection Act and is MPS cleaned before supply. Lee needs to verify the MPS cleaning takes place immediately before his records are selected. MPS requests do take time to filter through to marketing companies. It is important to check the data against the very latest MPS list.
Although the minimum order quantity is 3,000 records, smaller numbers can be supplied for a higher outlay. This is worth considering so Lee can run test mailings before committing to a large scale promotion.
So – on the face of it – the people on this list seem to match Lee's requirements.
The next step is for Lee to talk to the supplier and check the answers to the questions I mentioned in the previous post.
And something else he would do well to ask:
How often has the small business mailing lists been rented/sold? Lee doesn't want to have a list that has been swamped with offers – at the same time he might think twice about renting a list that has never been used – why is that?
When was it last used? If it was mailed last week it might be better to check the viability of an alternative list. Lee could ask specifically for the records that were not previously supplied – but those may be the people who have been on the list longer or who are not as responsive as the first record selection might be.
Of course, even with a datacard or other extensive selection criteria, you can't guarantee these contacts will generate a high response – you are approaching a cold audience. Your offer, its relevance to these people and your mailing content all have an impact on the response you might expect to get.

This Data Analysis Video teaches you the basic tools for understanding, summarizing, and making future predictions with your collected data. Includes MS Excel templates.
Purchasing a Small Business Email List

If you have ever been tempted to purchase an email list for your small business mailing lists or gather email addresses from websites to use in your marketing, be wary. For example if you are in the UK  Anyone sending unsolicited – 'spam' – emails risks a fine of up to £500,000.
Any ethical marketing professional will advise you to gather emails for your promotions through tried, tested and legitimate methods. That can be offering free reports or information in exchange for their email address and permission to keep in touch.
In some cases people will put a false email address thinking they'll be taken straight to the download page.
Using double opt-in is a way of making sure an email address that is supplied is valid and the person it belongs to did ask for your info. (Double opt-in is where you send an email asking them to confirm their request before supplying the gift you've offered).
But even then people sometimes forget that they gave you their email and / or they might not be expecting more emails from you after they get the report. This means if they report your emails as spam you could find yourself facing an investigation. That's why it is crucial that you can prove the email was collected legitimately – another reason for using double opt-in for your small business mailing lists.

To avoid mistakenly being accused of spamming make it clear when you offer the free report or ebook that you will be sending them more information unless they ask to unsubscribe.
I'd also recommend mentioning in your first message that you will be sending more emails. Including a note in each of your emails of the date they subscribed, why they subscribed and the email address they used can also minimize undeserved reporting.
Oh, and do make sure that every email you send has an easy way for your subscriber to stop the messages if they wish – either with an unsubscribe link or with instructions on how to prevent further emails.
If you are looking for an email delivery service that can handle all of that for you, as well as giving great statistics on open and click through rates, I highly recommend Aweber. I've been using their services since 2009. [That is an affiliate link].

Your ISO 9001:2015 Kit includes Templates, QA Manual, Implementation Guide and a Gap Assessment Internal Audit Tool for ISO 9001:2015
Got the list – Now What
It's tempting to believe that a newly purchased small business mailing lists delivers a landslide of new customers. In reality, you may not get more than 1% or 2% response – sometimes even less! Obviously how specificly targeted your list matches your needs impacts this result.
Test the small business mailing lists to make sure you don't waste your money or effort. Select a portion of the list, send your offer and measure the results before committing to a full roll-out, which could be quite expensive.
Once someone responded to your offer, they become your customer/prospect and you can continue to communicate with them.
Because email marketing is such a low-cost way of reaching out to your prospects, you may consider purchasing an emailing list.

Be careful. In some countries, you cannot send unsolicited emails to individually identifiable people.

So ask yourself… is it worth sending an email to a generic company email address? Is it likely to reach the targeted person? And if it does, are they likely to respond, especially if they do not know you or your company?

Personally, I do not (and never recommend) buying emailing lists. I prefer to communicate with people who have opted-in, which means they would like me to keep in touch.

You can get these warmer prospects when you send out your mailing simply by giving them the option to visit a web landing page (or squeeze page) to subscribe for your informative emails or including an opt-in checkbox on your response (order) form.

---
---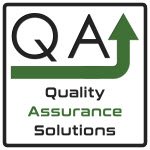 Quality Assurance Solutions
Robert Broughton
(805) 419-3344
USA
email