TRIZ Training On Line
We offer TRIZ Training on line in form of our TRIZ Kit. Below we discuss TRIZ and the elements that support QMS, innovation, and problem solving.

The Triz Kit includes the TRIZ Crossover QMS mobile application that enables the application of TRIZ tools and techniques in the world of quality management. We developed it to improve the creativity of managers and Quality practitioners.
Business and management innovation critically drives success. Today, more than ever, companies need innovation for competitiveness in global markets. We strongly believe that creativity leads to the revolution required to improve our systems, processes, products and services.
Innovation experts recognize TRIZ as one of best tools for problem-solving. Especially true for problems that require progressive solutions for system evolution prediction and discovering new approaches with minimal consumption of resources.
The TRIZ training on line kit provides a selection of powerful solution techniques. The Instructions for Use manual provides the basic TRIZ fundamentals. The manual includes analytical methods that enable the practitioner to improve Quality and other management systems.

Your comprehensive package for learning and training the TRIZ problem solving methodology. Includes mobile app, books, PowerPoints and real world examples.

Why use TRIZ crossover QMS?
Today Quality practitioners place considerable emphasis on achieving compliance with QMS standards (i.e. ISO 9001, EN 15224, ISO/TS16949, etc.). We use the TRIZ tool to improve creativity which help solves difficult problems or predict the future development of systems.
Most often TRIZ training on line helps in situations that present a serious threat to the organization's survival. For example
a competitor sales better products or services at lower prices

the cost of materials increases faster than the prices of our products

we need to improve our market position


we need to improve xxx.
We make all decisions upon predictions about the future form. Any improvement requires the prediction of evolution.
Merging of TRIZ and QMS

To find the best solution, we require the cooperation of interdisciplinary teams. We built the TRIZ kit which merges Deming's System of Profound Knowledge with Altshuller's Theory of Inventive Problem-Solving.
This TRIZ training on line kit enables us to fulfill Fiegnebaum's foundation for business success: Innovate in product and service leadership and cycle-time management.
See the below table on TRIZ Kit and the combination of QMS theories.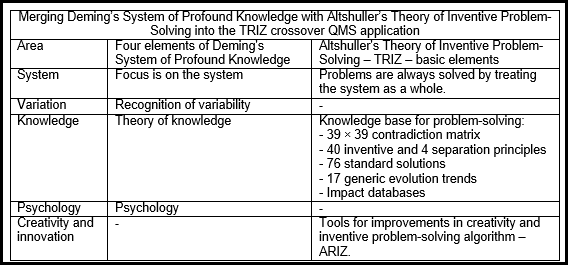 Your comprehensive package for learning and training the TRIZ problem solving methodology. Includes mobile app, books, PowerPoints and real world examples.

The Quality Indicator

To use TRIZ tools for improving your QMS, consider your organization as a system generating value. The concept of value can be used as a quality measurement indicator.
In the modern management approach, we place the strategic focus on the ratio of value and costs. The difference between value and costs creates a variety of strategic options for setting the competitive price.
To be competitive in the new global economy we have to invent products and services with high value to customers and generate cheaper processes and systems. TRIZ crossover QMS helps quality practitioners think outside the box. This tool finds solutions best fitted to customers and the organization that can be implemented by available resources
Who Needs the TRIZ Kit?

Quality Managers, engineers, practitioners, process owners and experts participating in cross-functional teams for improvement needs the TRIZ kit. 
We designed the TRIZ training on line to improve creative thinking for teams and individuals.
It boosts creativity

Encouraging users to select inventive principles for solutions

Assures implementing the right method(s) for the problem.

Your comprehensive package for learning and training the TRIZ problem solving methodology. Includes mobile app, books, PowerPoints and real world examples.

How does TRIZ Training On Line Work?

Review the kit information for all supporting material. We include over 400 pages of information on TRIZ, including books, PowerPoints, and real case examples.
We also include an Android Application. Every participant in the cross functional team can use the app for the problems solving phase.

For the application, after installation and start of the application, the front page appears on the screen. Press the START button and the MENU screen will appear showing possible selections: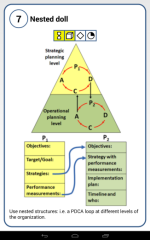 a)     40 inventive principles
b)     4 separation principles
c)     7-step inventive problem-solving algorithm
d)     8-step system evolution algorithm
e)     4 sets of improvement inventive principles
f)      39×39 contradiction matrix
Follow the selected algorithm and use the inventive and separation principles to determine the solution. You will follow the steps of the selected algorithm.
For fast track improvement, you select from four sets of inventive principles. These inventive principles relate to
substances

harmful factors

increase in effectiveness and ideals

using scientific effects

.



You also encounter The Contradiction Matrix or Altshuller Matrix which suggests Inventive Principles to solve contradictions arising while trying to improve a feature of any product, process or system.
Article written by Andrej Trebar of CREATIV PLUS D.O.O V for Quality Assurance Solutions. Article edited and posted by Quality Assurance Solutions

Quality Assurance Solutions
Robert Broughton
(805) 419-3344
USA
email