TRIZ Inventive Principles
33 through 40
This is the last of our series on TRIX Inventive Principles. This page covers principles 33 through 40. 
TRIZ Inventive Principles 1 through 8
TRIZ Inventive Principles 9 through 16
TRIZ Inventive Principles 17 through 24
TRIZ Inventive Principles 25 through 32
33. Homogeneity
The inventive principle 'Homogeneity' involves making objects interact with a given object of the same material or materials with similar properties. The principle of homogeneity can also be used in other areas, such as the behavior of personnel in an organization. Employees should understand quality policy and quality goals.
Another Example: Using SPC to make sure the process is repeatable does not run with out of control conditions.
34. Discarding and Recovering
Discarding and recovering involves making portions of an object or system go away after they have performed their useful function or repairs itself so that the part does not need to be replaced.
Examples: Eliminate duplication, introduce lean manufacturing, etc.
Operations in the suppliers' Final Inspection (FI) and customer's Receiving Inspection (RI) are duplicated. Eliminate RI and reduce costs and RI delay.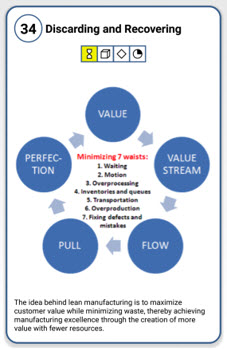 Your comprehensive package for learning and training the TRIZ problem solving methodology. Includes mobile app, books, PowerPoints and real world examples.

35. Parameter Changes
Parameter changes entail changing an object's physical state (i.e. density, temperature, hardness, etc.).
Examples:
In quality management use parameter changes of customer expectations (high/low), customer satisfaction (very satisfied/dissatisfied), etc.
In design and development use parameter changes for virtual prototyping and numerical simulations.
36. Phase Transitions
The inventive principle 'Phase Transitions' implies the effects of parameter changing during the transition of an object's physical state to a gas, liquid or solid. A similar effect can be observed during market changes (i.e. S-curves). An organization should be able to start, stop or otherwise control the change.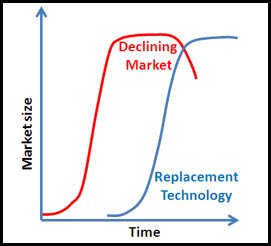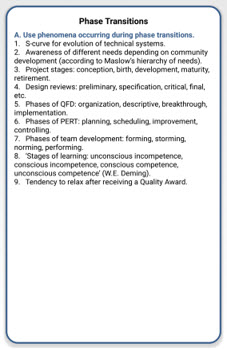 37. Thermal Expansion
The inventive principle 'Thermal Expansion' relates to the use of thermal expansion or contraction of materials. In process control it relates to trend analysis and using findings to solve problems.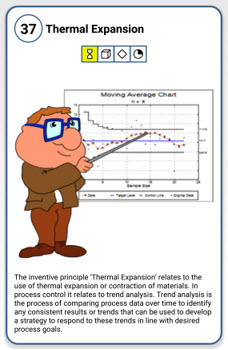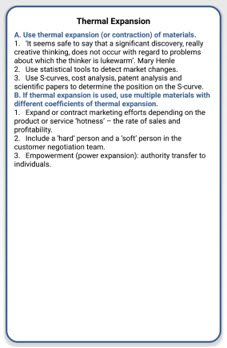 38. Strong Oxidants – Boosted Interactions
Strong Oxidants essentially relates to increasing or decreasing the concentration of oxygen in an environment. This inventive principle can be applied to boosted interactions to enable 'Commitment to Mission' in quality management-related projects, and does not necessarily have to relate to the element of oxygen.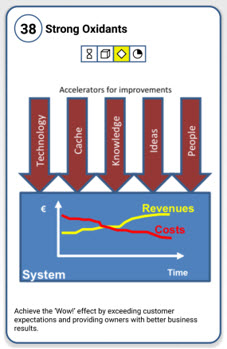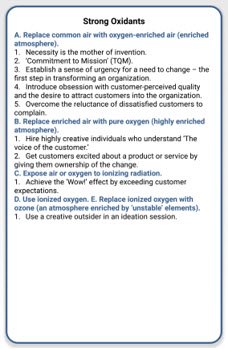 Your comprehensive package for learning and training the TRIZ problem solving methodology. Includes mobile app, books, PowerPoints and real world examples.

39. Inert Atmosphere
An inert atmosphere replaces a normal environment with an inert environment. Or it may involve adding neutral parts or inert additives to an object.
Examples:
Implement a relaxed atmosphere without interruptions is a precondition for people to be creative.
When solving the complaints of difficult customers, appoint a neutral person to calm the situation and try to find a solution that is acceptable to both parties.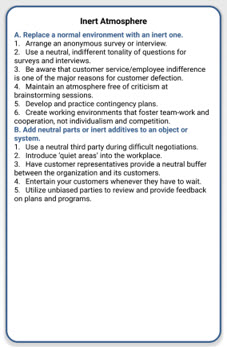 40. Composite Materials
Composite structures are more resilient to external forces than structures made from uniform materials. This effect can be used for fostering a quality policy and achieving quality goals in the organization.
If quality management teams are comprised of people with different personalities, different knowledge and experiences, the results will be better.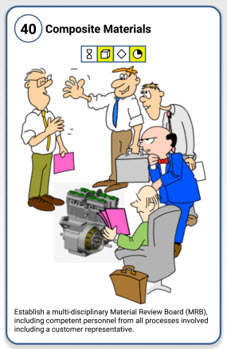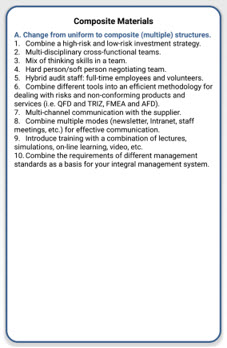 References
Gennady Retseptor, 40 Inventive Principles in Quality Management, http://www.realinnovation.com/archives/2003/03/a/01.pdf
Darrell Mann, Hands –On Systematic Innovation for Business and Management, IFR Press 2009, ISBN1-898546-73-8
40 Inventive Principles with Business Examples http://innomationcorp.com/Files/40%20Inventive%20Principles_Business_InnomationLLC_Rev2.pdf
Article written by Andrej Trebar of CREATIV PLUS D.O.O V for Quality Assurance Solutions. Article edited and posted by Quality Assurance Solutions

Quality Assurance Solutions
Robert Broughton
(805) 419-3344
USA
email