Web Tools
---
Dropbox for Backing up Files





I use many computers for this website. When switching from computer to computer, I need access to the same files. In addition, when I'm out of the office and I'm on someone's elses computer I need access to my files. So, I use Dropbox to securely store the files and easily access them from any location and any computer.
Dropbox is really easy to use and it is free!
---
RoboForm for Managing Passwords


So many websites, so many logins and passwords...Impossible to remember them all. If you type passwords on your keyboard, there is a chance that hidden keyboard loggers could capture that information. This information will be sent to hackers and then your identity is stolen.
I use this software over 50 times a day. It works with all browsers and I need to remember only one password. The software creates and remembers all other identifications and passwords for you. In addition it automatically signs you into your websites. Outstanding software and I cannot recommend it enough.
Btw, the download is free. You can use the free basic version forever!
---
AWeber for Mail Management


Start Your Free Trial Today
I use Aweber for QA Solutions Ezine. It lets me quickly create the e-zine with my formatting. Allows for unlimited emails because pricing is based on number of subscribers. Also lets me manage unlimited number of email campaigns so I can have an email campaign for each product. Emails are sent out automically based on your schedule.
---
Site Build It for Web Host and Site Creation



When I first started thinking about creating a business website, I was lost. I knew that I was quite knowledgeable in Quality Assurance and creating software applications. I've done it for 20 years, read tons of books and taught plenty of classes.
But when it came to putting a website together, I had no clue. No HTML training. I didn't even know how to find a webhost. So I researched and learned. I wanted to be successful and not make too many mistakes.
During my research, I came across Solo Build It (SBI). Their literature was interesting. They focused on small businesses and provided direction to creating a website that works. SBI works well with newbies like me. SBI proved to me that they have a very good success rate for website businesses.
I chose SBI as my webhost. They gave me all the tools necessary to build a site that attracts people. SBI forums are the best with lots of great information for running a website business. I am amazed by the success stories of others.
I've been doing this for a while and my traffic is climbing significantly. By following SBI program, I have several web pages that are on the first page of Google traffic and MSN. I'm impressed.
Anyway, if you are exploring starting a stay at home business take a look at Solo Build It. I can't recommend it enough.

---
---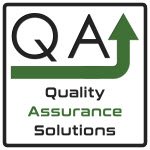 Quality Assurance Solutions
Robert Broughton
(805) 419-3344
USA
email