ISO 9001 Definition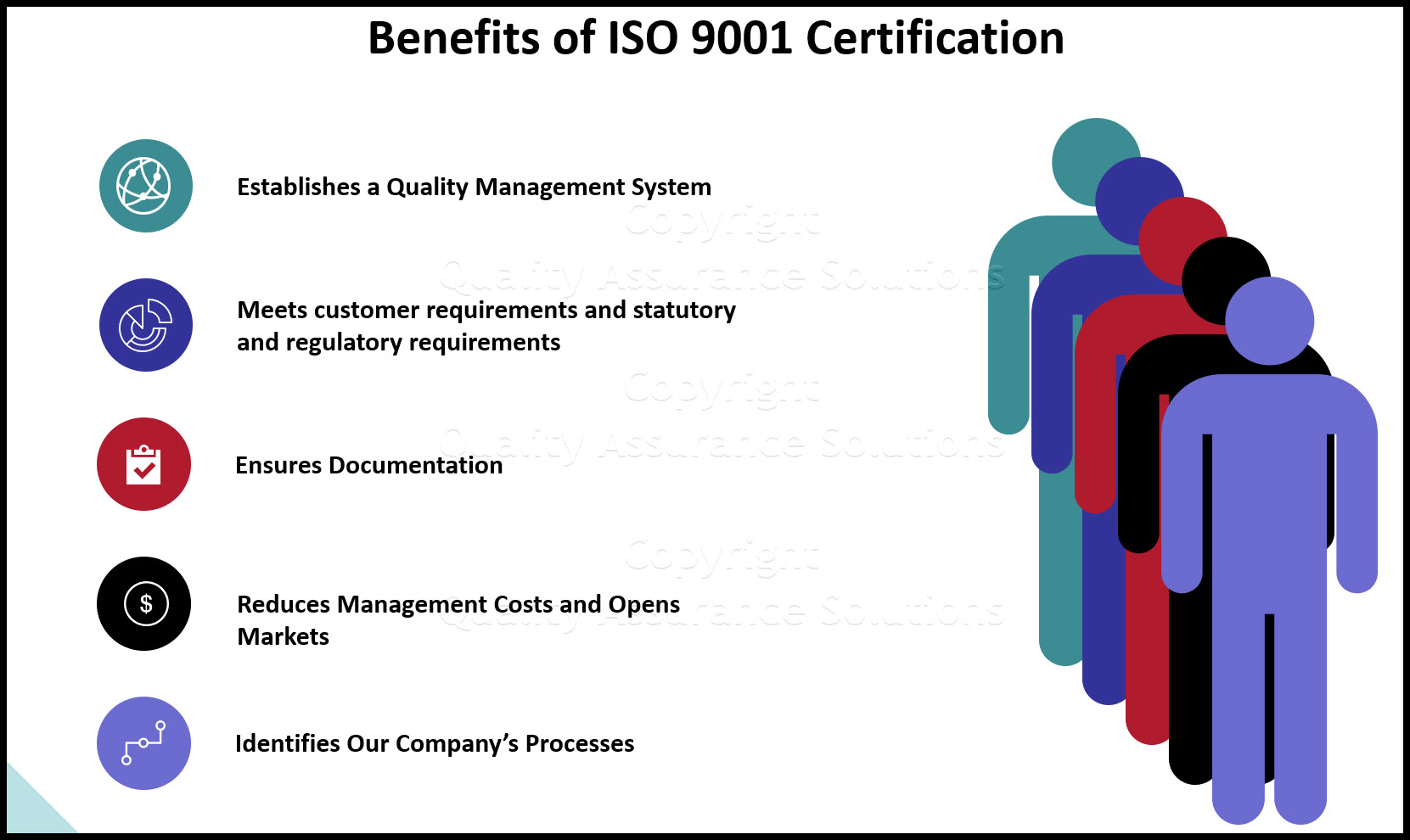 ISO 9001 Definition: ISO 9001 is a set of internationally agreed standards that provide guidelines for a Quality Management System. If you are interested in the history of the standard, read this.

If your organization meets ISO 9001-2015 then you can become certified to the standard. Interestingly, ISO 9001-2015 can apply to any type of organization. This includes manufacturing, service, software or even non profit organizations


Your ISO 9001:2015 Kit includes Templates, QA Manual, Implementation Guide and a Gap Assessment Internal Audit Tool for ISO 9001:2015
Certification Benefits
States to your customers that you have certain key Quality Assurance Systems in place and you are following these systems.
Some customers may only do business with ISO 9001 companies.
The ISO 9001 definition provides the basis for other certifications such as IS0 14000 (environmental), TS 16949 (automotive), and AS9100 (aircraft).
It drives improvement within your company.
It could reduce customer audits of your facilities, processes and systems.
It drives and changes your company to systematic method of management and work.
If you are getting ready to select an ISO 9001 auditor, review this first.
7 ISO 9001 Principles
ISO 9004 (a supporting standard of 9001) dictates the 7 principles that the ISO 9001 definition is based on. These are:

Customer Focus Organization
Leadership
Process Approach
Evidence Approach to Decision Making
Relationship Management


8D Manager Software with 8D, 9D, 5Y and 4M report generator. Your corrective action software for managing, measuring, and reporting issues.

More on the ISO 9001 Definition
As mention above the standard can be used for any type of organization. The standard is generic and universal. Third party registrars use the standard as a basis for auditing. It requires top level management commitment to achieve the certification.
The ISO 9001 standard does not determine your company's quality goals. It does not put numbers on defect levels or other quality characteristics. It is not a measurement tool.
The standard lets you prescribe your systems but you must meet the intent of the standard. Your Quality Management Systems will look different then other organization's systems. To achieve certification you must "walk the talk". Within this website you will find recommendations for these systems.
Mandatory Documents
See the mandatory document list for ISO 9001 certification.

---
ISO 9001 Main and Key Elements
ISO 9001 Definition: Quality Management System key elements

Management Responsibility key elements
Management Commitment
Customer Focus
Quality Responsibility and Authority
Internal Communication
Resource Management key elements
Training and Competency
Infrastructure
Work Environment

Comprehensive ISO 9001:2015 Audit Checklist for Internal, Gap and Certification Audits.
Product Realization key elements
Planning
Product requirements determination
Product requirements review
Customer communication
Design and Development planning, inputs, outputs, review, verification and validation
Controlling Design and Development changes
Purchasing process
Purchasing information control
Purchase Product Verification
Process validation for production and service
Customer property control
Preservation of Product
Measurement Analysis and Improvement key Elements

TrainingKeeper Software. Keep, organize and plan all your employees' training and activities. Software includes multi-user support with reports, certs, and calendars.

ISO 9000 Quality Audit
Review this page for the 5Ws of the ISO Quality Audit.
Interaction Chart
For ISO 9001  registration, your QA manual will need a process interaction chart. Please subscribe to QA solutions for an example of a process interaction chart and other freebies
Flowcharting
When writing ISO Documentation, it is best to start with flowcharting your systems and processes.
Knowledge Management and ISO 9001:2015

Company Knowledge Management

Quality Assurance Solutions
Robert Broughton
(805) 419-3344
USA
email