Quality Assurance Solutions




Spreading the QA Word



Quality Assurance Solutions supports you in starting or improving your QA program. This site provides tools, articles, plans and recommendations to help you implement a sound and solid QA program. I assist beginners, small businesses, organizations and Quality Professionals.
Our motto is "Spreading the QA Word". I want to provide as much useful information as possible about the QA World.

QA comes from many disciplines. Most think QA only covers inspection activities. While important, inspection supports only a small piece of the Quality pie.

QA includes the application of management theories, statistics, business systems, teamwork, continuous improvement tools, data collection, standards, leadership and training. The more you study it, the more expansive it becomes. I think those of us in this field enjoy it because of this diversity.

Get the Most out of Quality Assurance Solutions

To support your learning, this site breaks Quality Assurance into 4 categories, Tools, Management, Systems, and Teams. Within each section, you will find a ton of information and more added all the time.
Please join our mailing list, "QA Solutions E-zine", which keeps you up to date on content. Upon joining you will receive downloads, discussions on a wide range of topics, alerts to beta test our products and product discounts. It is a weekly E-zine. You can sign up on the right column of this page.
Speaking of products, here you can find unique software, training videos, on-line training classes, QA documentation and extensive kits. For instant gratification, you can download most of these products after payment. Click here to see our products.
If you are interested in Six Sigma, you can get certified to our accredited Yellow, Green, Black, or Lean-Black Belt using our on-line training programs. Our Yellow Belt certification is free! These programs contain high quality videos, downloadable references, quizzes and certification tests, and a mobile app. Plus, you receive PMI (Project Management) units and a certificate upon completion. Take these to jazz up your resume and push continuous improvement in your organization.

If you're a beginner, start with the basics. This includes reviewing an outline for creating a QA system. I discuss the basic systems such as document control, QA manual and calibration.
As your systems evolve you may be ready for ISO 9001 certification. This website delivers great content to help you achieve this certification.
If you're interested in continuous improvement, I supply the process improvement essentials. These tools are documented in the continuous improvement (CI) tools section. The CI tools include:
Are you missing a Calibration Manual, Training Software or 8D (CAPA) Software? Click the products link. We also offer training videos for immediate download.

In addition, within this website you will find a QA Glossary, which covers:
Please consider this website as a quality assurance overview. With the information provided, you will be able to drive QA Systems, process improvement, and ISO 9001 registration.

---
---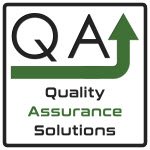 Quality Assurance Solutions
Robert Broughton
(805) 419-3344
USA
email