ISO 9001:2015

QMS

Implementation

Kit
| | |
| --- | --- |
| After purchase, you will download this product, no waiting. Your Satisfaction is Guaranteed. Within 30 days, if you are not satisfied with this product, I will refund your money. | |
ISO 9001:2015 QMS Implementation Kit
This ISO 9001:2015 QMS Implementation Kit includes a fully editable Quality Assurance Manual, valuable templates for effective development of the standard's QMS structures, an Implementation Guide, and a comprehensive Gap Assessment Internal Audit Checklist. The templates include pre-formulated Quality Plan documents to cover all the most important "hard to establish" but required clauses of ISO 9001:2015. This saves you extensive time in the development or transition of your ISO 9001:2015 compliant QMS!
Below shows the contents of the ISO 9001:2015 QMS Implementation Kit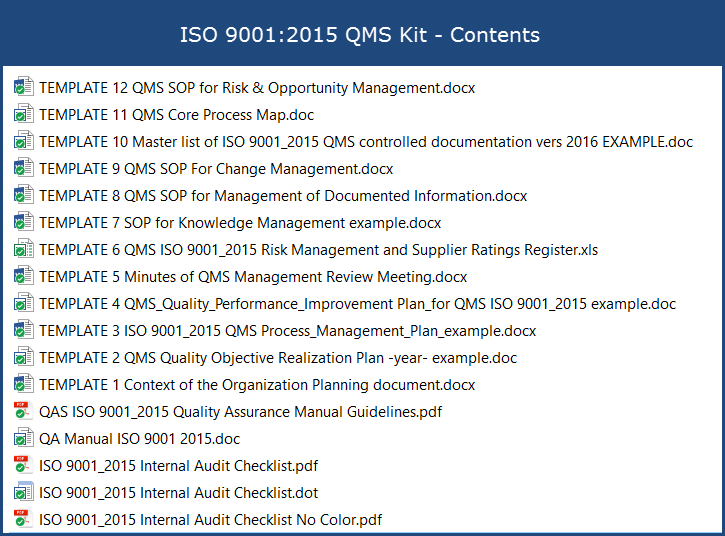 The Templates
ISO experts and certified internal auditors with transition experience on ISO 9001:2015 developed all the material in this kit. This kit teaches you proven practices, helps you implement the standard, and keeps your QMS project on a budget.
Using the 100% compliant Quality planning templates, you will gain thorough understanding on...
The QMS Process Approach using a best-practice approach with the Process Management Plan Template
Expressing context of the organization and stakeholder analysis within your QMS strategy by applying the template: "Context of the Organization Plan"

Capturing Internal / External Parties and Voice-of-the-Customer and their needs / expectations
Incorporating these needs / expectations into the processes that make up your QMS.
Aligning business strategy to QMS quality system objectives, key performance measures and goals – all in a "Done for you" invaluable template format
Identifying the process owner requirements and providing appropriate evidence to demonstrate compliance to ISO 9001:2015. The 2015 standard increases focus on process management requirements.
The differences concerning the requirements for procedures, records and the quality manual of ISO 9001:2015 by using the Template for Masterlist of Documented Information.
Applying the Risk Analysis method based on ISO 9001:2015 requirements for identifying the organization's risks and opportunities and how they relate to the standard.
Managing the ISO 9001:2015 based reporting while assessing risks and opportunities as part of the Quality Management Review
A clear step by step implementation roadmap for easy implementation / transitioning your QMS to the ISO 9001:2015 QMS
Managing with ease, the accountability and implementation of the required knowledge management clause with a 100% complaint and professional written SOP for Knowledge Management
Handling Change Management with required records and history.
Rating suppliers per the standard requirements
Collecting audit evidence that may be harder to find due to the less prescriptive nature of the standard
Achieving value for your organization within the decrease emphasis on documentation – use only what you really need in your QMS
Becoming well prepared for your next ISO Third Party Audit with best practice advice from certified ISO 9001:2015 auditors and instructors
With this kit, you will feel like an experienced ISO Consultant is sitting by your side supporting your QMS development.
The Implementation Guideline
The ISO 9001:2015 QMS Implementation Kit comes with a detailed and practicable "hands-on" Implementation Guideline. This provides a step by step implementation approach, so you can implement or transition to your ISO 9001:2015 QMS with no difficulties or project delays.
The Implementation Guideline includes these benefits:
The Quality Assurance Manual
The ISO 9001:2015 QMS Kit includes our popular fully editable QA Manual Template. Quality Assurance Solutions developed, with several ISO 9001:2015 experts, a comprehensive Quality Assurance Manual for 100% compliance with the ISO 9001:2015 standard. I recommend starting with this manual, and then editing it to match your company's terms. It is 44 pages long and covers all ISO 9001 elements necessary for certification. We separately sell this manual and include it in this kit. As a benefit, at the appropriate locations, the QA Manual makes reference to the templates included in this kit.
The Internal Audit Checklist
The ISO 9001:2015 QMS Implementation Kit comes delivered to your inbox with a 100% compliant Gap Assessment Tool for transition from ISO 9001:2008 to the ISO 9001:2015. This Internal Audit Checklist includes 300 professional questions on all aspects of ISO 9001:2015 based clauses. We separately sell this checklist and include it in this kit. Use this checklist for
Implementation of ISO 9001:2015 Quality Management System
Transition to ISO 9001:2015 from ISO 9001:2008
Required on-going audits of your ISO 9001:2015 Quality Management System.
Required audit evidence and documentation.
Find hidden trouble areas before External Auditors surprise you.
Use it for your supplier audits
The ISO 9001 Awareness PowerPoint
This ISO 9001:2015 QMS Kit includes a professional PowerPoint for teaching ISO 9001 Awareness. You can edit it as necessary and then teach all of your employees. It includes over 70 slides and covers all elements of ISO 9001. We separately sell this PowerPoint. Please see the link for slide examples.
Comments
| | |
| --- | --- |
| After purchase, you will download this product, no waiting. Your Satisfaction is Guaranteed. Within 30 days, if you are not satisfied with this product, I will refund your money. | |