This professional presentation on ISO 9001:2015 awareness saves you a significant amount of time. If you created this presentation yourself you could easily spend 24 to 40 hours just making the slides. See below for pictures of some of the slides. Use this PowerPoint and assure you don't forget the important ISO 9001 points during your ISO 9001 awareness training.
Thousands of companies in over 100 countries adopted ISO 9001:2008 as their quality management standard. Now these and new companies are pursuing ISO 9001:2015 certification. Why?
Soon ISO 9001:2008 will be extinct. Those who are currently certified will need to upgrade to ISO 9001:2015
ISO 9001:2015 helps your company control quality, save money and customers expect it. ISO 9001 applies to all types of organizations.
Many companies struggle with teaching the basic concepts and awareness of ISO 9001 to their employees. To become certified, all employees within your organization needs to be aware of the basic requirements of the standard. Because of resource constraints you may not have the time to create the presentation (which takes the most time when teaching the material). This PowerPoint solves this problem. When you're done teaching this material to your employees, your employees will be much more inform and comfortable with ISO 9001.
How To Use the PowerPoint Training Presentation
Deliver this professionally-developed presentation to new hires, potential auditees and other employees as a 1-2 hour briefing to create awareness on the ISO 9000 quality system. Use the slides in a workshop for managers and staff of the organization who need to understand the basics and importance of the ISO 9001 management system.
You may customize this Microsoft PowerPoint presentation to your specific needs and preferences. Add slides, combine them with our other presentations, it's up to you. The only restriction is that the presentation cannot be resold without our prior written consent.
Number of slides: 64
Objectives
Provide background knowledge in ISO 9000
Gain an overview of third party assessment process
Understand the audit approach
Gather useful tips on handling an audit session
ISO 9001:2015 Awareness contents
Overview of ISO 9000
About ISO

What is ISO 9001?

How Does ISO 9001 Work?

Where Does ISO 9001 Come From

Why is a Quality Management System Important?

Advantages of Certification

Accreditation & Certification Bodies

Development of ISO 9001

Quality Management Principles

Why is ISO 9001 Revised?

Key Improvements to ISO 9001:2015

ISO 9001 - Key Differences

ISO 9001 - Different Terminology

Process Approach

Risk-based Management

Benefits of the New ISO 9001:2015
ISO 9001 Structure
ISO 9001 Approach is Based on the PDCA Cycle

Benefits of the Common Structure for Management Systems Standards

The ISO 9001 Structure is Aligned to the Common Structure for MSS

ISO 9001 Clause Structure
ISO 9001 Certification
Becoming ISO 9001 Certified

ISO 9001:2015 Certification Transition Timeline

ISO 9001 Certification Process
Audit Approach
What is a Quality Audit?

What Are Audits Used For?

Types of Quality Audits

Internal Audit

Audit Focus

Audit Approach

Audit Emphasis

Review of Documented Information

Continual Improvement
Handling the Audit Session
ISO 9001:2015 Awareness Slide Examples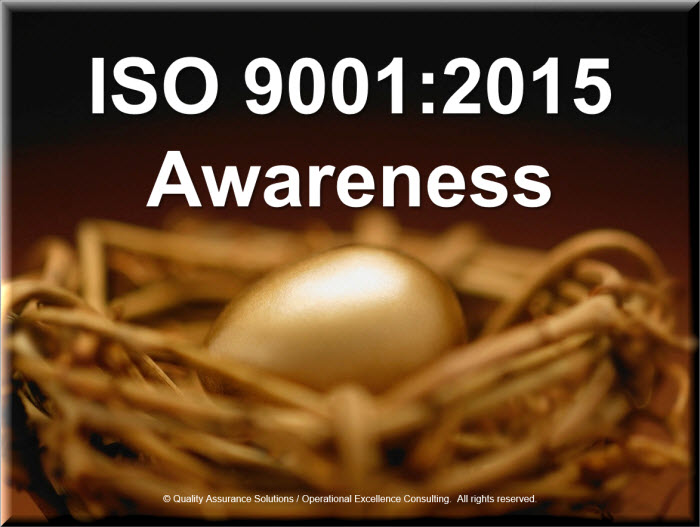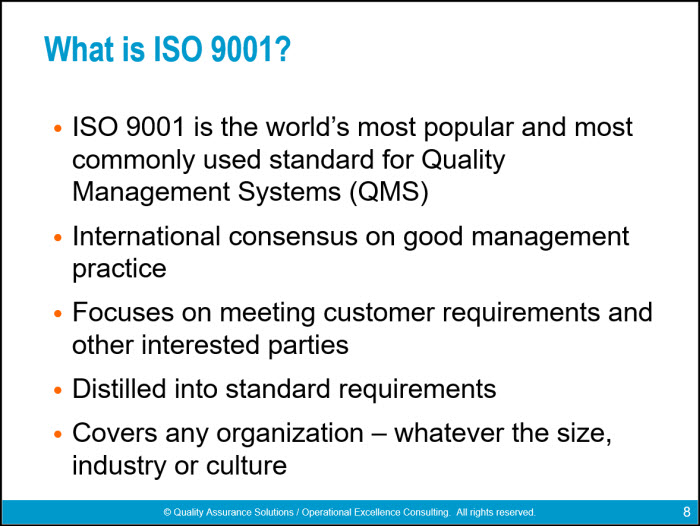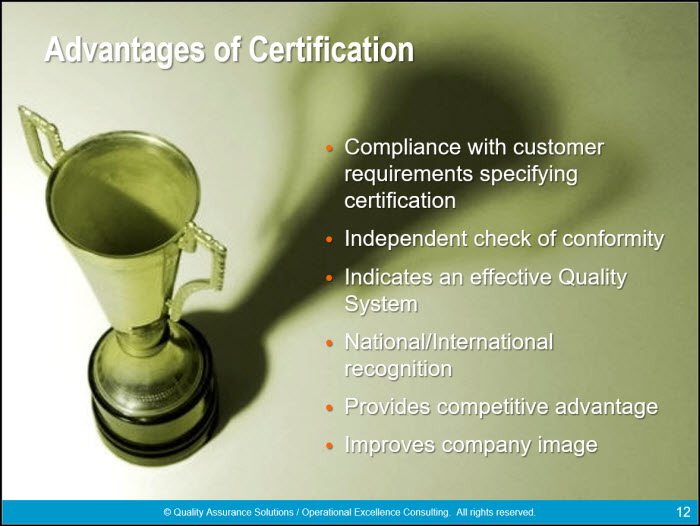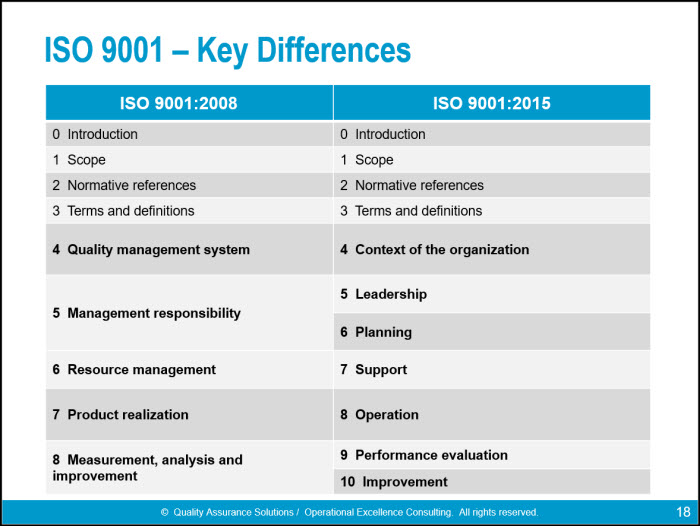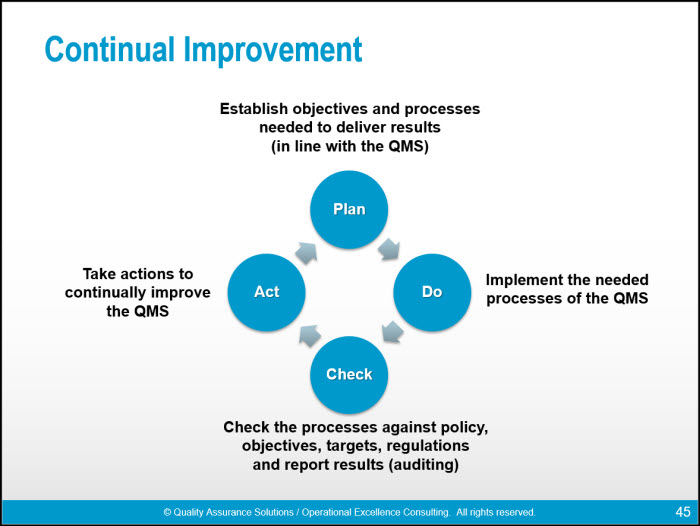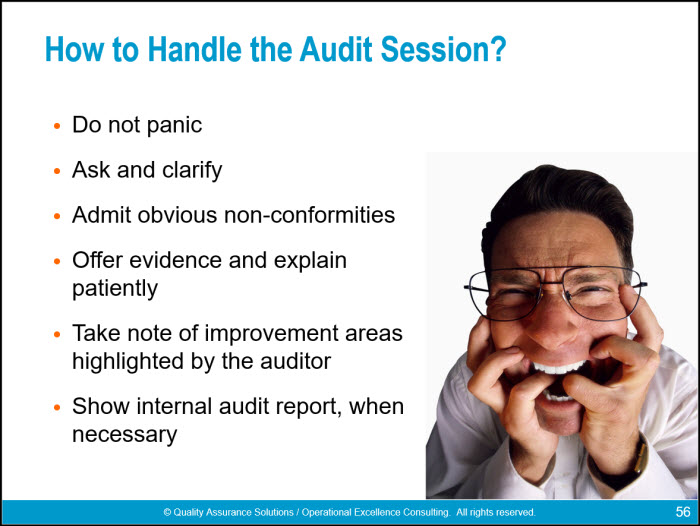 ISO 9001 Awareness is one of our many PowerPoint Presentations