ISO 9001 Quality Manual
ISO 9001:2015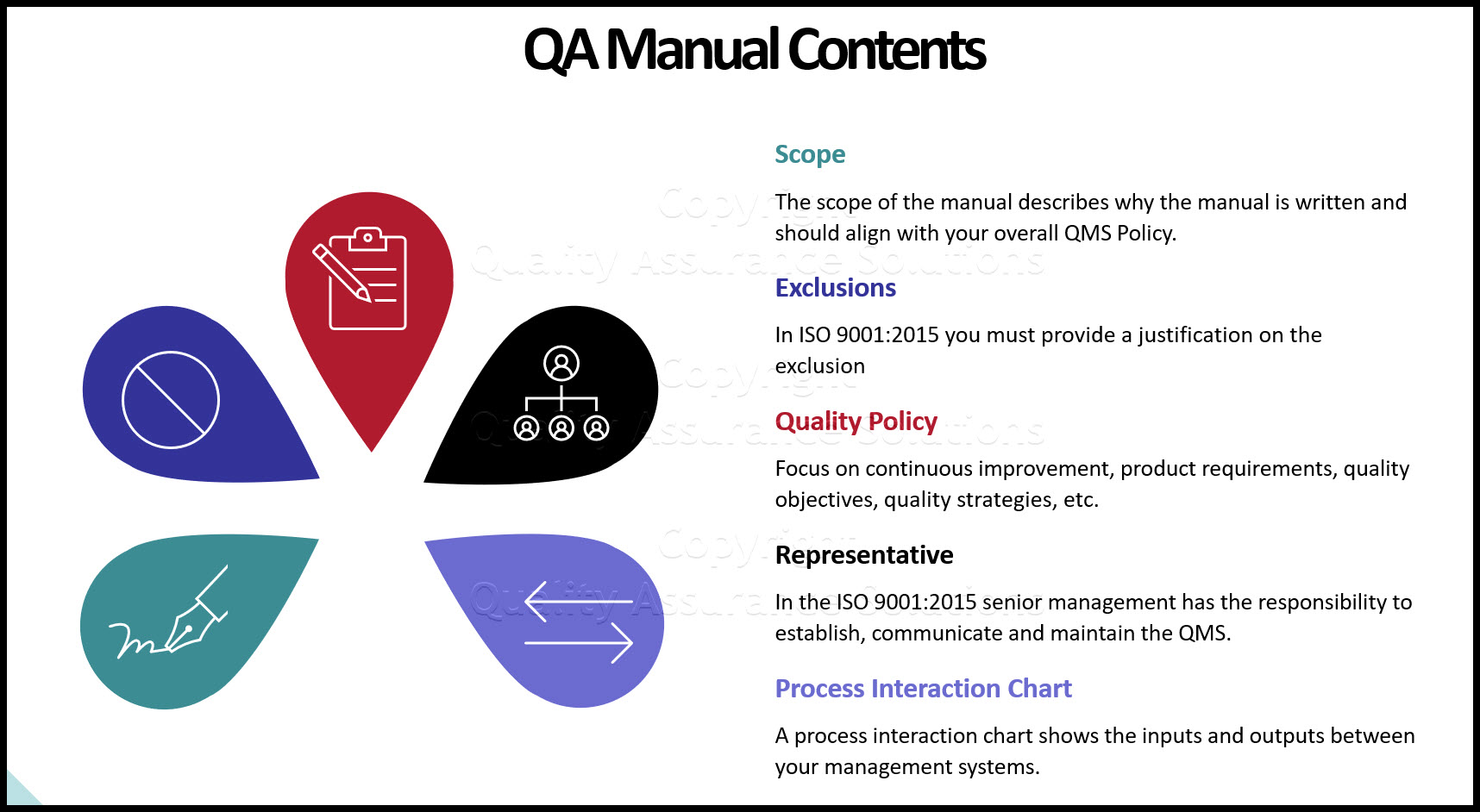 Your ISO 9001 Quality Manual is the top tier document for your Quality Management System (QMS). Although ISO 9001:2015 dropped the requirement for a Quality Manual, the manual is still a great asset. We highly recommend you create one. 
The QA manual lets you align your quality management system within ONE documented place and it describes your QMS. This simplifies and organizes your QMS. 
Write the Quality Manual so a customer can read it. Many customers will ask for a copy of the manual. They want to ensure that you have addressed all the critical quality management systems. If there are product complaints, customers may refer to your manual to understand your quality systems.
ISO auditors start with your quality manual to understand your systems. They will ask many questions about the statements you make in the manual. The ISO 9001 Quality Manual needs to be factual and summarize your systems.
What must you include in your ISO 9001 Quality Manual?

Describe the Scope
Justify any exclusions.
Document the Quality Policy
Process Interaction Chart
State who is the management representative

---
Scope
The scope of the manual describes why the manual is written and should align with your overall QMS Policy. In the case of ISO 9001:2105, you should add artifacts like effectively and efficiency, should address current and future customers, as well as to mention regulator and statutory and/or legal requirements as part of your scope, which could be:
The policies written within this manual conform to ISO 9001:2015. The manual supports our company scope of making widgets for current and future customers within a QMS developed in the best effective and efficient ways and by adhering to regulatory, statutory and legal requirements. The manual describes the quality management systems deployed at our company.
Make sure the QA manual follows your document information management.

Your ISO 9001:2015 Kit includes Templates, QA Manual, Implementation Guide and a Gap Assessment Internal Audit Tool for ISO 9001:2015
Exclusions
In ISO 9001:2015 ALL clauses can be theoretically EXCLUDED from your scope, as long as you can justify it. For example Customer Property Control does not apply to many companies.
So If there is a section from product realization that does not apply to your business, you can take exclusion to this in the manual. But be aware, that you MUST provide a justification on the exclusion within the QA manual. During a ISO 9001 audit, the auditor will need verbal reasoning for the exclusion.
---
Quality Policy
When crafting your Quality Policy, think about these items.
Continuous improvement
Product requirements
How do you continuously improve?
What are your quality principles?
Quality strategies
Does it align with your corporate mission?
Customer satisfaction
Supplier relationships

Representative
In the ISO 9001:2015 senior management has the responsibility to establish, communicate and maintain the QMS. The management representative supports senior management on a daily basis to ensure the adequacy of the quality management system. The management representative is also the main contact for the ISO auditor.
Your QA manual may separate individual clauses to a specific person. For example Design and Development may be the responsibility of the Research Engineering Manager.
---
QA Manual Example

If you would like to review a completed ISO 9001 Quality Manual, sign up for QA Solutions e-zine. You will be immediately able to download a version of the ISO 9001:2008 manual.

---
Process Interaction Chart
A process interaction chart shows the inputs and outputs between your management systems. Please subscribe to QA-Solutions E-zine to see an example of the process interaction chart


Quality Assurance Solutions
Robert Broughton
(805) 419-3344
USA
email