Subscribe to QA Solutions E-zine!
QA Solutions E-Zine contains additional information that you cannot find on this website.
QA Solutions focuses on ISO 9001 tips, auditing tips, continuous improvement tools and all things related to Quality Assurance.
Subscribe to the E-Zine and get...
An example of an ISO 9001 quality manual.
An example of a process interaction chart which is necessary for ISO 9001 certification.
A complete contact list of ISO Registrars with name, address, phone numbers, website and email
A Quality Orientation Guide that kick starts your quality education
A process improvement responsibility chart that you can use during team meetings
A 120 page PowerPoint presentation on ISO 9001:2015 and TRIZ interaction

Plus many more exclusive downloads for our readers!
In addition, you will receive special discounts on future product offerings.
In order to get the freebies, please be sure to confirm the subscription. After confirmation, a thank you page will appear and you can download the items

QAS Home

>
E-zine
---
---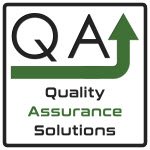 Quality Assurance Solutions
Robert Broughton
(805) 419-3344
USA
email