Creating a
Business Card Template
A Practical Guide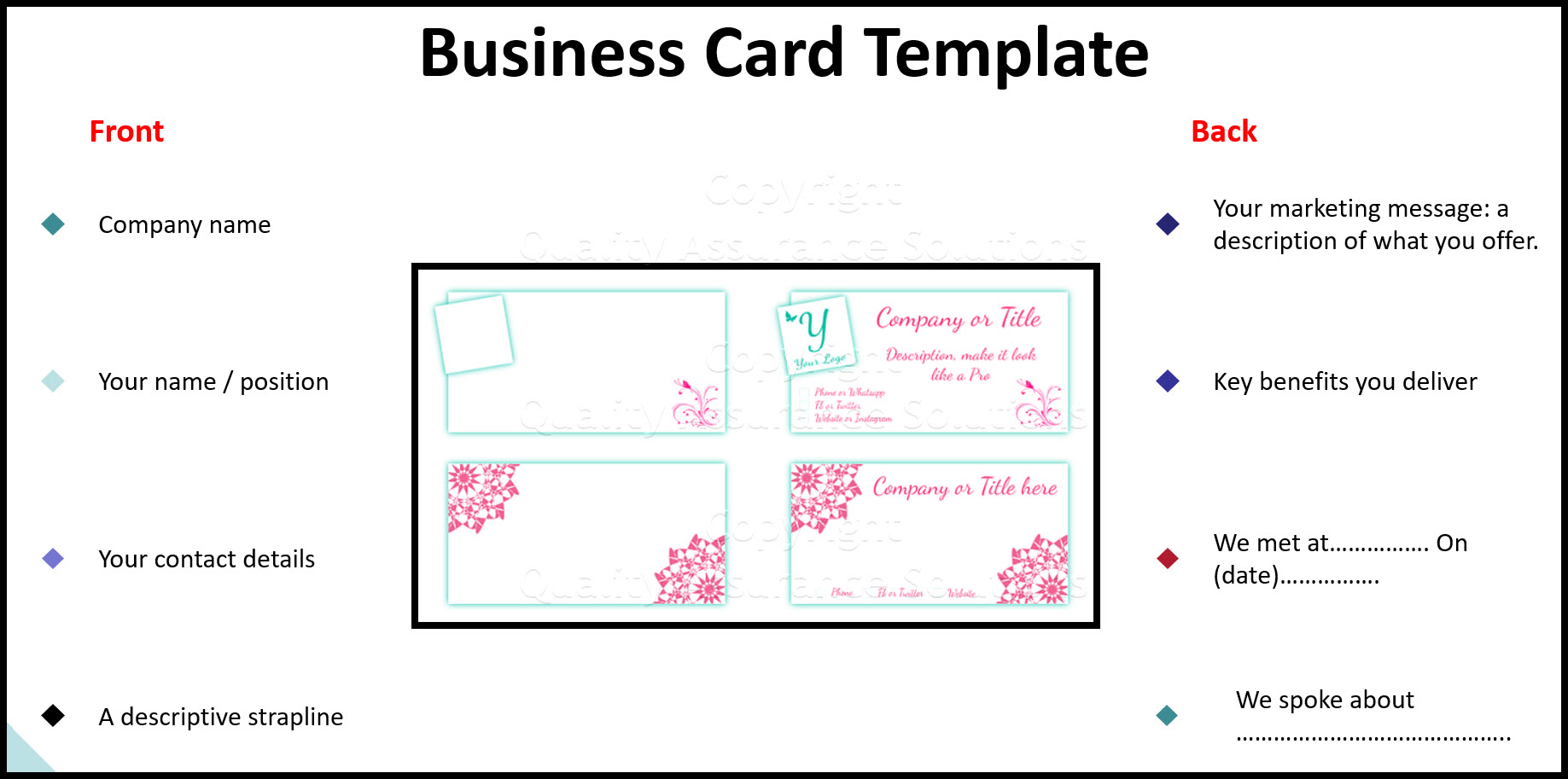 Before you design your next business card template, go into a business meeting, where people hand out their business cards, and take a closer look.

Let's assume you don't know any of these people or their businesses in any great depth.

Does their card tell you what they do? And if it is clear, such as for an accountant or solicitor/lawyer, what makes them stand out from all the other cards you have for people in the same profession? Do you know instantly exactly why they are different and what benefits you could enjoy by doing business with them?
Now look at your business card? What does it say about you? About your company?
Does your business card template reveal a clear message that describes what you offer and the results you deliver? If your answer is "No" you are missing a vital marketing opportunity…
Having said that, the content of your business card depends very much upon how you use it. If you only ever present it to known clients or prospects then you only need the minimum amount of information. Since they already know you, the purpose of your card purely serves as a reminder of your contact details.

TrainingKeeper Software. Keep, organize and plan all your employees' training and activities. Software includes multi-user support with reports, certs, and calendars.

But if you attend business meetings, networking with other business people, then your card needs to fulfil a completely different purpose. It has to work harder for you.

You and your business card template must make sure the people you meet briefly do remember you and can distinguish you from other businesses who apparently offer the same type of product or service. What makes you stand out?

You want to know that when someone returns to their office glances through, possibly hundreds, of business cards they've collected, yours gives a complete picture.

Now I don't mean it has to be a vivid color, or a garish design or have wacky graphics on it (although if this is appropriate for your business that's fine).

However, it must provide information that clearly explains why you are the 'go-to' company for your business sector.

What Does Your Business Card Say About You?
Does it clearly show what you do or offer? (Your Company name / logo may not be explicit enough).
Does it give a testimonial from a happy client/customer?
Is your photo on there?
What's on the back of your card – it isn't blank – is it?
When I explained to a client that his business card is a marketing tool and should include a photo, his response was "I don't want my ugly mug on there." I told him acting as a 'shrinking violet' was not going to help his business to grow. The photo makes your card stand out and makes it easier for people to remember you afterwards.

Plus, if you send your card with your literature (and a letter) in the mail, it gives the person receiving it a sense of confidence they are dealing with a 'real person' – not an anonymous company. Remember 'people buy from people' no matter what size company they own or work for.


Get Green Belt Certified with this extensive on-line course. Learn the Six Sigma tools and steps. Earn 25 PMI PDU. Start implementing Six Sigma today
The Alternative to Your Photo
If, like my client, you really feel embarrassed about having your photo on your card – try this idea:
Get a photo of you with a happy, smiling client/customer. Ask their permission to use the photo and a testimonial from them in your marketing. Make sure the testimonial is specific, not "Great company, would use again" but something like...
"I had problem with the manufacturing costs of our main product line, but the productivity solutions you provided reduced our costs by 31.6% and turned it into one of our more profitable lines".
Put the photo, with the testimonial underneath, on your card. (Note, if you are a guy get a female customer to pose with you and vice versa).
Designing Your Business Card Template
You may decide to get a graphic designer to create the layout for your business card template. Regardless of who comes up with the design, include these items on your card...

Front:
Company name
Your name / position
Your contact details
Your photo*
A descriptive strapline
Your descriptive strapline is a single 'headline' style sentence that encapsulates what your business does. And of course, this is where your copywriting skills come to the fore.

Back:
Your marketing message: a description of what you offer.
Testimonial(s) from happy clients/customers (with photo if you don't like your photo on the front*)
Key benefits you deliver
If you are planning to use your cards extensively at business and networking meetings include some space for people to make a note:
We met at……………. On (date)…………….
We spoke about………………………………………..
*If you decide to use a photo with testimonial on the back of your card then you don't need the photo on the front.
An alternative is to print your marketing message on transparent labels and affix these to the reverse of your cards before handing them out at business meetings.  And the additional advantage is you can change your marketing message for the prospective business people attending the meeting.

8D Manager Software with 8D, 9D, 5Y and 4M report generator. Your corrective action software for managing, measuring, and reporting issues.

Make Your Card More Memorable
Another way to make your business card template stand out from the crowd, create a tri-fold card, just slightly bigger than the normal business card size, and include some useful tips or expert advice. People tend to keep a card that provides some valuable information on it and it demonstrates your expertise.

Quality Assurance Solutions
Robert Broughton
(805) 419-3344
USA
email