Shifting From a Fear-Based to a Strategic Mindset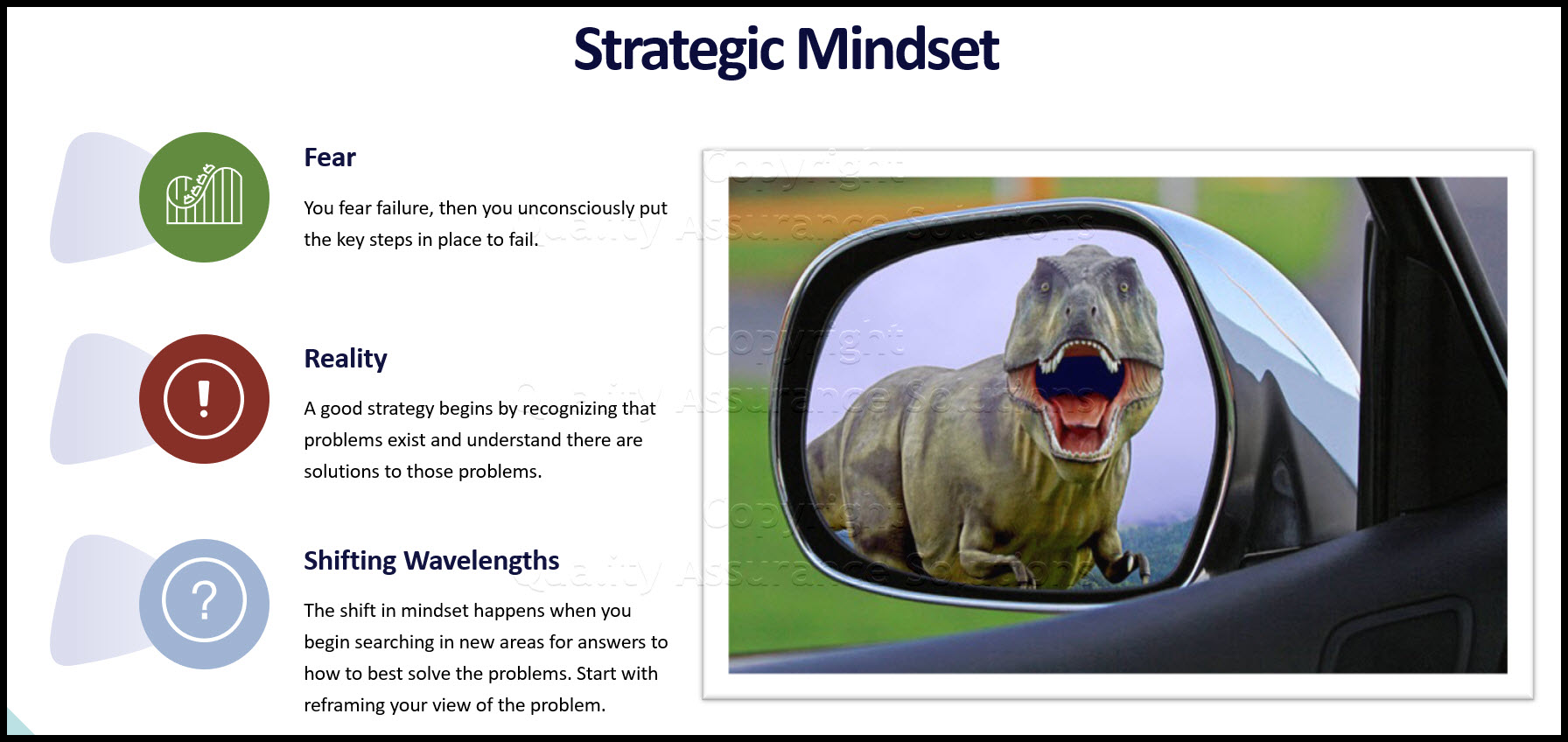 "I need help developing a strategic mindset for business."
Struggling team members often miss one specific concept...developing the right mindset for business.
Not to throw these great people under the bus. 99% of them simply haven't realized the importance of strategy when it comes to building their business. They can develop this mindset, it takes time.
Often time is the enemy.

PDCA Complete is an organizational task management system with built-in continuous improvement tools. Includes projects, meetings, audits and more.
Built by Quality Assurance Solutions.

Strategic Mindset Opportunity Vs. Fear
You see it on the paper, you hear about it on the news, fear drives people's emotions better than anything else. Fear wounds people's psyches. Fear also begets fear.
Because of possible failure, people avoid taking the time to learn a new mindset. They resist the necessary changes to their mindset, thus they fail. It's like clockwork. You fear failure, then you unconsciously put the key steps in place to fail.
In the same way, to develop a successful mindset don't lie to yourself, or focus on the negativity that surrounds you. A good strategy begins by recognizing that problems exist and understand there are solutions to those problems. Also be aware of the Stockdale Paradox. 
Shifting the Wavelengths of Your Thoughts
The shift in mindset happens when you begin searching in new areas for answers to how to best solve the problems. Start with reframing your view of the problem. 
Albert Einstein said, "We will never be able to solve our problems at the same order of complexity we used to create our problems."
Einstein was obviously one of the smartest people who ever lived and he is right. Shifting to a strategic mindset means simplifying a problem in order to solve it.
Most people resist even going this far in shifting their mindset because their pride and fear of criticism holds them back from creating a life of meaning and long lasting success.
Reframing Negative Self-Talk
Our mindset creates the way we interpret the world around us. You make choices everyday, often unconsciously, either you choose to make progress or you choose to regress. You must tune your mind into figuring out what works, a way to move forward. This Is often a confusing process for many people.
To build a strategic mindset you must discover how to:
1. Assess and Document Reality
2. Benchmark Progress
3. Optimize Success

Quality Assurance Solutions
Robert Broughton
(805) 419-3344
USA
email