High Impact Team Building Lessons For Your Business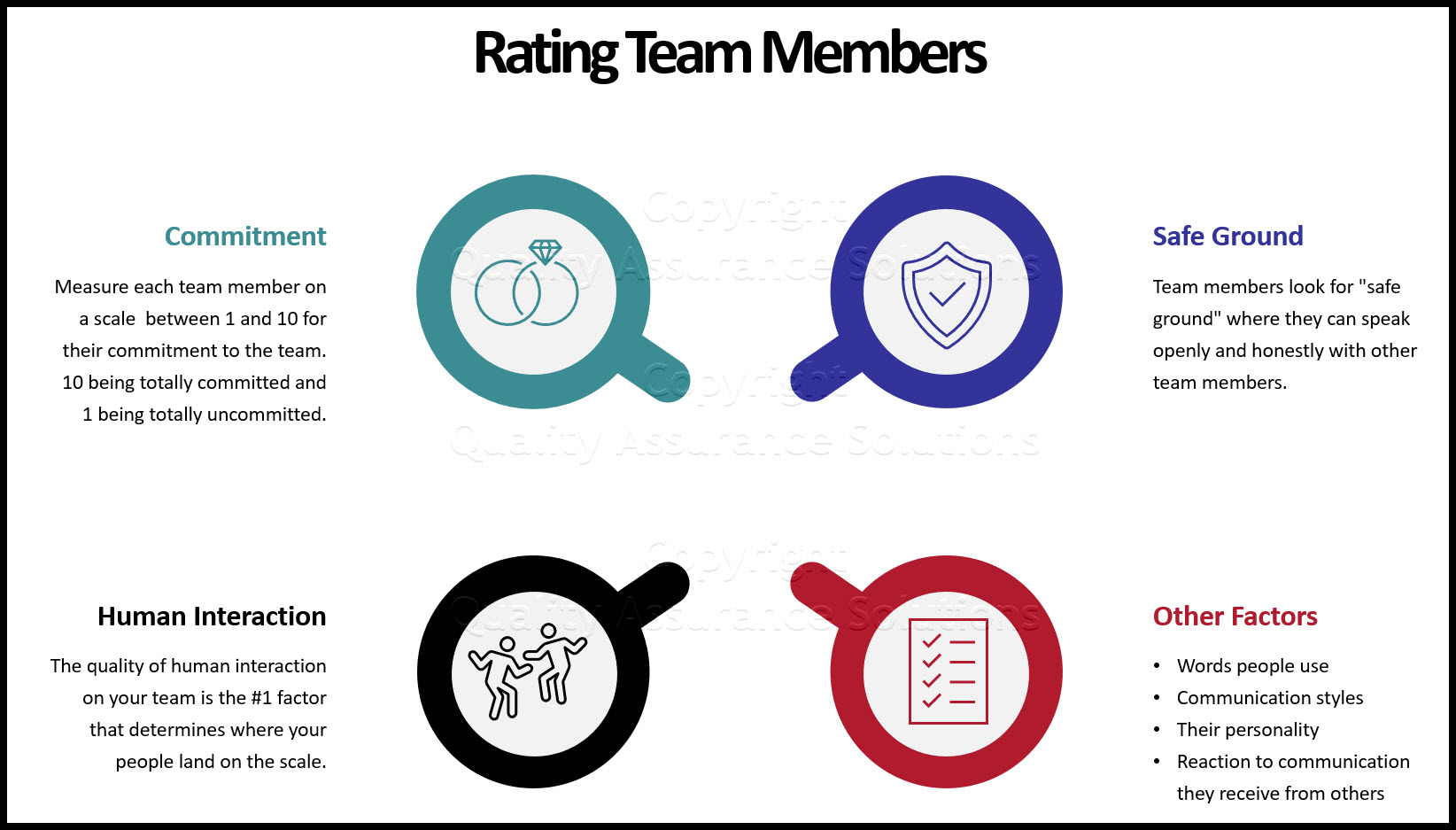 Simple team building lessons to help establish a thriving and productive team.
Most business people agree, a team setting is the most dynamic and effective methods to accomplish goals and keep people focused on their task at hand.
Taking the increased productivity and effectiveness of an established team as a given, you might be asking yourself: "What are some simple ways I can easily coach my team or organization toward success?"
As a team leader, establishing a healthy team environment starts with how people interact together.
The quality of peoples' interactions shapes how information circulates and how people are treated within your organization.

PDCA Complete is an organizational task management system with built-in continuous improvement tools. Includes projects, meetings, audits and more.
Built by Quality Assurance Solutions.

Weigh Each Team Member On a Scale
Set each team member on a scale that measures, between 1 and 10 determining their commitment to the team. 10 being totally committed and 1 being totally uncommitted. 
The quality of human interaction on your team is the #1 factor that determines where your people land on the scale.
Communication determines where your team is right now, and where it is going.
As individuals on a team, we constantly look for "safe ground" in the workplace where we can speak openly and honestly with other team members in order to facilitate reaching our personal and shared goals. 
When debates, arguments, and bickering break out, people's "safe ground" has been trampled on, and a "safe" team environment has been lost for the moment.
You determine how people act by: 
Words people use
Communication styles
Their personality
Reaction to communication they receive from others

TrainingKeeper Software. Keep, organize and plan all your employees' training and activities. Software includes multi-user support with reports, certs, and calendars.

Establish an Excellent Team Culture Based on Vision
From the start teams need to establish a culture that not only allows free-flowing communication, but encourages the team building lessons, using training and tools that naturally builds a "safe-ground" for communication.
When you look at any organized team building event you start to realize the important role of naturalizing healthy communication between team members.
Natural communication for a team aligns its' members toward the common goal they all share. It creates a common "language" geared toward success.
There are many different team building techniques and lessons you can utilize to align your team's communication. . .

8D Manager Software with 8D, 9D, 5Y and 4M report generator. Your corrective action software for managing, measuring, and reporting issues.

Two Simple Team Building Lessons
One of these lessons is easily recognizable, one might be a little foreign:
Brainstorming - The old stand-by. Here are some lessons and tools to ensure you get the most out of your next brainstorming session.
Rice Storm - The Japanese version of a Brainstorm. Adapted from Michael Michalko's great business book "Thinkertoys," Rice Storming is a great variation on the old stand-by

Quality Assurance Solutions
Robert Broughton
(805) 419-3344
USA
email