Building Effective Teams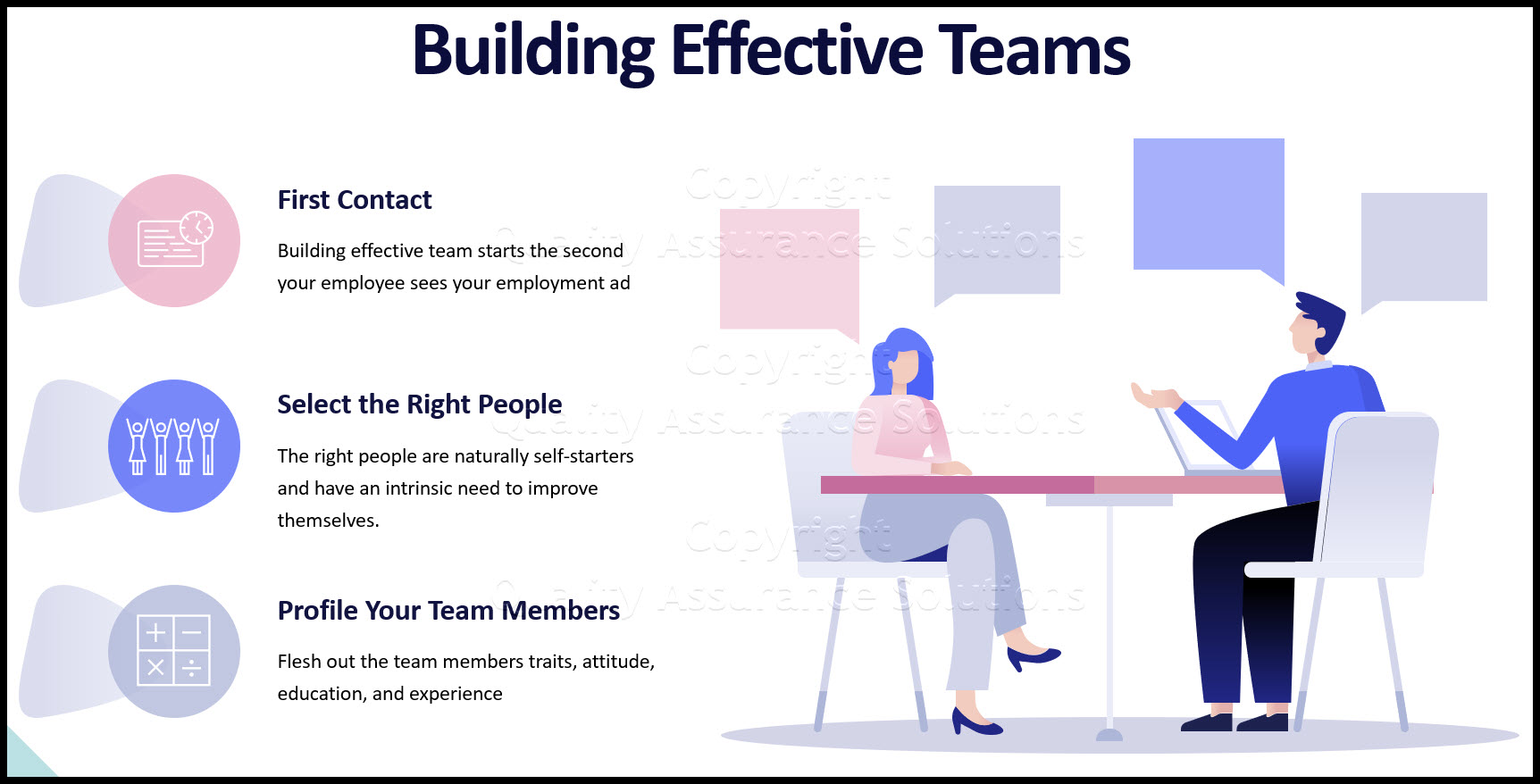 What is more central to your QA business success than building effective teams?
But how do you build one when you have no experience recruiting and managing people?
Your Team Drives Your Business 
Most effective businesses continually lookout to recruit the right people for their specific "brand." This means knowing the very precise and defined profile for who fits your business, and also, who doesn't.

PDCA Complete is an organizational task management system with built-in continuous improvement tools. Includes projects, meetings, audits and more.
Built by Quality Assurance Solutions.

Profile Your Team Members
If you're leading a team you probably have a vague concept of the "perfect" team member. But have you really sat down and fleshed out this person's traits, attitude, education, and experience. You need all of these things to attract the right team members to your project.
The simple exercise of creating a very defined profile of your team members monumentally impacts your quality assurance project.
This includes taking a close examination of yourself as a leader. What are your personal strengths and weaknesses? What is you management style? What about your personality? These difficult questions take a keen sense of self-awareness and probably the opinion from people who know you.

Get certified in Risk Management through our completely on-line training system. Study at your own pace.
Management Style and Recruitment
If you tend to be a command-and-control manager, it would behoove you to find and hire people who have thick skin. Folks who take orders well. If you hire people who have their own fiery temper and dislike being commanded around, inevitably you will butt heads and everyone will be miserable.
Self-disciplined people will resent your attempts to micromanage them, and your aggressive style will be taken as a personal slight against them.
If you expect natural self-motivation and discipline as a pre-requisite you must find, recruit, develop, and retain people who can learn and grow.
The right people are naturally self-starters and have an intrinsic need to improve themselves. By harnessing these peoples' natural tendencies your company improves
It depends on how rigorous you are about building effective teams with competency.
In a culture full of independent people. . . position and title mean little. Barriers break down. . . the ability to thrive rests in the hands of the team members.
You, as the manager, have the enviable task of retaining the good ones and letting go of the people who don't fit.

TrainingKeeper Software. Keep, organize and plan all your employees' training and activities. Software includes multi-user support with reports, certs, and calendars.

Building Effective Teams. First Contact 
What did you want to know the first day of work?
I'm sure you've experienced the strange feeling of meeting your new team members. Trying to remember everyone's name, your responsibilities, and your duties.
It can be overwhelming. But there's more. Building competent teams starts the minute the employee first makes contact with your business.
You must understand and address their concerns first before you can ever get them to "buy into" what you're doing.
Here are the questions running through your employees head from the first day:
Is this the right place for ME?
Are people going to like ME?
Do I fit in here?
Am I going to screw up?
And lots of other questions. . . but what strikes you about the previous questions. If you said all the questions concerns "me" you'd be right.
Building effective team starts the second your employee sees your ad in the want ads.
The secret of bringing in quality team members is to continually improve the communication between your business and your prospective employee. Answer their questions along the way in the hiring process.
Streamline this process and you'll find more quality people, people just like you, coming to work for you or with you. This is the key to building competent teams from square one.

Quality Assurance Solutions
Robert Broughton
(805) 419-3344
USA
email