The Importance of Team Building
What is the importance of team building?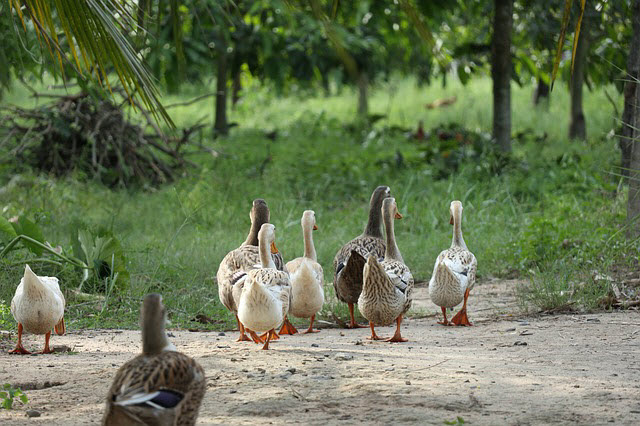 The Duck's Story of Natural Synergy
The duck never asks itself whether it's a duck or not.
It's duckness is ingrained in it's DNA. It flies south in the Fall and north in the Spring, never questioning "Why?"
It is a duck after all.
Ducks, like geese, fly in formation, each duck taking it's turn leading the flock in flight. When the lead duck gets tired, it fades from the front and is enveloped back into the fold of the flock, naturally another bird takes the lead.
They are ducks after all. This is what they do.
The way Stephen Covey sums up leadership in the modern business world can be directly applied to team building and ducks:
"Synergy comes naturally from the quality of the relationship, the friendship, trust, and love that unites people."
~ Stephen Covey
I have know clue if ducks love one another, what I do know is ducks never question the importance of team building, training, whether their flock represents them well enough, or if another flock might be a better fit for them.
If their flock isn't getting the job done, the duck struggles. In formation, ducks fly 71% farther than any single duck that flies on it's own

PDCA Complete is an organizational task management system with built-in continuous improvement tools. Includes projects, meetings, audits and more.
Built by Quality Assurance Solutions.

The Team is Family - Family is Life
Ducks instinctively know without teamwork, not only will they not arrive at their happy destination, their goose is cooked.
Ducks united by DNA and the common instinct reach their breeding and feeding destinations faster, safer, and easier. They live fully engaged in the venture - committed - synergized.
If your team is striving for synergy - you must connect emotionally
Like ducks, people naturally gravitate toward organizations that will shelter and protect them and make their life easier than if they were left to fend for themselves.
As humans we want more than a chilly nest and a little grain to peck at. Most of us want money, freedom, and the respect of our peers.
So why is there so much failure when it comes to effective team building?
The simple fact is, when people's emotional, physical, spiritual, and financial needs are not being met, their performance and attitude suffers.
So how do we meet the individual's needs and yet still maintain focus on our organizational goals in a way that is mutually beneficial to both the individual and the business
Ideas Are Team Glue They Either Stick or They Don't
Build teamwork into the DNA of your organization. Change the way your organization connects emotionally to your people by changing the way you communicate your ideas. Connect emotionally by meeting the psychological needs of your teams.
If an individual's thoughts and actions don't align with those of the organization, both are degraded. Positive team building creates synergistic teams of individuals who align with the organizational ideas and structure.
In a rapidly changing world filled with complex environmental issues, a border-less global economy, and ever increasing competition, the importance of team building takes on a dangerously sharp edge.
Simply, if you don't realize the importance of team building and don't build teams that get the job done, you cooked your organizational goose.
Importance of Team Building

Quality Assurance Solutions
Robert Broughton
(805) 419-3344
USA
email