"What Is Teamwork?"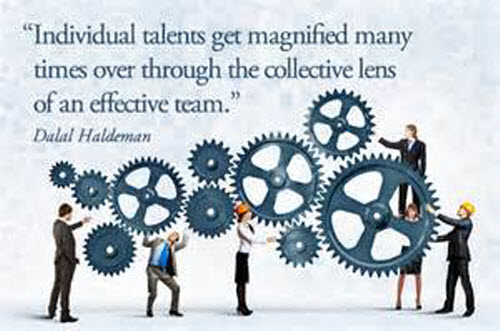 In theory answering the question, "What is teamwork?" is fairly simple.
Teamwork means people helping others accomplish a shared goal. Coming up with the answer is easy, the difficulty lies in putting together a team that works together.
If you build the right team, accomplishing your dreams and goals becomes much easier.
If you have a dream in your life, you must clarify, express, and build a team to achieve it. Simply taking this small step stops most people.
Why? Because the admission that you want something from life is too risky for most folks to admit. It means you actually want something from life that you don't have now.
Most people get stuck on step 1. Their motives for achievement usually don't alignm with their goals.


StreamLiner is Project Management software that drives your team's Lean and Continuous Improvement activities.

Clarity Exercise
Answer these questions as truthfully as possible:
What goals do you have?
Are they SMART goals?
Why do you want a team?
Can you write your motives for building a team?
Why should anyone align themselves with your purpose?
Having an basic understanding of teamwork is as important for the rest of your team as it is for you. How will others benefit from helping you?
Answering this simple question makes it so much easier to align your purpose with your teams, or vise-versa.
As a leader with a vision you need ti develop new team members and help them discover what your team means by, "what is teamwork."
For many, this will be their first venture within a real team setting, so help new team members see and maximize their own potential, while hiding and improving upon their weaknesses.


TrainingKeeper Software. Keep, organize and plan all your employees' training and activities. Software includes multi-user support with reports, certs, and calendars.

Putting the
Right People

In the Right Places

For teamwork to work, you must foster action.

But action must be directed and disciplined toward an agreed upon end. Use this sequence as the easiest way to foster teamwork in your business.

Teamwork can only exist within an effective structure that facilitates communication and collaboration, but also gives people the space to avoid stepping on each others' toes.

Do the Cha-cha-cha

What is Teamwork? It is a dance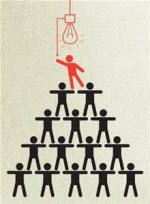 Someone leads, others follow. Sometimes people dance together, other times alone. The music gives your team the rhythm and timing. Teamwork means learning to hear and keep time to the rhythm.
Vince Lombardi, when asked, "what is teamwork?" answered:
"The achievements of an organization are the results of the combined efforts of each individual."
You must facilitate your team by putting people in the best position to succeed. Then allow them the space, autonomy, and trust to do their best work.
You must help others by having and communicating a clear vision to the rest of your team and getting them to "buy in" to the goals of the organization.
If you're looking to develop teamwork you must begin with the basic definition of answering the what is teamwork? question in context of what your team expects from each member.
Don't assume that each individual will answer this seemingly simple question the same way.
By working within your team they will learn the meaning of teamwork within the context of your business' dreams and goals.

QAS Home

>
Team Building

>
What Is Teamwork?
---
---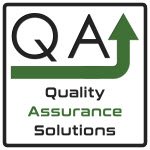 Quality Assurance Solutions
Robert Broughton
(805) 419-3344
USA
email