Core Values and Effective Team Building
Effective team building starts by establishing your team's core values and never breaking them.
Many people feel discomfort when working in a team setting because they feel the team's values don't reflect their own.
Whether or not you can admit it, we all think: "the world revolves around us."

TrainingKeeper Software. Keep, organize and plan all your employees' training and activities. Software includes multi-user support with reports, certs, and calendars.

Our values define us
On a team, the collective values define the culture, good or bad, functional or dysfunctional, of that team.
Great teams respect and closely share core values. On most teams when someone's values get trampled this causes conflict and animosity. When animosity creeps in, your team breaks down.
Team experts recommend putting every team member on a 90 day probationary period. Then you can watch how the new team member acts within your team setting.
Effective Team Building: The Common Traits of Successful Teams
"Love comes when manipulation stops; when you think more about the other person than about his or her reactions to you. When you dare to reveal yourself fully. When you dare to be vulnerable."
--Dr. Joyce Brothers
Commitment: Obviously, we want people on our team dedicated to the process of building a great business. This commitment breathes the life into the team. Without commitment, the team produces ineffective actions. By finding synergy everyone gets on the same page and commits.

StreamLiner is Project Management software that drives your team's Lean and Continuous Improvement activities.

Integrity: People's integrity defines nearly every aspect of their lives: their relationships, words, actions, and thoughts. All good things flow from the integrity of your team. People with high integrity can stay committed to the core purpose of your team. Teams with integrity stand firm in the face of danger; their personality doesn't shrink in face of stress.
Respect: Great teams respect themselves. Each member respects all the other members of the team. They innately understand that what the team achieves it achieves together. Even when two team members don't see eye-to-eye on something, they respect the other's opinion.
A respectful environment creates the seeds of success. Personal satisfaction and fulfillment occurs when teams feel comfortable, and people can be themselves. With these elements, you emerge in a productive and stable team.
QAS Home

>
Team Building

>
Effective Team Building
---
---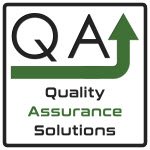 Quality Assurance Solutions
Robert Broughton
(805) 419-3344
USA
email