Candid Headlines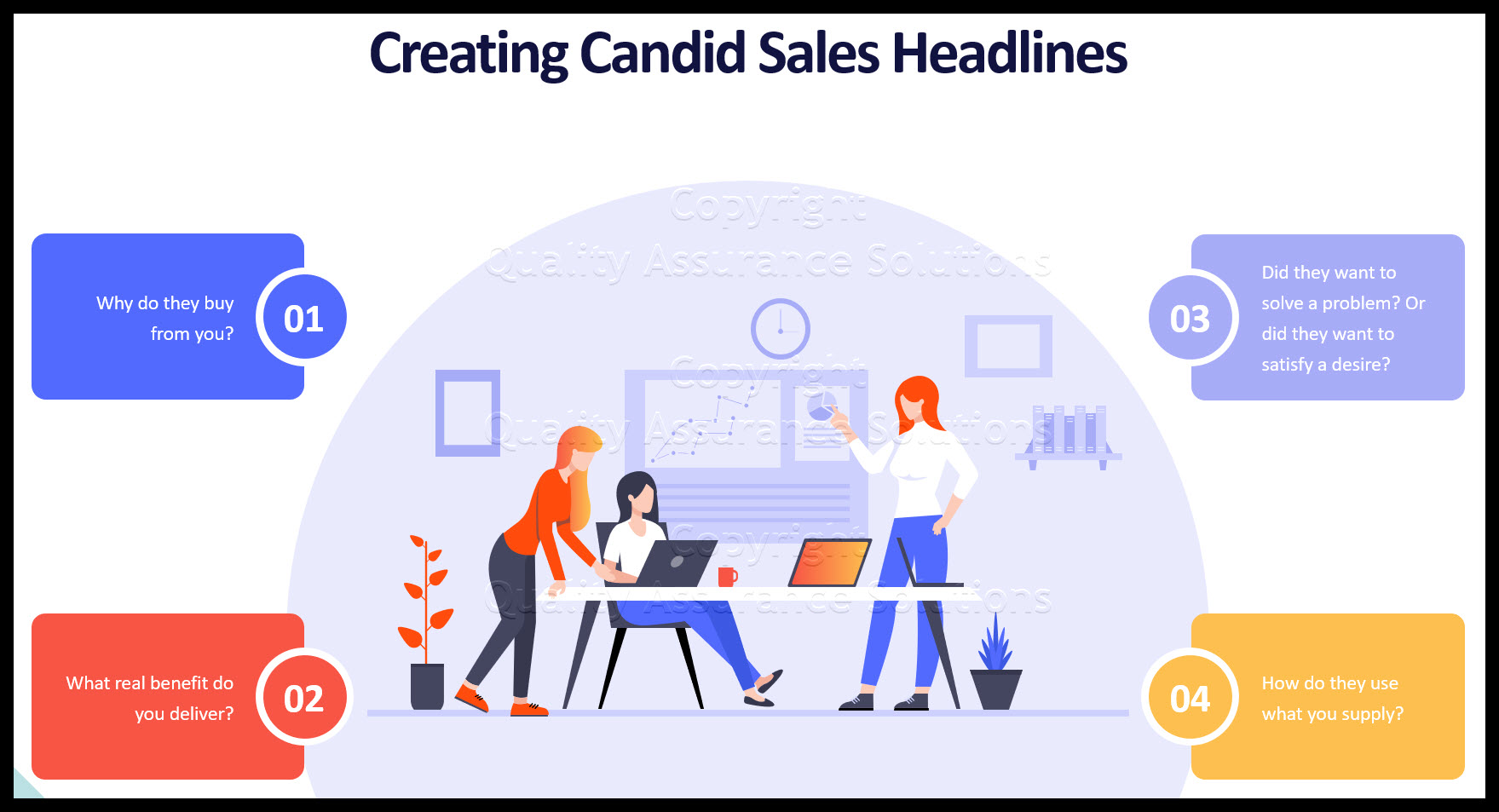 Writing candid headlines, my approach.

A colleague just finished recording an interview with me. He wanted to get some 'behind-the-scenes the scenes tips' on copywriting – specifically for sales letters. He asked a good many questions – but one came up that I'd never been asked before, or at least not in quite the way he put it.

And I thought I should share this with you.

How Do You Brainstorm Candid Headlines For A Given Project?
For many people, getting started on headlines can be an insurmountable problem. I think the reason behind this; they did not start research and seriously think about it.

You see, first off, I do research on the project, so I know everything  about the company, their business; their products (or services) and their specific offer.

I find their ideal customers and the expected customer result. I pore over the company letters received from their customers. This includes letters of complaints and how the company dealt with them. Reading about an unhappy customer who then turned into a satisfied, sometimes delighted, customer can be a great catalyst for innovative ideas.

TrainingKeeper Software. Keep, organize and plan all your employees' training and activities. Software includes multi-user support with reports, certs, and calendars.

I research their competitors and see their market – not just direct competitors too. We often compete against something completely different when it comes to persuading people to part with their money. For example, if you sell a portable CD player, you compete against not just other makes of CD players, but also MP3 players, and mobile phones. In fact, I research any other technology that delivers the result the customer wants; the ability to listen to their music on the move.
Then, having decided I want to write some good candid headlines, I let it brew. Importantly, internally state your intention; "I need some cracking headlines" so your sub-conscious knows what to work on.
I move away from the project and go do something else. And the good ideas; the approach to take; the results they purchasers gain when they take up the offer, start to percolate through my sub-conscious.
This process helps with the letter itself, as well as the headlines.

When things start to 'bubble through' I create a mindmap of the proven response – or power words as some people call them, These words also act as a catalyst as I start to formulate the headlines.

For each response word, I write 2 or 3 headlines. Some are absolute rubbish – especially in the early stages – but as I warm up the better ideas start to flow.

By using a mindmap I can go back and forth between the different response words adding more candid headlines as they occur to me.
Using this method makes it really easy to create the 100 headlines. And, more importantly, I find the stronger headlines to test as well as good ones that naturally lead to sub-heads for the letter itself. And often a good P.S. can come out of this exercise.
So there you have it – my approach to crafting headlines.
If you get stuck on 'what to write' for your headlines – review all your material. Even if you are writing for your own product or service, take the time to refresh your mind. Then let your sub-conscious do the work for you. Let the power combination of research and your sub-conscious work for you.

This Data Analysis Video teaches you the basic tools for understanding, summarizing, and making future predictions with your collected data. Includes MS Excel templates.
Testing Sub-Headlines

Should you use sub candid headlines in your copy? Some experts won't use subheads at all.
Their thought process...

'A letter should look like a letter' .

So that leaves those of us who don't like them, and those of us who do, with just our gut feeling to go on.

But it is an interesting question, so I emailed some of my colleagues to find out if anyone had ever tested a letter without – versus a letter with – subheads.
And I got a reply from Steve King a long-time, direct response copywriter.

Steve told me he had undertaken such a test, although it wasn't a direct A/B split test.
His client did not want subheads in his B2C sales letter. So the first letter was sent without subheads.
Steve then persuaded his client to test the same letter, with powerful subheads added, to the same database.
Steve revealed the second letter 'bumped up response by 36%' So validating his advice to his client.
The only times I would not use subheads are:
1) In a lift letter that is recommending/endorsing the offer in the main letter (a lift letter is a shorter letter accompanying the main sales letter. It is usually from someone, either a satisfied customer or a professional within the industry, recommending the business making the offer. It is called a 'lift letter' because its purpose is to lift response to the main letter).
2) A one-page, quick letter to an existing, active customer base.
As I've said before, in copywriting, testing is a good philosophy to follow.


Employee Handbook Kit includes two Employee Handbook templates for Professional & Manufacturing. Includes over 60 policies and benefits templates.
Headlines for Niche Campaigns
If you sell niche products, you may struggle with writing in your face candid headlines. You know the concepts and once you start writing a body of text, it flows quite well – it's just finding those headlines for adverts and website floors you.

Having a niche market should make writing attention-grabbing candid headlines easier – although sometimes it may not feel that way.
And it definitely is more difficult if you don't have a clear idea in your mind of the person you are writing to. Notice I said 'person'; not audience; not prospects; not market.
Always have a single person in mind when you are developing your sales letter / web copy.
Take a look at your existing customers. Describe that person so you can picture them in your mind.
Male or female?
What age?
Married or single?
Family
Occupation?
Interests?
Concerns?
Consider these questions...
Why did they buy from you?
What was the real benefit you delivered?

Did they want to solve a problem?

Or did they want to satisfy a desire? (If they bought on price dig a bit deeper for a true reason because people rarely buy just because something is cheap. They usually decide they want it and then look for a good deal).
How do they use what you supply? Sometimes it's not in a way you expected.
If you're not sure about the last 2 questions I'd strongly suggest you ask your customers – preferably immediately after buying. That's when asking them to complete a survey makes good marketing sense. Sometimes their answers can be astounding and may even give you an amazing headline.


Get certified in Risk Management through our completely on-line training system. Study at your own pace.
Pull Headlines Out Of Your Copy
After you've finished writing go through and highlight the true benefits that answer your customer's concern or desire.
For example, if you were selling a "Radio Box" is your prospect looking for a way of using their radio safely? If so how does the radio box reduce the likelihood of accidents.
Are they fed-up of equipment that suddenly loses the signal and starts crackling? Or maybe one that emits a massive static burst deafening them in the process? What's the advantage of using the radio box?

Then answer that problem or frustration in your candid headlines… for example

At Last – a Radio Box Brings Mobile Radio Use Safely Into the 21st Century
Knowing the problems, challenges, frustrations and irritations your customers are complaining about or knowing what they desperately want to be able to do or experience makes finding those hit-the-nail-on-the-head headlines easier to discover.
Remember – take part in the prospect's internal conversation.

If they say "I hate it when…" – offer a solution or if they say "I wish…" – then offer to grant that desire in your headline.

Quality Assurance Solutions
Robert Broughton
(805) 419-3344
USA
email