Is Outsourcing Good or Bad?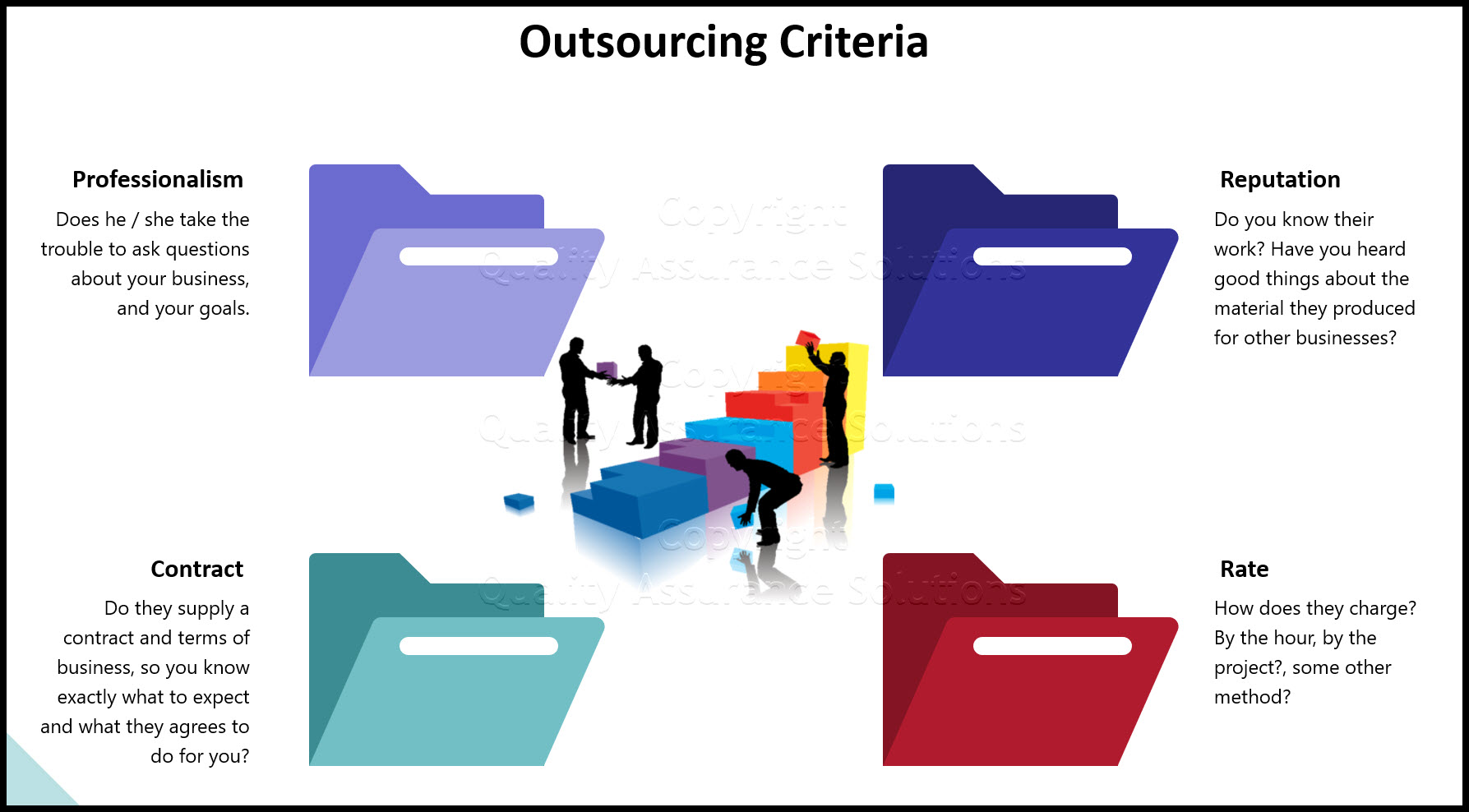 Is outsourcing good or bad? That depends on your approach and the project.
Outsourcing can free up time, expand your resources and gain expertise within your business. It can also create an absolute nightmare if you choose the wrong person or company or don't clearly state your expectations.

A reader's question raised that subject, specifically about copywriting.

This was his question:

Many small businesses are started by someone technically good at what they do, but not that hot on running a business. When are they better off writing "DIY" copy, and when should they outsource with an expert? As a rider to that, how should they (in your opinion) select a copy writer to work with?


TrainingKeeper Software. Keep, organize and plan all your employees' training and activities. Software includes multi-user support with reports, certs, and calendars.

Is Outsourcing Good or Bad? Depends on the Business Owner

A business owner, or entrepreneur, usually starts his(or her) business because he is passionate about what he provides – whether that is a service or product. Because of that passion, he has a wealth of knowledge, experience, expertise and skill in his chosen field.

Ask a question and he can tell you everything you need to know about it; what to look for; why you should avoid this or that; different approaches; different uses etc.

Consider for a moment; your business… do you regard yourself as having a wealth of expert knowledge? Could you answer almost any question put to you about it? Are you immersed, heart and soul, in your business?
It's that in-depth understanding and vibrancy that shows through when you talk about your business – and it can shine through in your sales letters when you write about it.
Bottom line: You know more about your business and how it helps other people or companies than any copywriter simply because it is your baby.
When DIY Writing is Sometimes Best..
Because you know so much more about your business ideally you should write your own sales letters and marketing material. You know every nuance, all the tips and insights that an outsider can never know. You know how to make your product or service deliver outstanding results for your customers and clients (you do, don't you?)
But there is one trap you have to be careful to avoid and that's becoming the 'business bore'. In case of being bored, is outsourcing good or bad? Outsourcing would be good.


PDCA Complete is an organizational task management system with built-in continuous improvement tools. Includes projects, meetings, audits and more.
Built by Quality Assurance Solutions.

You know what I mean, I'm sure you've met someone like that – you ask what he does and wham! you've opened the floodgates to all about his business; what he does; what he wants; how his product or service works – every little detail all told from his point of view… he will blah! blah! blah!

Yes – you do need to get your message across, and you need to show your enthusiasm for what you can do for people. However, be subtle about it. Describe it from your customer's point of view. Never forget the two questions your listener /reader is probably asking; "What's in it for me?" and "So what?" Keep that in mind when you write your letters, and you'll write compelling letters.

Is outsourcing good or bad? This depends on the business owner's time and writing skills.

For example, for some people writing really is very difficult. They do not have a natural inclination to write – and that's probably particularly true for someone who is very skilled manually or technically.
For example, a friend of mine is mental about his business (sorry! I should have said passionate.) but to me it seems 'mental' because he loves history, specifically military history and in his business he buys and sells military collectibles. Personally I can't see the attraction, but by the same token he feels the same about the fact I love to sit and write. He finds it very difficult to get his thoughts down onto paper.
Now, he can learn this skill – as anyone can – if he felt the need or inclination. He doesn't.

Similar to others, not everyone desires to make that effort.
If you find it painful to express yourself in writing; if it takes you hours of blood, sweat and tears to write a sales letter and then you decide (or someone tells you) it's never going to get the results you want. Then perhaps you need to consider the alternative. When you answer the question here, is outsourcing good or bad?, outsourcing would be good.

Because those wasted hours trying to get a reasonable effort together could probably be better spent driving your business forward in other ways. Is outsourcing good or bad, here it would be good cause your not wasting time learning to do the project.

But, before you make that decision to outsource, make sure you understand the selection process. Then you are better equipped to recognize good outsourcing and choose the right person to work with.

This Data Analysis Video teaches you the basic tools for understanding, summarizing, and making future predictions with your collected data. Includes MS Excel templates.
How to Select the Ideal Outsourcing Partner

Some of the suggestions I'm going to make here apply to any service you outsource . Decide what you want to achieve. Do you want…
A powerful sales letter?
A company brochure?
Press releases?
Feature articles?
Reports or 'white-papers'?
Copy for a website?
An email marketing campaign?
Advertising copy?
A staff handbook?
A procedures manual?
A technical guide
is outsourcing good or bad? It really depends on the selection of your outsourcing partner.
Many of these writing activities need different skills and approaches. When you've decided what you want produced you can look for someone with experience in that particular discipline.
Is he/she professional? By that I mean does he take the trouble to ask questions about your business, and your goals. For example, if you need a sales letter, does he ask about your offer and what your other previous marketing and the received response. Look for a copywriter who asks you to complete a project questionnaire.
And talking of professionalism, does he supply a contract and terms of business so you know exactly what to expect and what he agrees to do for you? Is outsourcing good or bad? It depends on the contract terms too.

Does he have a good reputation? Do you know his work? Have you heard good things about the material he produced for other businesses? Does his style match yours? Is outsourcing good or bad, it depends on the partner's reputation.

How does he charge? By the hour; by the page or number of words; or does he charge a retainer? Be careful. Writing is creative work. It takes time to craft the documents you want, especially if it is a sales letter or marketing piece. Charges by the hour can mount up and storm past your budget before you realize it.

Your ISO 9001:2015 Kit includes Templates, QA Manual, Implementation Guide and a Gap Assessment Internal Audit Tool for ISO 9001:2015
And be cautious about restricting the number of pages or words you want someone to write – unless it is a requirement for the project, for example, when writing an article for a publication that must be a specific length.

Many professional copywriters quote a price for the project, which can make budgeting easier for you. Dependent upon the work you may be able to negotiate a lower fee with a commission based  on results achieved. Beware – if he quotes low fees, ask yourself why? Is outsourcing good or bad? It depends on their fees and the reasons for the fees.

Is he easy to work with? Some copywriters can be very autocratic. They can be opinionated and refuse to collaborate properly with clients. They regard requests for changes to what they've produced to be a personal insult to their talent.

You want someone you can talk to; someone who matches your enthusiasm for your product or service; someone genuinely interested in what you provide and what you want to achieve; someone who listens and takes on board your ideas. And you want a partner who explains why he took a particular approach and why he thinks it will work for you.
Does he do his own research? Obviously, you need to provide as much material, information, insights and supporting documentation as you can. But the mark of a true professional is the copywriter who goes that extra mile by doing his own research to enhance what you've supplied.
Is he reliable? Does he meet deadlines, deliver on time? There's no point having a good copywriter if he constantly misses deadlines. That's particularly important when you are sending out offers with a specific offer period or geared to anniversaries or seasons.
Take your time when choosing someone to provide an outsource service.  Ask the questions and make sure you are happy with the answers before making any commitments.
Is Outsourcing Good Or Bad

Quality Assurance Solutions
Robert Broughton
(805) 419-3344
USA
email