Does Your Website
Captcha Work?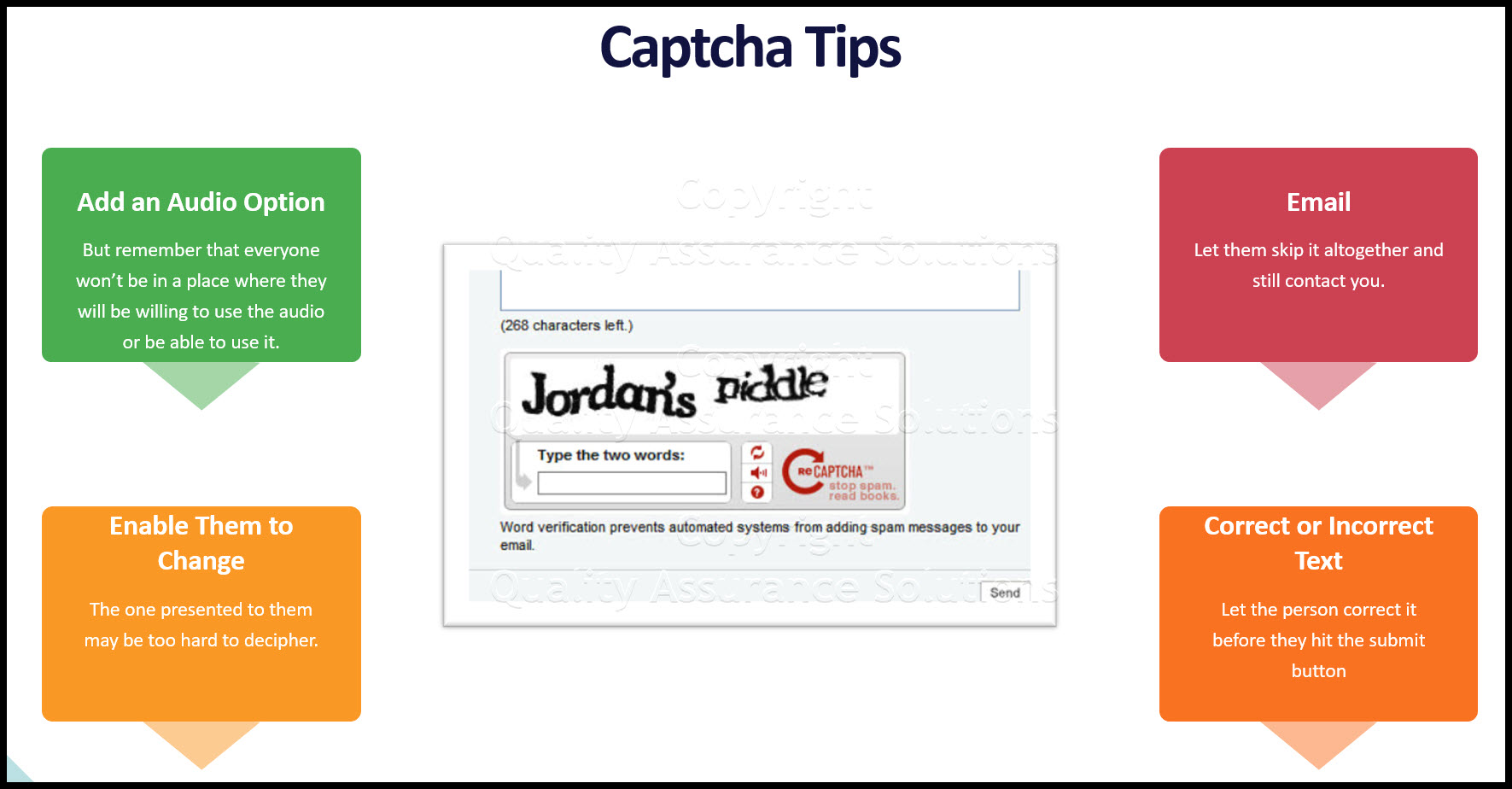 I hadn't realized just how damaging a captcha work code can be. Let me explain…
I got back to my office in one of my e-newsletters, I read an interesting article about captcha codes – which I've shared below.
Now, my first reaction was.. "Hmm, I wonder if it really is having that much of an effect?"
Then I received an email from someone who had heard my presentation and wanted to get in touch. In her email she said:
"I tried contacting you through your blog/website several times, but gave up after the 4th attempt of trying to get the letters at the bottom correct – apparently I was incorrect and then it wiped the form so I had to start again. I just have to say this was too much captcha work for me."
That made me sit up and take notice of the article I'd just read!
If this lady hadn't been so persistent and also told me about the problems she had trying to contact me I would never have known.
Now I wonder how many times that has happened before?
Time to do something about it and – more importantly – give you the heads up too!
Here's the article that highlighted the potential problem for me…
"STOP!" says the Bridgekeeper to King Arthur and his men. "He who would cross the Bridge of Death must answer me these questions three, ere the other side he see."
And any Monty Python fan worth his salt knows the scene that follows. The questions turn out to be ridiculously easy… until they aren't… and we see a couple of characters from the 1975 movie vaulted into the abyss.

TrainingKeeper Software. Keep, organize and plan all your employees' training and activities. Software includes multi-user support with reports, certs, and calendars.

Lucky for us, that's not the way it goes when you land on a website with a "CAPTCHA" to answer.
You know "CAPTCHAs."
These are those "prove you're human" little codes that block your access to a website… a forum answer… an order form… or whatever.
In fact, "CAPTCHA" stands for "Completely Automated Public Turing Test to tell Computers and Humans Apart."
Ironic translation: a computer is given a code that's used to torture humans… under the pretense of proving they're not computers.
The theory goes that no computer, at least not any today, is smart/desperate enough to squint at bunched up letters long enough to get past the gatekeeper and/or avoid the digital abyss.
This, goes the theory, keeps out the spam-bots. But it also might keep out something else, according to today's repeat guest contributor, Bill Hall.
I'll let Bill explain…
THE UNSPOKEN PROBLEM THAT COULD RUIN YOUR WEB SALES
by Bill Hall
We all talk about forms, calls to action, clarity, great copywriting, asking for the phone number or not, and other tried and true conversion issues that we need to discuss and optimize.
One thing that is often overlooked is the dreaded "captcha!"
Why am I writing about this?
Well I was researching a very competitive area and looking for consultations.
One "captcha" I couldn't get by so I closed out and went on.

I didn't think about this at all until afterwards, when I came across three more forms that needed filling out.
In each of the three cases, the landing pages were pretty good. However, I again closed out of each of them because I couldn't figure out the how the captcha work.

Sure, if I kept at it I probably could have made sense of it, but why?
I was just starting out and didn't know any of these companies. I had put them in the potential pile already… but the captcha work got me!
In marketing, we often look for the very intellectual answer when reading results.
Did I use the wrong wording?
Was it the graphics?
The load time?
But I have yet to hear people say "Was it the 'captcha?'"
In my business, I drive a lot of traffic and leads to multiple websites. And I never use "captchas."
Yes, that means I get "spam-bots" filling out a bunch of forms every 8 months or so.
But big deal — they are deleted and I move on.
Why not use "captchas" when everybody else is doing it? Here's my thinking…
"Spam-bots" or "spiders," as they're sometimes called, are an internal problem.
So why bother the good people who come to your landing page with trying to solve your problem?
I save prospects and customers the agony of dealing with the "captchas" to make their lives easier.

8D Manager Software with 8D, 9D, 5Y and 4M report generator. Your corrective action software for managing, measuring, and reporting issues.

Here's my point:
If your client's page is not converting, be sure to consider the captcha work before they blame your copywriting as the culprit.
In fact, even if the page is working well, get them to consider testing the page without the dreaded "captcha" anyway.
It just might increase their conversions several more points… making you even more the hero.
This might seem like I'm making a mountain out of a molehill. But if your landing pages use "captchas," there are questions you need to ask:
Is my "captcha" hurting my conversion? By how much? And is the lower conversion worth the benefits of the "captcha?"
By using this device you're literally using a barrier to the very objective of the page. You are making people fight to do what you want them to do.
Make Captcha Work Tips

If you still have no choice and have to use "captchas," at least keep these tips in mind to make the captcha work.

Add an audio option to hear the "captcha." This will help, but remember that everyone won't be in a place where they will be willing to use the audio or be able to use it.
Enable them to change to a new "captcha" if the one presented to them is too hard to decipher.
Have a link to an email, a click to call button, and other ways to contact you near the "captcha" so they could skip it altogether and still contact you.
Have text that shows it is correct or incorrect when you finish typing the "captcha" so the person can correct it before they hit the submit button. Otherwise, they are more likely to abandon the effort.

Your ISO 9001:2015 Kit includes Templates, QA Manual, Implementation Guide and a Gap Assessment Internal Audit Tool for ISO 9001:2015
And even with those tips, I still suggest you do an A/B test with and without the "captcha" device.
Who knows?
Even a change this small might give you more conversions than other improvements to the page that you and your client are real exited about.
Does Your Website Captcha Work

Quality Assurance Solutions
Robert Broughton
(805) 419-3344
USA
email