Testimonials for a Website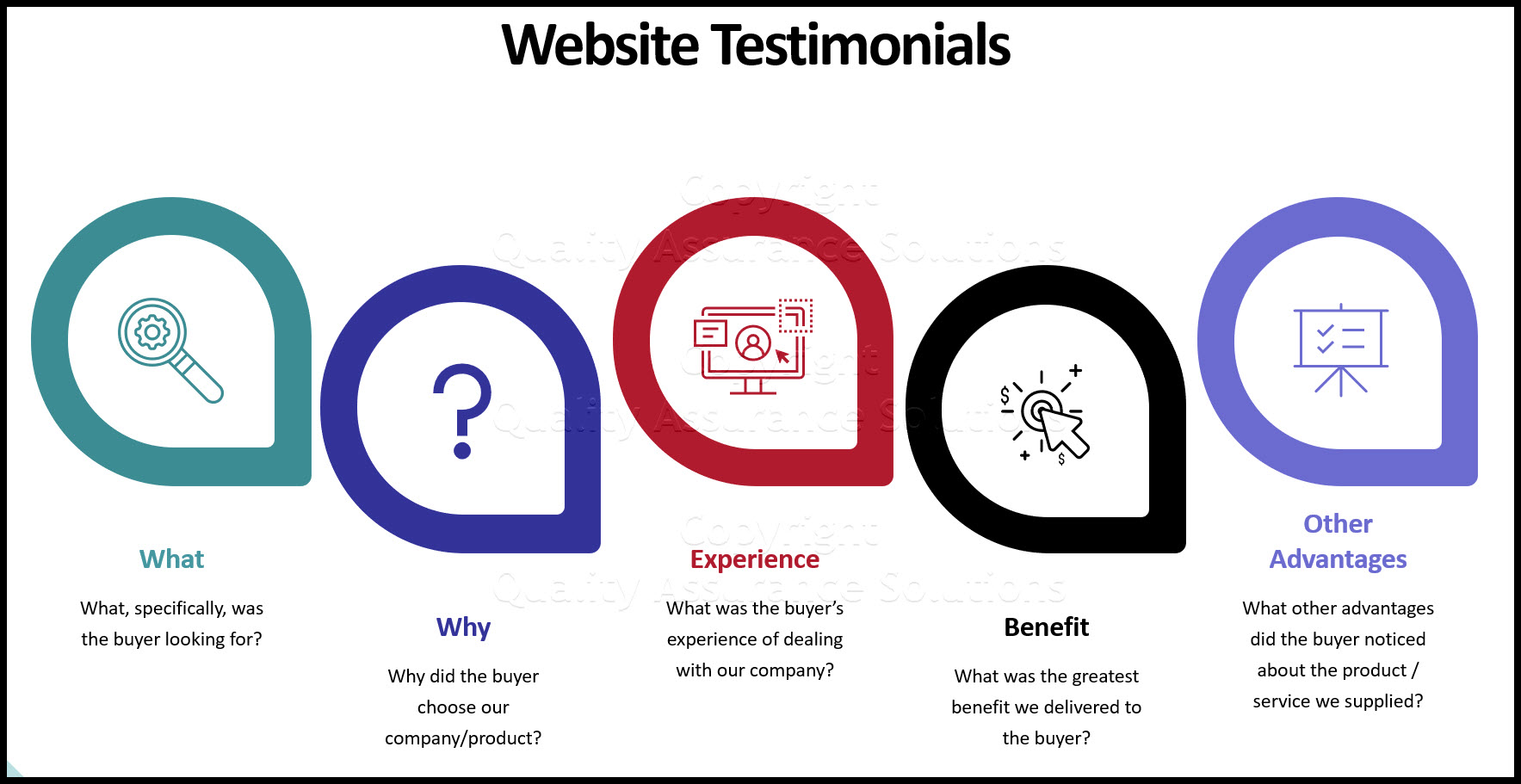 Learn how to write testimonials for a website by helping your customers write a glowing and powerful testimonial for your product.

One of the most effective ingredients in a sales webage is a good
testimonial. Not just one that says "Great job, would recommend" but one more specific about what happen before, what solution you provided, the result your customer enjoyed and the on-going benefits they continue to enjoy. [Before/During/After/After].

Now, obviously, unsolicited testimonials for a website are best, but chances are, your customers are too busy to think about writing one. With a formalized testimonial system, you can effectively collect an extensive library of fresh and relevant quotes that you can use in your letters, adverts and on your web pages.

For marketing, make a point of asking your satisfied customers for testimonials for a website. Ask them when they've just taken delivery or you just completed a project for them. Then go back, find their current thoughts about the product, and get the 'follow-on' testimonial I've described below.
Important: Make sure you get permission to use the testimonial, their name, and company in your marketing literature. Having testimonials for a website without saying who gave it may give you a nice warm glow about your company and what it delivers, but it doesn't help you in your marketing. Many people get skeptical about a testimonial without a name and company or one that just shows initials. They think you fabricated it.


TrainingKeeper Software. Keep, organize and plan all your employees' training and activities. Software includes multi-user support with reports, certs, and calendars.

Help Your Clients Write A Glowing Testimonials for a Website

When you get your testimonials for a website (or a professional endorsement) it does need to be in your client's words. However, it can be difficult for them to think of something to say that is powerful enough for you to use.

Use these five questions to get a powerful, rather than just good, testimonial from your customers:

What, specifically, were you looking for? (What was the problem you were trying to find a solution to?)
Why did you choose our company/product?
What was your experience of dealing with our company?
What was the greatest benefit we delivered for you?
Since then, what other advantages have you noticed about the product / service we supplied?
Ideally you want to get a testimonial that follows the structure:

Problem / requirement or situation before [before]
Service / product delivered [during]
Result and benefit during and after [after]
Further benefits enjoyed when looking back [after]

PDCA Complete is an organizational task management system with built-in continuous improvement tools. Includes projects, meetings, audits and more.
Built by Quality Assurance Solutions.

Testimonial Examples
Once you've gotten your testimonials for a website don't be tempted to change the phrasing or spelling. It is crucial that the quote reads naturally and doesn't look as though you've written it.

Here are examples of testimonials for a website from a copywriter service.

"l called Carol Bentley for help with a special report I was writing for my business. To be honest, I was struggling for ideas at the time. But, during my consultation with Carol my brain LIT UP like a Christmas tree. Carol blew me away with her knowledge, and was incredibly generous with her time. Carol also sent me LOTS of valuable information that I could use IMMEDIATELY! Since the consultation with Carol I have successfully written my special report. And so far it's working amazingly well."

Marcus D'Silva
Clinical Hypnotherapist & Author of 'How To Change Your Life'

"Thank you for the front end sales letter. I am so pleased & relieved that finally I have someone who has breathed life into my letter, instead of just re-writing my sentences!
My partner John was equally impressed. He came home quite late in the evening, and typically turned on the telly to watch the World Cup. I told him that the letter was ready. He asked to read it. I watched him reading it. He did not look up once to watch the football game. Every few minutes I asked 'Is it good?' He would reply I left him alone and started working in my spare room. He came running up the stairs and said 'You're really lucky to have found this lady. She's really good! The letter is gripping, I really wanted to finish it.'
So, thank you very much! "
Elizabeth Rosa
Director, Master Keys To Success Ltd


Employee Handbook Kit includes two Employee Handbook templates for Professional & Manufacturing. Includes over 60 policies and benefits templates.
"We got exactly what we wanted from the day; external training from someone with a proven track record. They [the delegates] all had a reasonable basic grasp, but there's a big gulf between that and producing winning copy.

The day backed up what they've learnt internally and provided a set of easily used 'tools' to improve. We all thought your service was fantastic; very professional, well organized and presented. Nothing negative came up afterwards - all positive. From the feedback I've received, they all found your style of presenting very comfortable and entertaining. It wasn't just presenting by numbers which we've experienced on many occasions.
Thanks again for the day. As the team grows and others have responsibility for writing marketing material, we'd definitely repeat the session."

Matt Tindall
Creative Director, 288 Group / Westminster Collection

"You know when I started working on this project in December, I thought of getting a copywriter. I just went to google and earmarked about 3 copywriters who appealed to me by instinct. I talked to the other two as well but somehow my instinct told me you were more than a professional copywriter. I thought you definately had something more to offer other than professional copywriting and the past two months we have been working together on my project have proved this right.
You have showed me a degree of committment not just to your job, but to my success. I wanted to let you know that this committment means to me a lot more than the best professional advice that I could afford to obtain from the best professional in that field May be I could afford to pay for the professional advice that you or any other copywriter could offer but I find it difficult to place any monetary value on the level of committment that I have seen you offering towards my success.

So I am writing to say thank you. I thought it important to make you aware of my gratitude even before my project takes off, so that you know that I didn't say it just for the sake of it.
Please register my appreciation and God bless you.
Thank you so much,"

Blessious Kalemeera (via email)
MBK Publishing


Get Green Belt Certified with this extensive on-line course. Learn the Six Sigma tools and steps. Earn 25 PMI PDU. Start implementing Six Sigma today
How To Use Your Testimonials To Great Effect...

Use your testimonials within your letter, advert or web to support any claims or features and benefits you claim, rather than just listing them at the end.

For example, if you describe how quickly you deliver your product or service then use a testimonial that describes how quickly the goods arrived or how swiftly you completed the project.

Testimonials for a Website

Quality Assurance Solutions
Robert Broughton
(805) 419-3344
USA
email