Writing Subheads
Writing subheads have two crucial, seemingly opposite, functions in your copywriting. If they don't fulfil these, then they are just 'eye-candy' breaking up the main body of your text rather than accomplishing an important role in your sales copy.
After your headline, PS and opening paragraph your subheads vitally support the success of your letter or web page. In a moment, I'll let you into a neat trick on how to check their effectiveness.

Do Your Subheads Facilitate Flow?
You already know that the purpose of your main headline is to capture your reader's attention and intrigue or persuade them to read the first paragraph of your letter.
Writing subheads have a similar function – they should draw the reader naturally from the previous paragraph and smoothly into the next. Sometimes they introduce the next focus point of your letter. It's important to keep that connection; using subheads to jump about from topic to topic confuses and can repel your reader.
Used in this way it makes reading long sales copy particularly easier for the detailed person.

TrainingKeeper Software. Keep, organize and plan all your employees' training and activities. Software includes multi-user support with reports, certs, and calendars.

Do Your Subheads Halt Your Reader?
Your subheads should be able to stop your reader in their tracks.
Now this may seem like a contradiction to what I've just said. But it is just as important and, in fact, well written subheads do complete both roles.
The type of reader I'm thinking of is the skimmer. Someone who reads the headline, is interested, reads your first paragraph and then skims through the rest of your copy to see what it is about.
The purpose of writing subheads is to get the critical points of your message across and magnetically compel the skimmer to stop and read important sections.
In essence, reading just your subheads should deliver your message – certainly enough to appeal to your prospect, so they take the action you want and have clearly signposted.

I have had people phone me and say "Your letter was very long, I didn't read it all but I did get the gist of it." And that's fine with me because the 'gist' was enough to get them to take action.

Without powerful 'story-telling' subheads, they would never have got the gist, because they would not have read the main body text too.

Creating Powerful Subheads
As I said, writing subheads should give the gist of your offer whilst – at the same time – drawing your reader through your letter.

If you start your copywriting session developing a large selection of potential headlines, you'll often find many you can adapt into subheads.

Check your swipe file for inspiration on subheads that have been used in successful letters and direct response adverts.

After writing your sales letter, check your main body text; do you see a phrase within the paragraph that is more powerful than the subhead you have used?

Employee Handbook Kit includes two Employee Handbook templates for Professional & Manufacturing. Includes over 60 policies and benefits templates.
Writing Subheads… A Neat Trick
Read just your headline and subheads. Do they flow? Would they attract attention? Are they intriguing enough to make you want to find out more?

Here's the neat trick I mentioned at the beginning.

Copy your headline, subheads and PS into a separate document. Now read them;

Do they tell the story?
Are they all strong statements or questions?
Are they compelling, even persuasive?
or
Are they weak and boring?
Perhaps they don't flow or make sense?
Do they need a bit of tweaking or changing completely?
Give your summary document to someone else – who doesn't know what you are writing about – and ask if they get the gist or are intrigued enough to want to know more.
Advanced Tip
If you write your sales letter in MS Word and use the heading styles there's an even easier way to get your summary.
Apply Heading style 1 (Ctrl+Alt+1) to your main headline section
Apply Heading style 2 (Ctrl+Alt+2) to your subheads
When you've completed your sales letter go into Outline view (Outline from the View menu or use the Outline View tool at the bottom of your document).
Once in Outline view you can set the display to show your main headline and subheads only by choosing to show up to heading level 2 – press Shift+Alt+2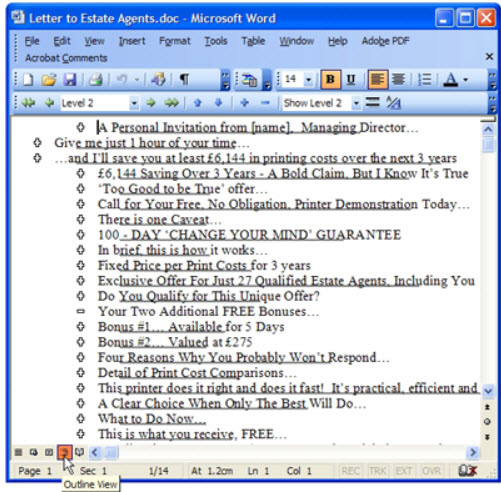 If you print your document whilst displaying your subheads in Outline View, you get a printout of your headings only.

Quality Assurance Solutions
Robert Broughton
(805) 419-3344
USA
email