Small Business
Internet Security
Concerns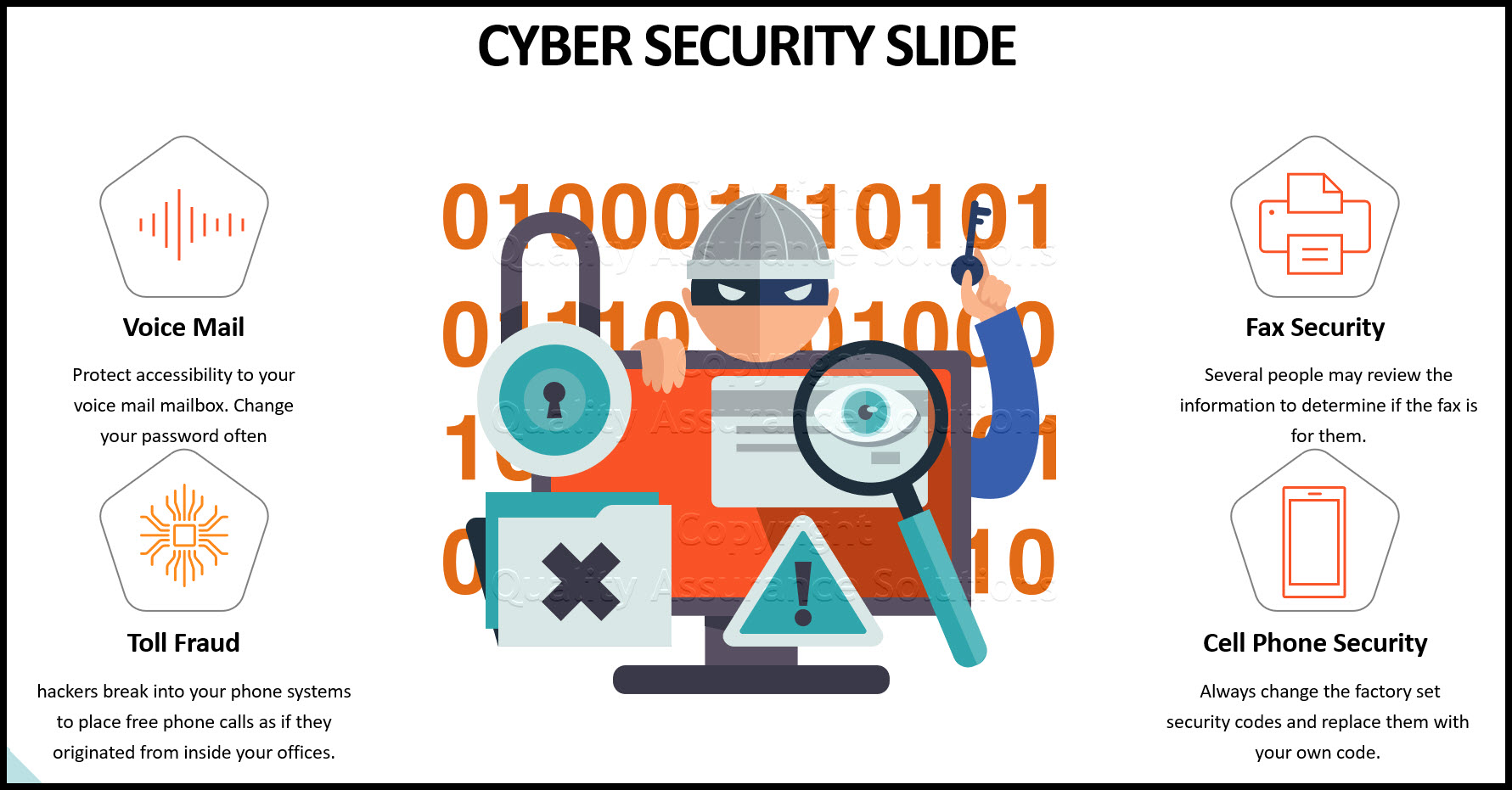 Voice Mail Security
Small business internet security means controlling voice mail.

Voice mail provides an excellent, convenient communication tool for today's mobile professional. Commercial and home use has grown rapidly. The ability to leave that one critical message can create and decide the success of many business ventures.

As voice mail continues to develop into a common communications tool, those using it must be conscious of security issues surrounding the use of this time saver. Voice mail quickly shares information restricted only to a specific audience. The effects of such information being distributed to the wrong audience at the wrong time could be devastating.
As the owner, you should protect accessibility to your voice mail mailbox. Your voice mail password creates the key to personal and sensitive data that could impact your ability to conduct business. Technology allows us to access data anywhere, at anytime, and by almost any means. It's up to us to practice secure voice mail techniques, and use the tool wisely.
Follow the suggestions and tips listed below helps tighten the user related security exposures with voice mail:

New users should receive training on the use of voice mail.
Remember that telephone units with displays reveal all numbers entered, some include your voice mail password - beware of "shoulder surfers."
Change your password often - at least every 30 days.
Learn how various store, display, and redial functions operate on the telephone model you use:
How many numbers does it store?
How many numbers can it redial?
How many numbers can be recalled from memory?
Exercise caution if you access voice mail over cellular telephones - your messages and password can be monitored easily with current wireless "snooping" equipment.
Use discretion when leaving messages on voice mail systems. Preface messages containing sensitive information on voice systems with the message: "Do not transmit over a cellular system."
If you are a cellular phone user with a voice mailbox, DO NOT listen to messages marked private over your cellular phone, and precede sensitive voice mail messages with "Don't listen to this message via cellular phone."
When leaving sensitive voice mail for someone, initiate the message from your voice mail mailbox. Do not leave the message if you have been forwarded via a third party.
Use the privacy feature when appropriate - by marking a message as private, it cannot be forwarded to anyone else.
Most business voice mail systems provide a phone number in order to access the system when offsite. Do not distribute the voice mail system access phone number - the voice mail system access phone number could provide hackers an avenue to obtain free telecommunication service.
Keep your mailbox clean. Do not archive messages, especially confidential ones, for long periods of time.
By following the tips above, you can significantly reduce the risk of compromising a voice mail message or voice mail system.

Employee Handbook Kit includes two Employee Handbook templates for Professional & Manufacturing. Includes over 60 policies and benefits templates.
Small Business Internet Security and Toll Fraud
Another small business internet security concern deals with toll fraud
You wouldn't allow a stranger to walk into your building and begin making phone calls to unknown destinations using company equipment. And yet, an individual who perpetrates toll fraud on an unsuspecting company is doing just that. In a recent incident, one company uncovered over 10,000 minutes of fraudulent international phone calls. It has been estimated that toll fraud costs American businesses well over $2 billion a year.
Exactly what is toll fraud, and what can you do to help prevent it? In simple terms, hackers attempt to break into your phone systems to place free phone calls as if they originated from inside your offices / systems.
Here are some things that you can do at work to minimize small business internet security.

Guard your authorization codes and voice mail passwords carefully. Don't write them down and don't program them into auto dialers. Change your passwords frequently.
When traveling, beware of strangers lurking adjacent to pay phones who may be able to view and steal your access codes or calling card numbers.
Don't accept collect calls and beware of the seemingly innocent incoming caller who asks to be transferred within your system or to an outside line. These thieves try to deceive innocent people who answer the phone. Be alert to patterns, because if you become suspicious, you're probably right.
Increase security around your telephone switch room and wiring closets. Secure documentation and reports that may reveal access codes or password information.
Prohibit or restrict calls to cities and, countries where you do not do business. Many people buy the illegal use of phone numbers to call certain area codes.
Notify your leadership team immediately when you are suspicious. Don't try to investigate a situation on your own.

TrainingKeeper Software. Keep, organize and plan all your employees' training and activities. Software includes multi-user support with reports, certs, and calendars.

Fax Security

Don't forget fax security when reviewing your small business internet security.

When you send a fax, are you sure that the recipient has received it? Do you complete a fax slip? Do you include the complete name, telephone number, and fax number for the recipient and the sender? When sending a confidential or private fax, do you notify the recipient or request receipt confirmation?
By not completely filling out a fax slip or cover sheet, or by not requesting a confirmation receipt, you leave your information vulnerable. If you don't identify a recipient, it may sit at the fax machine for days or weeks. Plus several people may review the information to determine if the fax is for them.
If the receiver is not aware of the incoming fax, you may have misdialed transmitted it anywhere. You would have no knowledge that a mistake had occurred! If you had requested confirmation in writing, you would have a better chance of someone calling and stating that they received the information in error. You could then verify the telephone number and request they shred the fax before sending your next fax. You should complete the fax slip or cover sheet with all the important details. This helps ensure that your information does not fall into the wrong hands.

Get certified in Risk Management through our completely on-line training system. Study at your own pace.
Cellular Phone Security
Small business internet security means issuing a policy for cell phones.

Here are a few tips to safeguard small business internet security of your business and personal cellular phones. The time spent taking a few simple precautions, can save you time and money in the long run.
Prevent unauthorized calls - Use the built-in code feature that most cell phones are equipped with, which allows the owner to select a four-digit code that must be used to place outgoing calls.
Avoid theft - Never leave the cell phone laying in your vehicle in full view, and remember to lock your phone when it's not in use.
Prevent cloning - Avoid usage, in high-traffic areas, where it is easy for a thief to "hit" on a frequency with their electronic equipment, clone your number, and run up your bill!
Avoid sensitive conversations - Be careful not to discuss confidential or personal information. Theft of information is a major threat to both business and personal cell phone users. Even though it is illegal to monitor cellular phone calls, thieves have access to equipment that can intercept your calls.
Encourage small business internet security by using awareness, prevention, and wisdom:
Never write the phone number on the cell phone or case.
Always change the factory set security codes and replace them with your own code.
Be aware of your conversation, and the potential of being monitored.
Immediately report a stolen phone or potential cloning to your service provider. The sooner your service provider is made aware of a problem or unusual activity, the quicker they can investigate and possibly catch the thief.
By taking these few precautions, and using a little common sense, you will greatly enhance the privacy and security of your cellular phone, and continue to get the maximum benefit of this communications technology.

Quality Assurance Solutions
Robert Broughton
(805) 419-3344
USA
email