Maximize Your Software Investment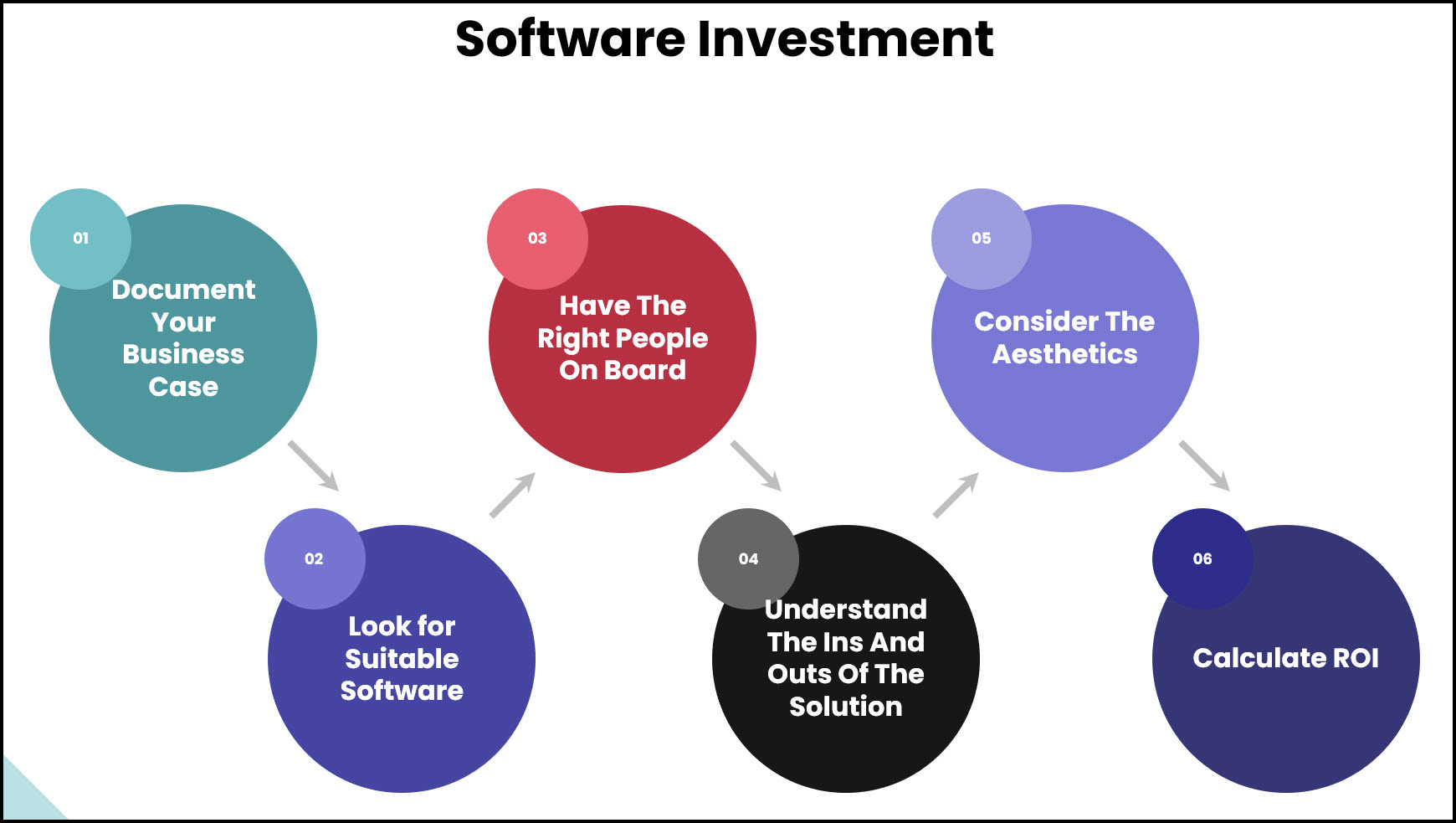 Companies spend a massive 8.2 percent of their revenues on IT and Software Investment, Flexera says. Depending on the scale of the company, that's hundreds of thousands – if not millions – in locked up seed money, year after year. If you have enterprise software-related plans in the works, you'll be pouring in similarly massive sums yourself. If you're a smaller business wanting a SaaS solution, you're still looking at a significant investment.
Needless to say, you should be looking to get the best possible returns on whatever you invest.  You don't want to be like the other companies that waste, on average, 37% of their software budget!
Here we share some tried-and-tested methods on how to get the best out of your planned investment:
Document Your Business Case First
First, before you buy or custom-build software, you must have a documented need for it. Don't shop for software first and then try to integrate it into your business – that's the fastest way to waste money. Ideally, you want targeted software to enable you to achieve one or more concrete business goals. The nature of the software investment goals will depend on your unique business and the solution in question. Here are some questions to answer:
Will it make your processes more efficient?
Will it assist in informed decision-making?
Will it make your employees' lives easier? 
Look for Suitable Software
Next, you should find suitable software – "suitable" being a solution that best matches your business case. For example, 8D Manager lets you manage all of your corrective actions in one place.
Or if you are considering Training Software to manage all your company 's training, take a look at TrainingKeeper.


8D Manager Software with 8D, 9D, 5Y and 4M report generator. Your corrective action software for managing, measuring, and reporting issues.

Have The Right People On Board
Whether you're building or buying software, you need talented people. Your people will implement, test, and use the software. When you're building enterprise software, you need a supervising team and an implementation team. When you're buying pre-existing software, you still need technically-able people to administer and use the software. Essentially, without good people, no software will ever provide sizable returns. 
Understand The Ins And Outs Of The Software Investment Solution

Once you have both the right software and the right people, we recommend a deep dive into the capabilities of your prospective new software. Afterward, look at three important parameters:
the benefits
potential costs
and risks.

When the benefits outweigh potential costs and risks, you know you're doing it right. You'll also want to create measurable KPIs for your new solution alongside – you'll need this data during the implementation and afterward for some fine-tuning.

TrainingKeeper Software. Keep, organize and plan all your employees' training and activities. Software includes multi-user support with reports, certs, and calendars.

Consider The Aesthetics
When building your own internal software, overall presentation is also necessary, and this includes adding any relevant logos or literature. You can save money by using a logo maker app that allows you to fully customize a logo to match up with your software. Use a platform that generates a logo you can resize in case you need to use this for something else as part of your software rollout.
Calculate ROI – Before, During, And After
Finally, there's the math. Calculating the ROI on software is tough, but it's doable and well-worth your time. There are two major benefits of running ROI numbers. One, you will know exactly how much working capital will be tied up and how big a return you can expect. Two, you can use the numbers to get buy-in from investors and the upper management. ROI calculations should be made at all stages to keep your investment on track. 
Unfortunately, it's fairly common for software-related projects to fail partially or fully, especially when it's complex or new technology. Gartner estimates the failure rate to be as high as 50%. Before you invest any money in software, you absolutely must have a concrete plan in place, along with the right people to support its implementation! It'll be the difference between success and failure. If you get the basic foundation right, your reward will be an effective, efficient solution that'll return your investment tenfold.
Article written by Carla Lopez. Article edited and posted by Quality Assurance Solutions


Quality Assurance Solutions
Robert Broughton
(805) 419-3344
USA
email