Building a Successful Team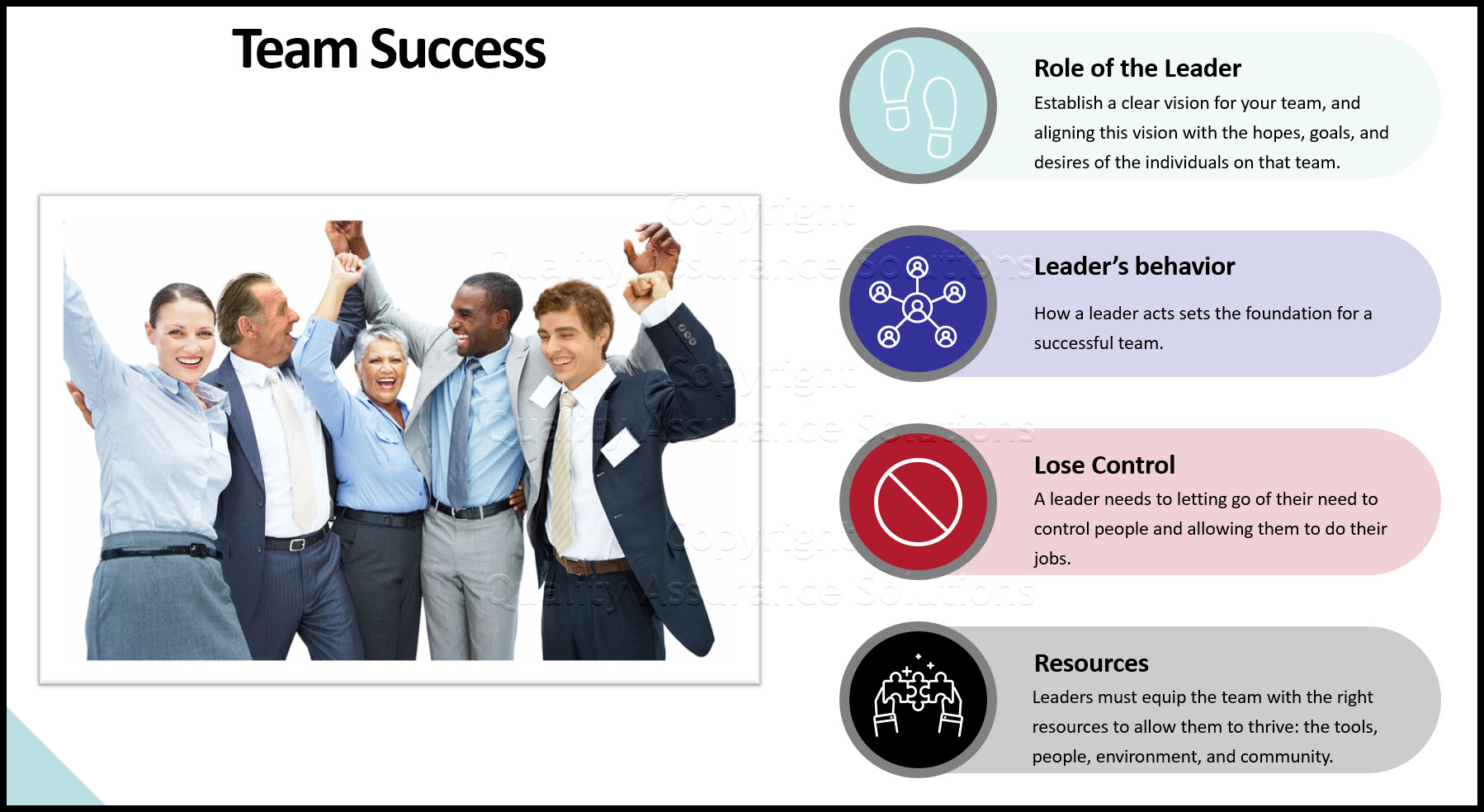 Building a successful team is about leadership.
True leadership is based entirely on your actions and behavior.
Your team judges your leadership ability based on what you say and what you do. They can't see into your heart to determine what you think or feel.
You are left only with your actions. . . for better or worse.
That's it.
Your role as a leader means establishing a clear vision for your team, and aligning this vision with the hopes, goals, and desires of the individuals on that team.
How You Act is the Foundation of Success

TrainingKeeper Software. Keep, organize and plan all your employees' training and activities. Software includes multi-user support with reports, certs, and calendars.

Foundation of a Successful Team
As a leader, building an extraordinary team is rooted deeply in your behavior. How you act is the foundation of your organization.
You build outstanding teams by making connections. . . connecting the right people together, and connecting the right people with the right work.
Studies show that there is a huge gap between people and their work.
Most folks describe a huge chasm between their "real life" and their career. Their job feels like it's missing a "deeper meaning".
People don't connect with their work at a core level, and this results in  dissatisfaction with their jobs.
As a leader, establish a team that people find "deeper meaning" in their work.


PDCA Complete is an organizational task management system with built-in continuous improvement tools. Includes projects, meetings, audits and more.
Built by Quality Assurance Solutions.

People are very similar to one another.
Our hopes, desires, and dreams really only differ by shades of degrees.
When we build our team with the knowledge that, at the core, all our team members want basically the same thing, we can design an effective model that will result in a happy successful team.
Establish real teams on authenticity. Their filled with real people who serve real needs.
As a leader you have some control over the team building process - but ultimately, building an effective team means letting go of your need to control people, and allowing them to do their jobs.

What You Can Control
You must find people whom you can depend on. As the team leader you are probably in the most vulnerable position.
In order to succeed, your team must participate together, yourself included.
A thriving team keeps no losers. You must equip your people with the right resources to allow them to thrive: the tools, people, environment, and community.


Get certified in Risk Management through our completely on-line training system. Study at your own pace.
An Atypical Definition of Leadership
Typically, leadership is defined by who has power within any organization. This is the old model of power.
To build a productive and effective team you empower the individuals who form that team.
Real leaders give away their power to others, trusting their team will respond positively.
Trust is power. Effective communication is power.
The more quality seeds you sew, the more reward you harvest later. That is the secret to building a effective team.

Quality Assurance Solutions
Robert Broughton
(805) 419-3344
USA
email