Fostering Teamwork:
Effective Team Facilitation
Effective team facilitation is a process that allows people to work together collaboratively, while still being held accountable for their own work.
When people work together for any length of time you're going to have conflict, people's feeling will get hurt, egos will clash, people will differ on the "right way" to go about accomplishing a task or meeting a goal.
Building an effective team is about creating and fostering a safe environment where people willingly work together toward the goals of the organization.
Facilitating teamwork is not always an easy process. People struggle to participate collectively despite the benefits of effective teamwork. Why is it so hard for people to work together?
There is no simple answer.
Work Ethic
Talent
Chemistry
These are all good places to start when building a team. But how do you find them? And how do you know when your mix is right? Is building a team like baking a cake? Sure, with the right ingredients the right team can be a treat. But if you put in too much salt. . . yuck!.
Often it's very hard to identify what separates a great team from a dysfunctional one. Unless you know exactly where to look.
One thing is clear, there are simple team facilitation steps you can take to build a better, more productive and happier team

StreamLiner is Project Management software that drives your team's Lean and Continuous Improvement activities.

An Objective Eye In Business?
Some experts argue that the most effective form of team facilitation is when an an outsider is brought in to observe and provide feedback. Others suggest that the designated "team facilitator" should be a team member. These folks also suggest that the facilitator role should be rotated to each member of the team on a regular basis. Operating this way gives each team member a chance to participate and grants them a sense of responsibility for the healthy functioning of the team.
Both ways seem to be intelligent solutions, and not mutually exclusive. Sometimes an objective eye is needed to spot entrenched conflicts, improve workflow, and observe the team's dynamics without having a stake in the process.

8D Manager Software with 8D, 9D, 5Y and 4M report generator. Your corrective action software for managing, measuring, and reporting issues.

The 17 Laws of Team Facilitation

The writer, John C. Maxwell has identified "17 Laws of Teamwork" that can be very useful to learn if you cannot recruit an outside team facilitator.
As you look deeper into building healthy teamwork through effective team facilitation, you will also see why Maxwell's "Laws" are important.
For example: "The Law of Significance," every leadership course I've been a part of, every business leadership book I've read, and all my experiences as a team leader demonstrate how having and maintaining a significant and important goal fosters teamwork and gives people a sense of identity.
Identity is core to getting people to want to belong "to something." When someone can identify themselves with a cause, a group of people, a movement, there is less hesitation, they will take the actions necessary to "belong."
Jim Collins, another great business author's acronym BHAG (Big Hairy Audacious Goal) exemplifies the "Law of Significance."
Both Collins and Maxwell are talking about ideas that dovetail well together, facilitating teamwork creates great teams and organizations by giving people a sense of purpose that belongs to them. They buy into what they're doing, their work defines them. This is true team facilitation.
Leaders who do not value real teamwork will probably never facilitate or instill a culture of teamwork in their workplace, thus their team will always fall short of greatness.
That is the art of facilitating a team: involving individuals in a way that allows them to be themselves, promotes their strengths, minimizes and shores up their weaknesses within the strength of the team. While at the same time accounting for the achievement of the organizational goals.

This Data Analysis Video teaches you the basic tools for understanding, summarizing, and making future predictions with your collected data. Includes MS Excel templates.
Finding Consensus
One of the biggest benefits of having a team is the differing perspectives available to look at a problem. Each individual sees the world around them differently, thus can add a unique set of skills to answer a problem or offer a solution. Accountants see the world differently than marketing folks. Designers solve problems differently than human resources people.
Effective team facilitation breaks down the barriers between these differing individuals and departments, and helps them see the common ground within their perspectives. With common ground each individual can work toward the organization's goal with autonomy, and without losing their identity.
Remember: not every decision needs everyone's consensus. A good team facilitator will identify:
These three element must be identified before a decision can be made. Making decisions this way you minimize confusion and maximize clarity.
Clarity is key to making good decisions. Once you've identified these three element the next steps are simple:
gather the right people to make a decision
Tell people what decision needs to be made
Share the right information
State the outcome of making, or not making, this decision
Announce extenuating factors that need to be taken into account before a decision is mad

---
---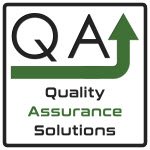 Quality Assurance Solutions
Robert Broughton
(805) 419-3344
USA
email