Developing Powerful Communication in Business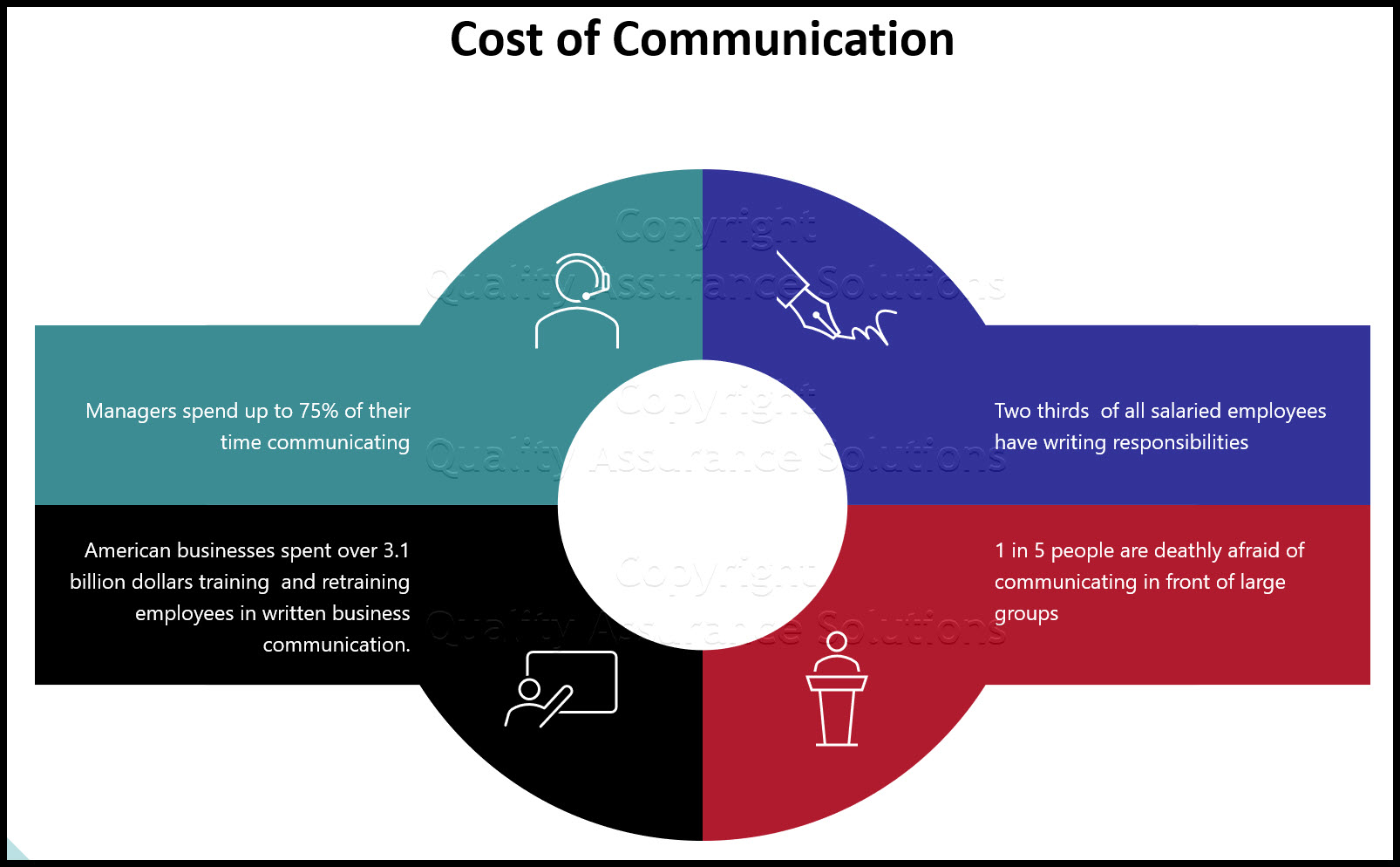 Is communication in business the most important factor to the success or failure of your team?
If you said yes you'd be right.
Communication within your team, organization, and marketplace is the core of your business, and defines the trajectory it will take.
It's been proven, business managers spend upward of 75% of their time communicating.
Ask yourself: "How much does your team rely on effective communication?"
The Cost of Communication in Business

Given the fact you spend so much of your time communicating, poor communication skills obviously come with a huge price tag to your business.
Just last year, American businesses spent over 3.1 billion dollars training  and retraining employees in written business communication. 
But this statistic doesn't show the billions of dollars that employees with  poor verbal and written communication skills cost their business every week.

PDCA Complete is an organizational task management system with built-in continuous improvement tools. Includes projects, meetings, audits and more.
Built by Quality Assurance Solutions.

If You Don't Communicate Well, You Burn Your Profits
The case is clear: You wouldn't burn your profits in a big pile in the middle of your office. So why would you knowingly limit the effectiveness of your business by hiring employees with poor communication skills? And for the employees already working, shouldn't you find a way to help your team members freshen up their communication skills?
The answer is yes. To run a team or business at a high level you must target employees who can communicate clearly.
Did you know 2/3 of all salaried employees have writing responsibilities? Most of these employers pay top dollar to train and re-train their employees to encourage more effective communication in business organization.
If you're an individual looking to fast-track your career, improving your communication skills maybe the absolute best thing you can do.
As someone who has struggled at times to get my point across effectively in large groups or when doing business presentations, I know first-hand the importance and the difficulty of effective communication in business. It will make or break your career.
The best lesson I ever learned was that I wasn't alone in my struggle. Most high level managers and team leaders struggle to improve their communication skills.
Their are several organizations dedicated to helping people communicate better, and overcome any communication anxiety you might have.
1 in 5 people are deathly afraid of communicating in front of large groups. They'd rather die than get up in front of a large group of their peers. . . amazing.
There is help. Groups like Toastmasters International dedicated themselves to helping professionals who need help with communication in organization. Thousands of people overcame their fears and strengthened their leadership skills with the help of these groups, and best of all they're free to join.

Comprehensive ISO 9001:2015 Audit Checklist for Internal, Gap and Certification Audits.
Does Fear Hold You Back?
By not admitting you need help creates the largest barrier between where your current and your future career goals. As a business professional you should understand the far-reaching consequences of not clearly expressing your thoughts, feelings, and information. Training yourself effective communication in skills is key to longevity and promotion.
At the core, every business succeeds by the way it communicates. How you encourage your employees to communicate forms the critical link within teams and every aspect of your business.
As a professional, you know writing and speaking are the two of the most important aspects of your career, perhaps more important than your specific knowledge.
Looking at this from the perspective of you as part of a business team, your ability to communicate makes you indispensable or expendable.
As the workplace becomes more diverse your ability to relate to different "types" of people and backgrounds comes at a premium. Literally.
Your ability to harness the talents of others and get them working in a common direction, regardless of their diversity, is a resource not everyone can take advantage of.
As a professional you must understand, no matter how much marketing, finance, and accounting your team might know, unless your team can communicate that knowledge effectively, it's useless.
The key to effective communication in business, and to building a great team, is effective collaboration and sharing knowledge between disciplines.
Powerful Communication In Business

Quality Assurance Solutions
Robert Broughton
(805) 419-3344
USA
email