Effective Team Building Communication:
Establishing Your Competitive Advantage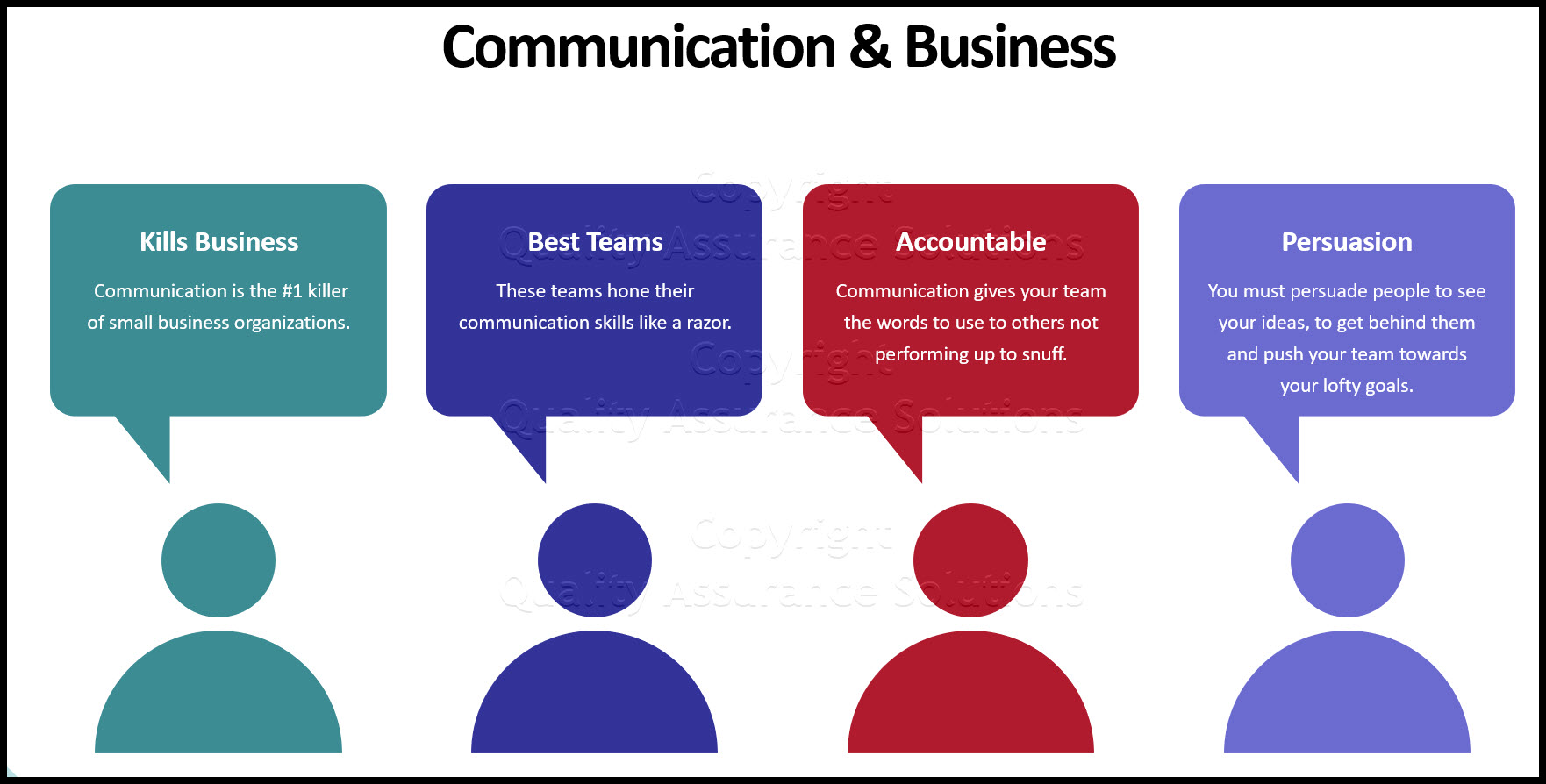 Do you know, poor team building communication is the #1 killer of small business organizations. . . and 96% of all companies fail within 10 years?
Establishing healthy communication lies the foundation for the culture of teamwork.
Given the many benefits of quality teamwork and communication, the only question one can ask: Why don't more teams focus on leveraging team building communication as a competitive tool?
This question begs another: Why don't the majority of people who realize the benefits of organized teamwork, especially business people, actively work on improving communication.
At the root, poor teamwork and communication skills are not a business problem, they're a people problem. Patrick Lencioni writes in his great book "The 5 Dysfunctions of the Team":
Not finance. Not strategy. Not technology. Teamwork remains the ultimate competitive advantage, both because it is so powerful and so rare.
--Patrick Lencioni  
Lack of teamwork is a problem intensified by the competitive nature of business. . . people literally feel like they are fighting for their lives.
Luckily, you can fix this problem through improving your team's communication in the workplace.

TrainingKeeper Software. Keep, organize and plan all your employees' training and activities. Software includes multi-user support with reports, certs, and calendars.

Competitive Advantage: Leverage Yourself and Your Team
The best teams hone their communication skills like a razor. They slice their way through most problems, and think their way around corners.
These types of improvements are profound in the quality of teamwork, amount of management, and level of productivity.
By connecting better to the people around them, great teams hold each member (the team leader included) accountable for their actions. Establishing a culture of team building communication gives your team the words to use to others not performing up to snuff.
Your relentless focus on improving communication determines the difference between your team's success and failure.
Right now: Determin the important issues that affects your business or team? How do you solve them? Have you really thought about it?
Start a dialogue with your team. It's an excellent idea to create a forum or hold regular workshops to improve your team building communication and address people's concerns.
As a leader, for your best interest, you must improve your team's communication skills.

Give me a lever long enough and I shall move the world.
--Archimedes

PDCA Complete is an organizational task management system with built-in continuous improvement tools. Includes projects, meetings, audits and more.
Built by Quality Assurance Solutions.

Team Building Communication

Persuasion is the Key To Teamwork. . .
Team building communication is the key to success.
You must persuade people to see your ideas, to get behind them and push your team towards your lofty goals.
Sales master Brian Tracy writes: Your job is to become absolutely excellent at influencing and motivating others to support and assist you in achieving your goals and solving your problems. . . Most people are not aware that every human interaction involves a complex process of persuasion and influence.
Most copywriters know people's two motivating factors:
Whether they're selling a bottle of mouthwash, or a shiny new flame-red sports-car, good communicators can persuade you to do their bidding with these two factors.
Isn't this manipulation. . . and won't your team see right through you?
As Tracy says: "You can either persuade others to help you or be persuaded to help them." The beauty of team building is, in the right environment, everyone benefits. Your job is to create that environment".
To persuade well you should motivate your team by presenting them with a choice between something they desire to achieve and something they fear losing. Persuade and motivate people to communicate better and you'll wonder why you didn't do it that way from the start.

Your ISO 9001:2015 Kit includes Templates, QA Manual, Implementation Guide and a Gap Assessment Internal Audit Tool for ISO 9001:2015
You're Not In The Failure Business
For most teams, inspired teamwork could be their major competitive advantage in the marketplace. But, lack of focus on improving communication skills becomes a giant, New York City-sized, pothole threatening to swallow their entire organization.
Ask yourself: Does every member of your quality assurance team really know what the Top 5 objectives of every improvement effort they do? Really, have you talked to them about it, role played with them, and set a absolute minimum level of performance that you expect?
Have you clearly communicated your expectations, persuaded your team, motivated them and set them free upon the world?
It's simple, if you want to squeeze every last drop of potential out of each and every individual on your team you need to relentlessly focus on a few simple steps.
If you haven't taken these steps to grow the effectivness of your team building communication, how can you expect anything more than the results you are getting right now? The key to getting people to see things your way lies in your ability to persuade them positively. . . discover the 4 P's of Persuasion and begin improving your team today.
Remember you are not alone. . . most organizations fail because of poor communication. . .

8D Manager Software with 8D, 9D, 5Y and 4M report generator. Your corrective action software for managing, measuring, and reporting issues.

You're not a firefighter either so get PROactive
The fact is: most team leaders don't proactively communicate with their team, and as a result, they are forced to reactively communicate to individuals on their team.
Rather than focusing on team building communication they focus on team modification. They scrape away at it and rearrange parts of it. Constantly slapping team members on the wrist with warnings and punishments that never seem to have any systematic affect to the behavior of your team as a whole.
Like Michael Gerber writes in his excellent book "The E-Myth," struggling leaders and business owners work "in" their business rather than "on" their business.
This type of reactive "firefighting" winds up causing more wasted time and team dysfunction which in turn cause more problems for you, the team leader.
Focus on What You Want and Communicate It. . . Simple

Quality Assurance Solutions
Robert Broughton
(805) 419-3344
USA
email