Spaghetti

 (Physical Process) Map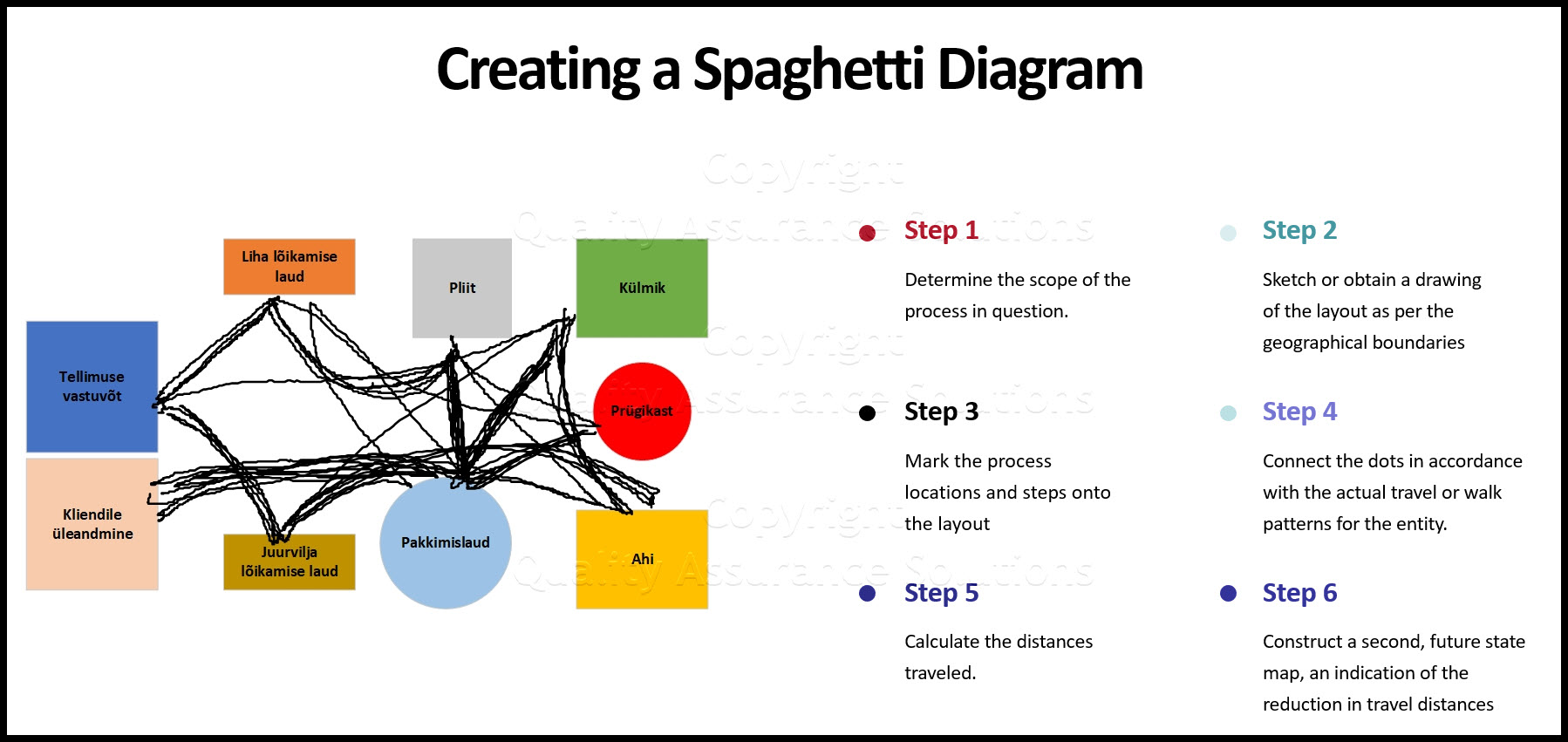 A Spaghetti Map or Physical Process Map is a simple Lean Sigma tool. It demonstrates the physical flow of an entity or multiple entity types (product, patient, information, order, and so on). It visualizes the associated distance travel for a single cycle of a process. Graphically it represents travel distance and travel patterns.

This particularly useful map shows excessive movement of an entity or entities through a process. A highly simple, visual tool, helps streamline a process. Kaizen events frequently uses this tool. In that context, it shows the existing problems in a process and communicates the potential benefit of change to a new layout or flow as shown below

Spaghetti Map Showing Material Movement Before And After A kaizen Event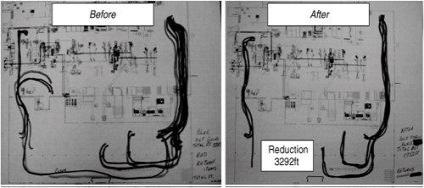 Roadmap
Step 1. Determine the scope of the process in question. Include the entity, the start point, end point, and geographical boundaries of the process
Step 2. Sketch or obtain a blueprint or CAD drawing of the facility/process layout as per the geographical boundaries
Step 3. Mark the process locations and steps onto the layout, as shown in the left side of Figure below


PDCA Complete is an organizational task management system with built-in continuous improvement tools. Includes projects, meetings, audits and more.
Built by Quality Assurance Solutions.

Construction Of A Spaghetti Map

Step 4. Connect the dots in accordance with the actual travel or walk patterns for the entity. Don't draw straight lines as shown in below. This is incorrect, because entities don't typically tend to fly through the air around a facility. Map the path as the entity actually travels, similar to that shown above. Draw the paths for just a single cycle of the process.
Incorrect Use Of Mapping Lines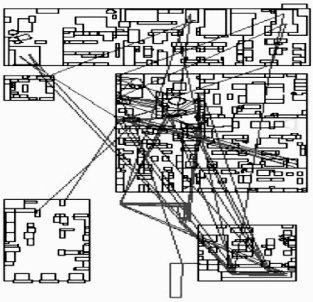 Step 5. Calculate the distances traveled. This is done with a measuring device such as the wheel-on-a-stick contraption or an electronic pedometer. 
Step 6. After completing the Map rearrange the map to minimize the non value added transport time. After improving the layout of the process, construct a second, future state map, an indication of the reduction in travel distances, as shown in the top figure. 

Quality Assurance Solutions
Robert Broughton
(805) 419-3344
USA
email