What Is Mistake Proofing (Poka-Yoke)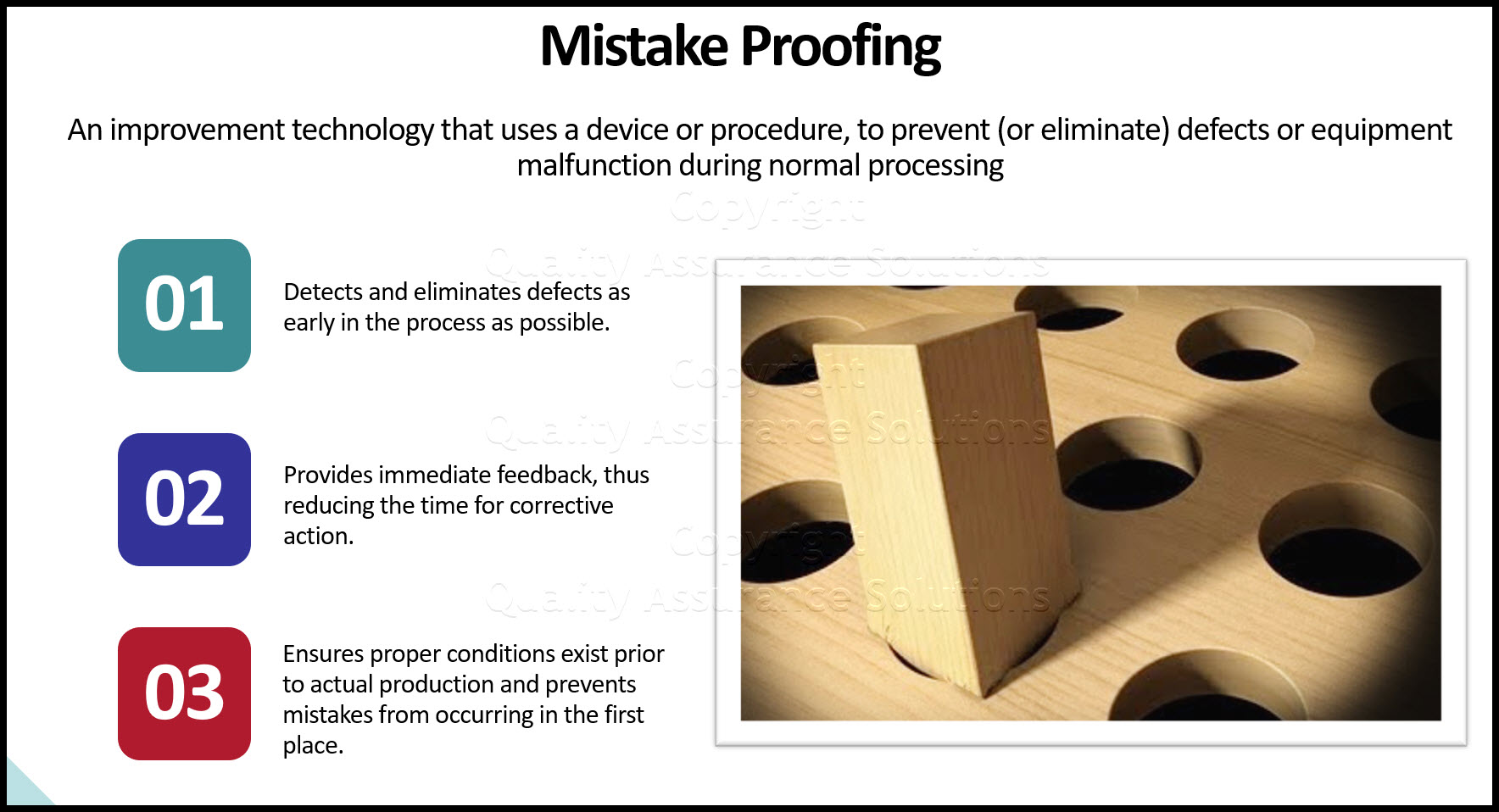 Mistake proofing (also called poka-yoke) is defined as an improvement technology that uses a device or procedure,  to prevent (or eliminate) defects or equipment malfunction during normal processing 
Mistake-proofing devices enforce correct operations by eliminating choices that could lead to incorrect actions. These steps also could stop a process from creating errors or defects. These tools can prevent machine and product damage.

Mistake-proofing activities can be integrated with the lean tools of Quick-Changeover, 5S-visual-management, One-Piece-Flow, and Standard-Work. The possibilities for mistake-proofing are endless and typically involve very little investment in resources.


PDCA Complete is an organizational task management system with built-in continuous improvement tools. Includes projects, meetings, audits and more.
Built by Quality Assurance Solutions.

Implementing Mistake proofing

By applying mistake-proofing (poka-yoke) you:
Promote individual responsibility for quality ownership.
Conduct 100% inspection without the effort.
Detect and eliminate defects as early in the process as possible.
Provide immediate feedback, thus reducing the time for corrective action.
Establish a system of successive checks for each operation.
Provide self-check activities, which gives quicker feedback than successive checks.
Ensure proper conditions exist prior to actual production, and prevents mistakes from occurring in the first place.
Focus on elimination of causes for errors rather than just identification.
Enhance customer satisfaction through the elimination of defects.
Focus on waste reduction in defects and processing.*Improve first-pass yield.

Quality Assurance Solutions
Robert Broughton
(805) 419-3344
USA
email