Creating
Company Mission Statements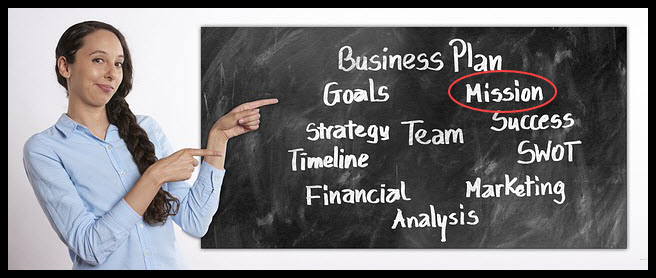 Businesses face the ultimate challenge of creating company mission statements to help secure their future. A well-constructed Mission Statement builds a strong corporate or organizational identity and future. It is the embodiment of your business and it says a great deal to your customers and employees about what you aspire to achieve.
For a fun spreadsheet that lets you create company mission statements with a few clicks, please subscribe to QA Solutions E-zine below!

Benefits of Company Mission Statements

Following, in no particular order, are some of the benefits received from a well-crafted mission statement:
Greatly improve business focus.
Get people's attention.
Enhance employee morale.
Reflect your company's values.
Clarify purpose and direction.
Create meaning in workers' lives.
Establish a standard of excellence.
Foster a team oriented environment.
Help attract and retain the best people.
Capture the desired spirit of the company.
Inspire enthusiasm and encourage commitment.
Enhance the professional perception of your business.
Kindle excitement and foster commitment and dedication.

Employee Handbook Kit includes two Employee Handbook templates for Professional & Manufacturing. Includes an additional 22 policies and benefits templates.
Define Mission Statement

A short statement describing the reason for the business, and what it wants to accomplish.
Companies create and publish company mission statements to give to the members of an organization, associates, stakeholders, and customers a uniform perception of what the organization strives for – the purpose of the business. The business purpose expresses the reason why the business exists.
As the most fundamental purpose of any business, companies produce results desired by its customers. Also important is shareholder and employee satisfaction.
Mission vs Vision
The Mission Statement is part two of a two-part description of the overall business intent. The Vision Statement, part one, describes the future: where the business is going or where management wants it to go. While the Mission Statement, part two, describes today: why the business exists today and/or what management does to pursue the vision of the future.
Together they provide direction for the business by focusing attention on doing things day-to-day to accomplish the mission, while taking steps to pursue the vision of the future – the long-term business intent.

Leaders must know their path  (their mission) and where it takes them (their vision). With clear mission and vision, management see and acts upon day-to-day issues and challenges from a higher level – the big picture. The tasks of setting goals and priorities, planning, and execution now aligns with the mission of the organization, and its desired future
From a chronological standpoint, company mission statements come first - out of need. The company usually creates the Vision Statement after the business progressed to viability and profitability. However, from a Business Planning or Business Model perspective the, you usually list the Vision Statement first.

TrainingKeeper Software. Keep, organize and plan all your employees' training and activities. Software includes multi-user support with reports, certs, and calendars.

Structure
Many varied philosophies regarding both the structure and the content of a Mission Statement exist. This includest the necessity of having one at all. Here we believe in the value they provide.
Mission Statements focus attention on essentials, and summarizes the specific core competencies and/or capabilities of the business:
1.  The Mission Statement should be narrow enough to give direction and guidance to everyone in the business,
2.  Large enough to allow the business to grow and realize its potential,
3.  Be realistic, achievable, and brief,
4.  And, it should capture the essence of an organization without being so vague that it could apply to every other organization too.
Company mission statements should be a succinct statement expressed, preferably, in a single sentence. Why? Because from then on, all business decisions made, strategic, tactical, and operational, should be in harmony with the Mission Statement.
Big companies might spend many hours over a period of several days/weeks hammering-out and wordsmithing their Mission Statements. However, given that the scope of the new business is usually much smaller, this should be a much simpler task.
First, confined (not too broad) the mission  to give direction and guidance to everyone in the business. This zeroing-in is the key to business success, because only by focusing on core competencies that a new/small business differentiates itself from larger competitors. A new business trying to do too many different things at the outset is doomed to fail.
Second, the mission should be broad enough to allow the business to grow and realize its potential. Ultimately, there has to be something unique about company mission statements that, as a result, makes people want to buy. That uniqueness may be due to the fact that it's the only "dental practice" in the area, but that is enough to make it stand out.
Third, Mission Statements must be realistic, achievable, and brief. Mission Statements may change over time, as the environment and the company moves forward.
Fourth, the Mission Statement should capture and reflect what the organization really does – it shouldn't be so indistinguishable that it could also apply to any other organization.

StreamLiner is Project Management software that drives your team's Lean and Continuous Improvement activities.

Why Mission Statements Die
We have all seen them before: company Mission Statements supposedly explain the purpose of the business. Very often this grouping of words, seemingly created at some corporate retreat, are a bunch of gibberish.
Most businesses would not be able to function day-to-day with their so-called Mission Statement. Because it would take so long to comprehend its actual real meaning that nothing would ever get accomplished. So, companies usually set aside the Mission Statement as a well meaning, worthy expression of good intentions that simply cannot be put into practice in real life.
Many small businesses have a Mission Statement prominently displayed, and employees can often repeat it for you, but operationally excellent small businesses get their employees to actually buy into that mission and believe in it.
When employees don't understand what the business is about, or forced to heed some adage that they neither buy into nor believe is true, morale suffers. Conversely, when they feel part of something larger, their value and contribution increases.
Company mission statements, if done correctly, can actually be a very effective business tool because it tells management, the employees, and the customers why the business exists. Knowing the mission also helps one to know whether the daily activities and policies get the business closer or further away from the vision. Thus, it not only keeps management focused, it also helps employees understand their expectations.


Your ISO 9001:2015 Kit includes Templates, QA Manual, Implementation Guide and a Gap Assessment Internal Audit Tool for ISO 9001:2015
Development Concerns

Think about these items when developing company mission statements.

The Vision Statement.
Why does the business exist? Think about products, services, facilities, the targeted market, customer satisfaction, etc.
What is missing, if anything?
Does it support the Vision Statement?
What qualities and characteristics should be best exemplified by the business?
What resources are available?
What is the business niche?
Based upon one's values, vision, characteristics, and resources, what is the purpose of the business?
How can the business best serve the clients, family, employees, and investors

Set specific short-term goals and objectives, and take action in order to accomplish the mission, and make progress toward achieving the vision.
Some questions company mission statements should potentially answer include...
Why does our team exist?
What business are we in?
What do we want to be known for in the business community?
How do we want to be perceived?
What is our primary product or service?
Who are the beneficiaries of our work output?
Some things  company mission statements should potentially reflect includes...
The vision of the CEO of the company.
The company's unique strengths and expertise.
The company's corporate culture.
The company's unique selling proposition.
The type of products and/or services provided by the company.

Employee Handbook Kit includes two Employee Handbook templates for Professional & Manufacturing. Includes an additional 22 policies and benefits templates.
Steps to Creating Company Mission Statements

For the small business, have the owner or the top management person develop the mission statement. Then after they are confident about it, have the rest of the staff/team consent and buy into it.
First, do some brainstorming. Nothing should be considered off limits/sacred – all thoughts and ideas should be captured in detail and eventually reviewed in depth for merit. Here, call upon one's personal passion, which motivates them to begin the business in the first place. Picture the vision in your mind first, and then create a picture in words that expresses the reason why the business exists, in support of the vision.

Approach respected colleagues, associates, or employees whose judgment to see how they view the business, and capture some of their thoughts. From these opinions, one may get some good ideas that would expand upon one's original thoughts.
Of course, ultimately the mission has to be yours. Consolidate these thoughts with those above, put it in writing, try to keep it to a paragraph (250 words at most).
Place it somewhere where you can see and review it every day. Each time you re-visit it, allow it to saturate your thinking. Allow the mission and emotion you felt when you initially drafted it to be re-experienced over and over again.

When you are sure about it, review it with your staff and/or team to gain consensus and buy-in, then publish and communicate it. Those who participated feel personal ownership of the Mission Statement - everyone owns the result. 
If you are a very small company, you may just publish and communicate it without additional buy in.
As you then make decisions on a daily basis, use the Mission Statement as a point of reference, and then make the decision that most closely supports the mission. That's the real value of the mission – to keep you focused on where you want to go.


Get certified in Risk Management through our completely on-line training system. Study at your own pace.
Company Mission Statements Examples
Provide "Your Name Here"' customers and stakeholders with a level of technical support that exceeds customer expectations, and raises the industry benchmark for support.
Provide "Your Name Here" clients with the best possible professional care.
Our team at "Your Name Here" dental is dedicated to providing the best possible professional care. We strive to meet your standards for comfort, care, and personal service in a relaxed, friendly environment.
To be a world-class provider of personalized, affordable, professional services and products delivered with consistent quality and value.
We want to be the best supplier organization in the world.
Increase organizational focus through a sense of urgency, purpose, and direction that is shared throughout the organization.
Deliver products that foster and achieve customer enthusiasm and loyalty.
Provide and deliver the best possible automotive services to each and every "Your Name Here" customer.
To serve "Your Name Here"' customers, employees, shareholders, and society by providing a broad range of innovative services and products.
Inspire team members, harness their energy and passion and increase their commitment to achieving our goals and objectives.
To provide the very best service in the dry cleaning processing industry today.
To build enduring customer relationships through the provision of health food solutions that are in harmony with our client's needs throughout the course of their lives.
§Deliver information security services, guidance, and direction internally and to the client base; provide an open forum for security business practices within "Your Name Here"; interpret security requirements; develop plans, procedures, and set direction to provide a secure information management environment within "Your Name Here".

Provide and deliver the best possible health care services to aid in preventing and protecting against disease and disability; promote health and well being; and as a result, enhance the quality of life.
Company Mission Statements
---
---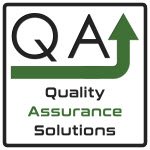 Quality Assurance Solutions
Robert Broughton
(805) 419-3344
USA
email