Kaoru Ishikawa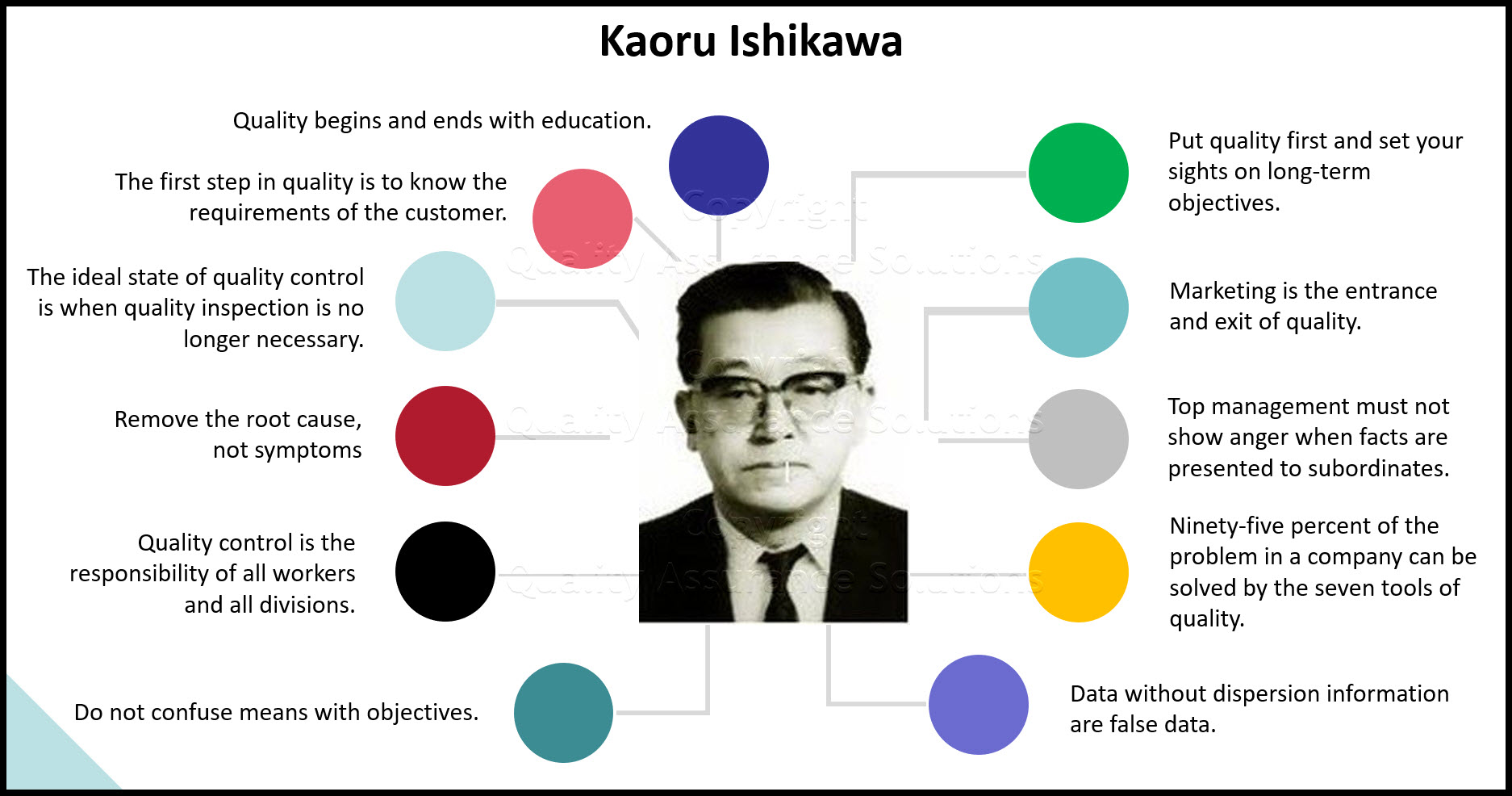 One of the leaders in the philosophy of total quality management is Kaoru Ishikawa. He pioneered quality control activities in Japan.

Mostly known for developing the cause-and-effect diagram, Ishikawa published many works. Works includes What Is Total Quality Control?, The Japanese Way, Quality Control Circles at Work, and Guide to Quality Control. While also working as an assistant professor at the University of Tokyo, he was a member of the quality control research group of the Union of Japanese Scientists and Engineers

Kaoru Ishikawa 11 Points

Mr. Ishikawa's philosophy of total quality management can be summarized by his 11 points:

1. Quality begins and ends with education.
2. The first step in quality is to know the requirements of the customer.
3. The ideal state of quality control is when quality inspection is no longer necessary.
4. Remove the root cause, not symptoms.

PDCA Complete is an organizational task management system with built-in continuous improvement tools. Includes projects, meetings, audits and more.
Built by Quality Assurance Solutions.

5. Quality control is the responsibility of all workers and all divisions.

6. Do not confuse means with objectives.
7. Put quality first and set your sights on long-term objectives.
8. Marketing is the entrance and exit of quality.
9. Top management must not show anger when facts are presented to subordinates.

10. Ninety-five percent of the problem in a company can be solved by the seven tools of quality.
11. Data without dispersion information are false data.

Quality Assurance Solutions
Robert Broughton
(805) 419-3344
USA
email