Deming Point 9
Break Down Barriers between Staff Areas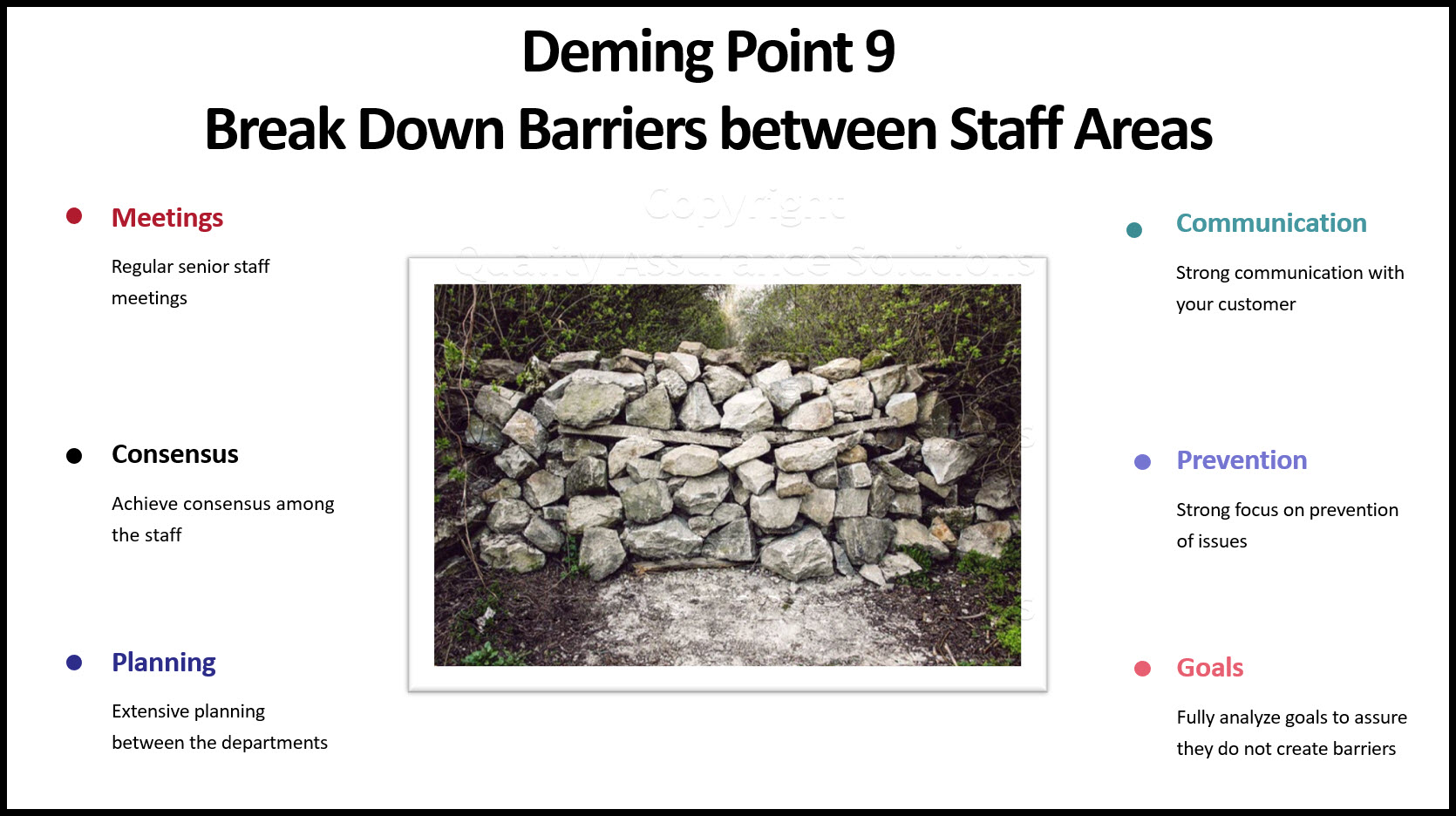 This page describes Dr Deming Point 9 which is breaking down barriers between departments. These invisible barriers exist between departments are normally caused by management goals and incentives.
Examples of these include...
Bonuses for an individual department
Individual performance reviews
Lack of customer focus plans
Management lack of consensus building


PDCA Complete is an organizational task management system with built-in continuous improvement tools. Includes projects, meetings, audits and more.
Built by Quality Assurance Solutions.

Dr. Deming Point 9 - Break Down Barriers between Staff Areas

Most people come to work with the goal of doing good things for their company. Most people work superbly within their department. However most departments have different goals to making their company better. If these goals conflict then the company experiences serious trouble.
For example, the sales department goal is to sale as much product as possible. Management may not put any barrier on the amount sold.
Production goal is to manufacture and ship product to meet the customer requirements and due dates. If sales ramps quickly, how can production keep up? To meet the sales, production hires new people and train these people.
Training takes time and resources. Normally, the people training are also responsible for production.
Now we have two issues. The same people working production need to increase production and train the new employees. How is production going to meet the due dates? Sales may not care about this because they have achieved their sales goals.
Another issue; new people tend to make mistakes and these mistakes affect product quality. With the sales ramping there is the strong possibility that the company ships defective product to the customer.

This upsets the customer. First they deal with the product arriving late. Then they experience quality issues. The customer screams at customer service. Customer service goal is to make the customer happy and work out the issues. They get angry at production and Sales. They call on the Quality Assurance department to resolve the issue.
Quality Assurance may or may not realize that there is a barrier between departments. A boiling point occurs between all the departments and the departments realize they need to work together.
Breaking down barriers between staff areas is crucial to a company's survival. In order to accomplish this, several things must occur.

Regular senior staff meetings
Achieve consensus among the staff
Extensive Planning between the departments
Strong communication with your customer
Strong focus on prevention of issues
Fully analyze goals to assure they do not create barriers


TrainingKeeper Software. Keep, organize and plan all your employees' training and activities. Software includes multi-user support with reports, certs, and calendars.

Dr Deming's 14 points

1. Create constancy of purpose for improvement of product and service.
2. Adopt the new philosophy
3. Cease dependence on mass inspection
4. End the practice of awarding business on price tag alone
5. Improve constantly and forever the system of production and service.
6. Institute training
7. Institute leadership
8. Drive out fear
9. Break down barriers between staff areas
10. Eliminate slogans, exhortations, and targets for the workforce.
11. Eliminate numerical quotas.
12. Remove barriers to pride of workmanship.
13. Institute a vigorous program of education and retraining.
14. Take action to accomplish the transformation.


Quality Assurance Solutions
Robert Broughton
(805) 419-3344
USA
email