The Core Characteristics of a Good Employee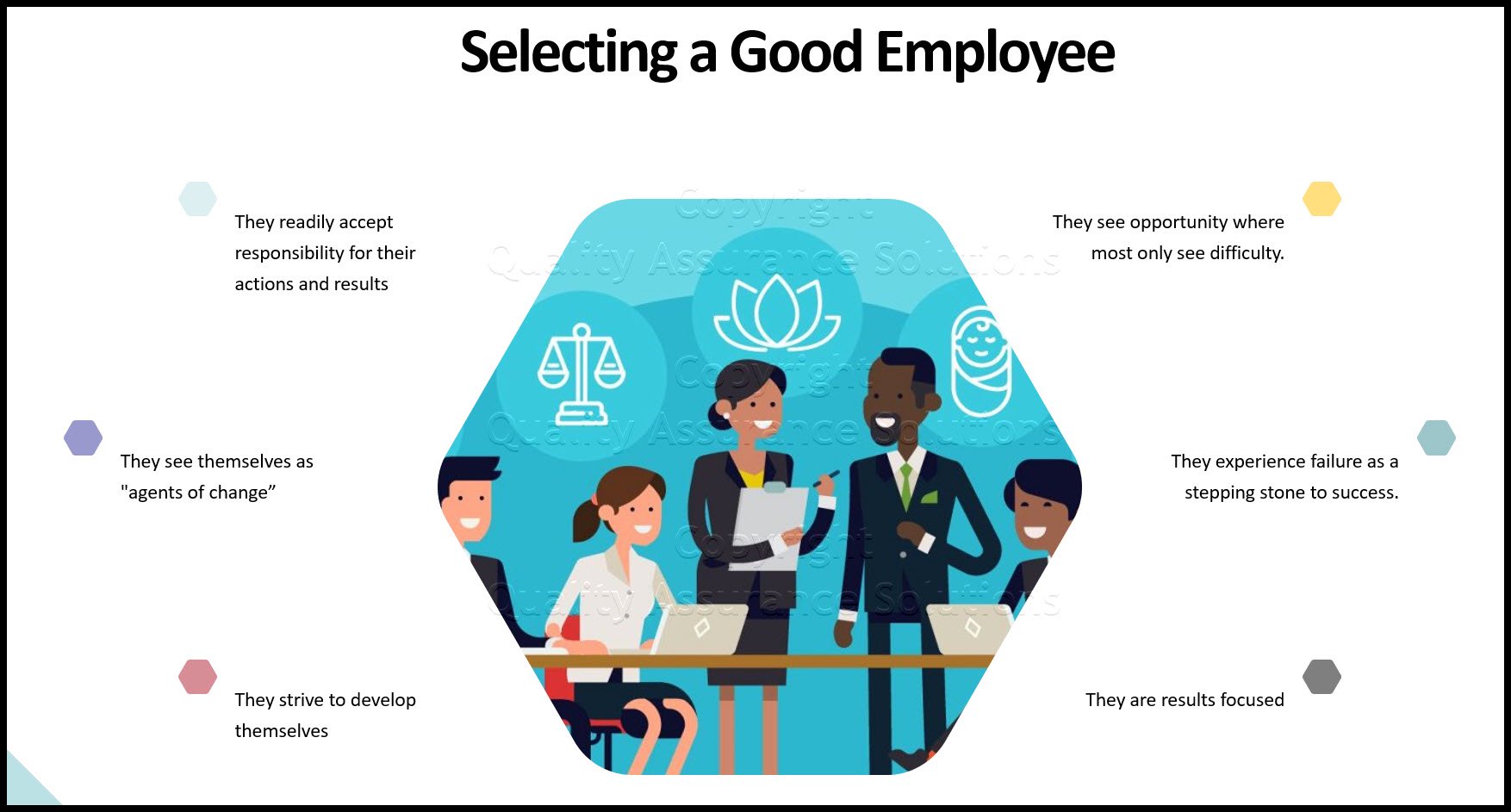 What are the core characteristics of a good employee? For your team, what key factors do you look for in employee screening and evaluations?
Does Your Team Have the Right Employees?

Are you going to cost your business a ton of money by making a bad hire?
Some businesses hire their employees based on diplomas and resumes, others make their hiring decisions based on employee evaluations and performance reviews.
Regardless of the elements that go into your selection and hiring process, the bottom line for your team is achieving results.

TrainingKeeper Software. Keep, organize and plan all your employees' training and activities. Software includes multi-user support with reports, certs, and calendars.

Business is Dependent on the Effectiveness of your Good Employee
Every time you hire a new employee, you stake your reputation as a leader and the chemistry of your team on the line.

The characteristics of a great employee depends more on figuring out what works best for your specific business, rather than finding the "perfect" employee on paper.
The "Go-Getter" and the Myth of Employee Motivation
There is no shortage of motivational trainings available.
Fact is, if you spend any amount of time motivating and cheer leading employees, you'd better get new employees.
And find a new hiring manager while you're at it.
Why would you struggle to motivate people to do the jobs they were hired for? Wasn't that their parents responsibility?

PDCA Complete is an organizational task management system with built-in continuous improvement tools. Includes projects, meetings, audits and more.
Built by Quality Assurance Solutions.

How much easier would your job be if you could look into a crystal ball?
With a crystal ball, you could see whether or not a prospective hire pocesses the characteristics of a good employee.

Brad Smart, the business author and highly sought after organizational consultant to organizations like GE and Motorola, calls this employee screening "Topgrading."

Smart proves, convincingly, "Topgrading" is the answer to almost every organization's hiring decisions.

Your ISO 9001:2015 Kit includes Templates, QA Manual, Implementation Guide and a Gap Assessment Internal Audit Tool for ISO 9001:2015
This employee evaluation system targets and hires the "A" players within any group. . . allowing you to build an effective team around them. This sceening process also rids your organization of "C" players.
In Smart's professional hiring experience:
"Pre-selection is always superior to training."
Always superior, meaning the people you hire into your business is your ultimate responsibility and becomes the #1 factor for determining your team's success or failure.
To build your business select only "A" players.
Smart's main characteristics of a good employee:
They readily accept responsibility for their actions and results.
They see themselves as "agents of change," meaning they feel have the ability to change their environment when they take the right actions.
They strive to develop themselves.
They see opportunity where most only see difficulty.
They experience failure as a stepping stone to success. To the "A" player, failure is okay, as long as it proceeds success.
Results focused.
Optimistic.

Get certified in Risk Management through our completely on-line training system. Study at your own pace.
What Is the Cost of Hiring the Wrong Person?
13 times your employee's yearly salary in many cases!
That's how much hiring the wrong person for your team can cost you. This includes extra training, hand holding, time, mistakes, and the cost of training their replacement.
Why not go after the right person from the get go? Target your new hire based upon the characteristics of a good employee that you determine through testing and topgrading. Do this from the get go and you'll save yourself tons of time and trouble.
Some people will say, "I can't find them?" Someone obviously hires these "A" players. Why not you?
If you find yourself constantly battling problem employees, then find the kink in your hiring loop. You're not taking some important factor into account.
If you hire based simply on factors such as schooling, resume, or who they know it's possible you're shooting yourself in the foot.

Quality Assurance Solutions
Robert Broughton
(805) 419-3344
USA
email