The ISO 14001 Standard
My Story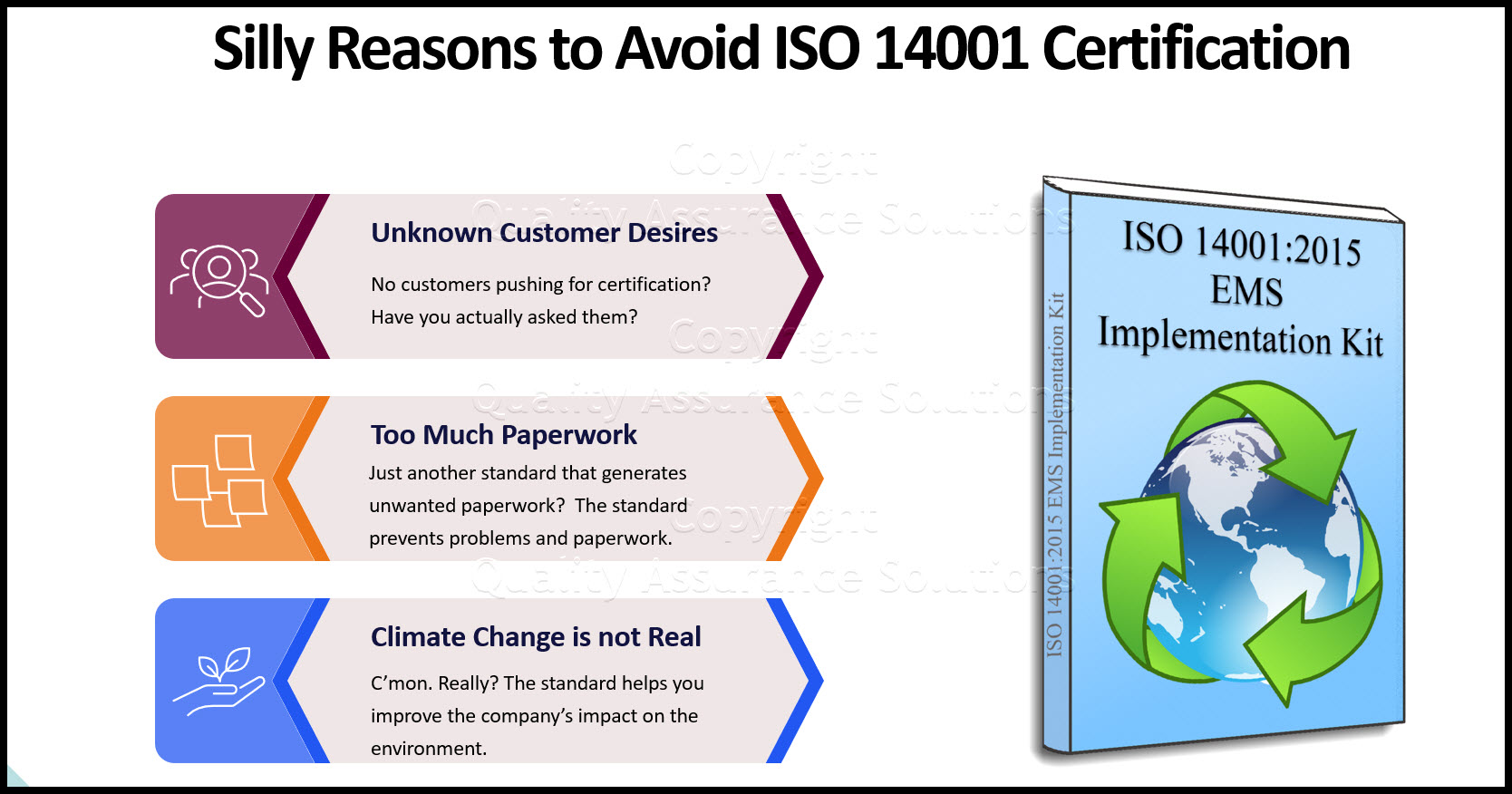 My story to working with the ISO 14001 standard is a story of avoidance, implementation struggles and finally leading a company through ISO 14001 Certification.  Here I discuss my approach or should I say "Anti-Approach."

I have used my experience to help you prevent possible implementation struggle and bottle-necks. Please read more.


Your ISO 14001 Kit includes Forms, Procedures, EMS Manual, Guidelines, Audits, Examples, Training Material, and Video for your ISO 14001:2015 Implementation

My Background with the ISO 14001 Standard

1996 was a big year, a significant year for my Quality Assurance pursuits. This year I got my first company certified to ISO 9001, and I completed my Master's Degree in Quality Assurance.

In 1996, the ISO 9001 standard was significantly different than the current ISO  9001 standard. It had 20 required elements for managing Qaulity Control. In order for certification, your company's systems had to address all 20 elements. This ISO 9001 standard came out in 1994.

Prior to 1994, I was involved in Supplier Quality Management. I visited many companies by auditing, learning their techniques and helping them improve their QC and QA program. As a guide, I used the Fed Standard 368.

There were similar requirements between the 368 and 9001. However, the 9001 was much more detailed with deeper requirements. Because of my education and QA / QC experience, I felt comfortable and thought the requirements as valid. So, when I started working with a new company as a Quality Manager and implementing the 9001 standard, I knew quite a bit on how to execute the standard.

During the company's first certification in 1996, I was the management representative. I was nervous and excited during the Registrars audit. I didn't know what question they would ask, but I had some inkling due to my previous supplier quality history. We passed the initial audit with two minor non-conformities. We corrected the non-conformities and received our Certificate four weeks later. We proudly framed it and posted it in our lobby.

Subsequently, I went through over 20 ISO 9001 audits as the Quality Manager Representative with zero non-conformities.

ISO released The ISO 14001 Standard in 1996. Don't ask me much about it as I have not read this standard. I really didn't hear much about the standard until around 2004.

In 2004, ISO released a new version of the ISO 14001 standard to align with ISO 9001 2000 version.

The ISO 9001 2000 version was a major revision to the 1994 standard. From my standpoint, this version focused more on Quality Management (instead of Quality Control) and made it more versatile for different industries.

Around 2005, I heard rumblings of implementing the ISO 14001 standard at our company. In senior management meetings, I pushed back on implementing the standard. I argued that I had a close relationship with our customers, and none of them were pushing us for certification to ISO 14001.

I saw 14001 as pushing paper. I did not see the benefits. Looking back at this, it was the wrong decision. And I contributed to this decision because I was not informed or educated about the standard.

During my initial ISO 9001 certification process in 1996, I remember some team naysayers that said the same thing. "This standard generates additional and unnecessary administrative work." We stuck with it and got it done.

But now, reflecting back, I see that in 2005, I was the same as the naysayers that struggled with the ISO 9001 implementation. I was wrong and now I regret it.

Why do I regret? Because I had a chance to make this company more environmental friendly. I could help make it more pro-active in reducing environmental waste. We could have put systems in that would continually improve all environmental aspects.

In 2008, I left this company to start Quality Assurance Solutions. I think that in 2010 or 2011 they got certified to ISO 14001. I'm proud of them for achieving the certification.


Your ISO 14001 Kit includes Forms, Procedures, EMS Manual, Guidelines, Audits, Examples, Training Material, and Video for your ISO 14001:2015 Implementation

Passing the Certification for ISO 14001

In 2010 I worked for a company as a part-time Quality Manager. This let me focus on Quality Assurance Solutions and still receive income while building the business.

I helped this company get certified to ISO 9001 rather quickly. Afterwards, management made the decision to pursue the ISO 14001 standard. And guess who they wanted to lead the project?

At this time, I still really didn't know Environmental Systems. Again, I resisted. I mean, I had a chemistry degree, so I understood how to handle chemical waste, but I didn't take any environmental courses. I felt under-prepared. How was I going to implement this significant company-wide  standard?

But logically, the company believed that since I knew the ISO certification process, I would be a good candidate.

Ug.

I searched the Web for ISO 14001 materials. There were a few packages out there, but they were very expensive and I didn't feel like they would work because there wasn't enough information to make an inform decision.

I contacted one of my ISO buddies for his expertise on ISO 14001. Virtually, with Skype and Email, we worked together to create the Standard Operating Procedures, EMS Manual and Records to meet the ISO 14001 EMS system.

During the certification audit, we, the company, blew it. We received two major non-conformities. After submitting fixes, our registrar came back out again and re-audit us for these items. On our second try, we got it right and got certified.

Implementing the ISO 14001 system was eye-opening. Although I felt the company was environmentally conscious prior to certification, they were not pro-actively eliminating environmental issues and preventing possible issues. Overtime, ISO 14001 implementation saved the company money and made them an environmental friendly company. Plus, the ISO 14001 system prevented possible EPA, CalEPA, County and City fines.


Your ISO 14001 Kit includes Forms, Procedures, EMS Manual, Guidelines, Audits, Examples, Training Material, and Video for your ISO 14001:2015 Implementation

My Wishes Come True

I remember during my time initially implementing the ISO 14001 standard, I really wished there was something that guided me. I wanted EMS record examples that I could refer to. I wanted training materials for the standard. I wanted editable material that I could easily roll out for the company.

If I had this material, I could have expedited the certification process without any non-conformities. If I had a Gap Analysis Audit template, I would have not been lost, and I would have known where to focus our implementation efforts.

I get many comments here at Quality Assurance Solutions through email and on the site. I think many people are in the same boat as I was in 2010. They are trying to implement ISO 14001 without extensive Environmental Management knowledge.

In the last two years, I have been working with an experience ISO 14001 auditing team in developing an ISO 14001:2015 EMS Kit. We have thoroughly tested the Kit with a couple of different customers and found excellent results.

I really don't want my readers to avoid and struggle with the ISO 14001 Standard. Get going right away with our ISO 14001 Kit.


Quality Assurance Solutions
Robert Broughton
(805) 419-3344
USA
email