Use our ISO 14001 Audit Checklist to kick-start and maintain your ISO 14001:2015 certification. This audit package includes hundreds of questions to help you conduct a gap analysis between your current Environmental Management System and the ISO 14001:2015 standard.
The package includes three different audits to support your Environmental Management System.
EMS Facility Review (12 page audit)

ISO14001:2015 Environmental Management System Audit Checklist (30 page audit)

EMS Process Audit Checklist (5 page audit)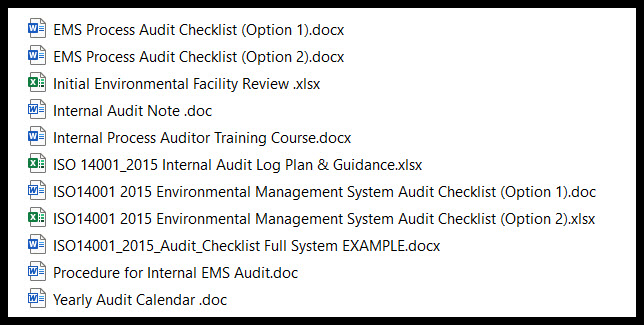 EMS Facility Review
This spreadsheet lets you examine your facility in detail. With this ISO 14001 Audit Checklist you analyze important aspects such as legal requirements, water contamination, air emissions, noise, waste management, packaging and cleaning. This review includes over 120 questions which let you capture key environment aspects.
ISO14001:2015 EMS Audit Checklist
This EMS audit Checklist lets you conduct a gap analysis between the ISO 14001:2015 standard and your current EMS System. It helps you identify possible areas of concern for the certification audit. In addition, you can use the checklist on an annual basis to confirm compliance to the standard. This 30 page document comes in both Microsoft Word and Excel formats. It includes over 130 detailed questions.
To help you get started, we include a completed example of the checklist.
EMS Process Audit

Checklist
The EMS Process Audit Checklist lets your team audit your EMS Processes. This assures your company maintains compliance to mandatory on-going EMS audits. In addition, we provide an auditing procedure that is required for ISO 14001 Certification.
The audit package also includes an Internal Process Auditor Training Course. This includes an exam which helps your company qualify your Internal EMS Process Auditors.
Extras
All included documents are editable.

The ISO 14001 Audit Checklist includes a template for Internal Audit Notes

The ISO 14001 Audit Checklist includes a template for the Yearly Audit Calendar