ISO 14001 Requirements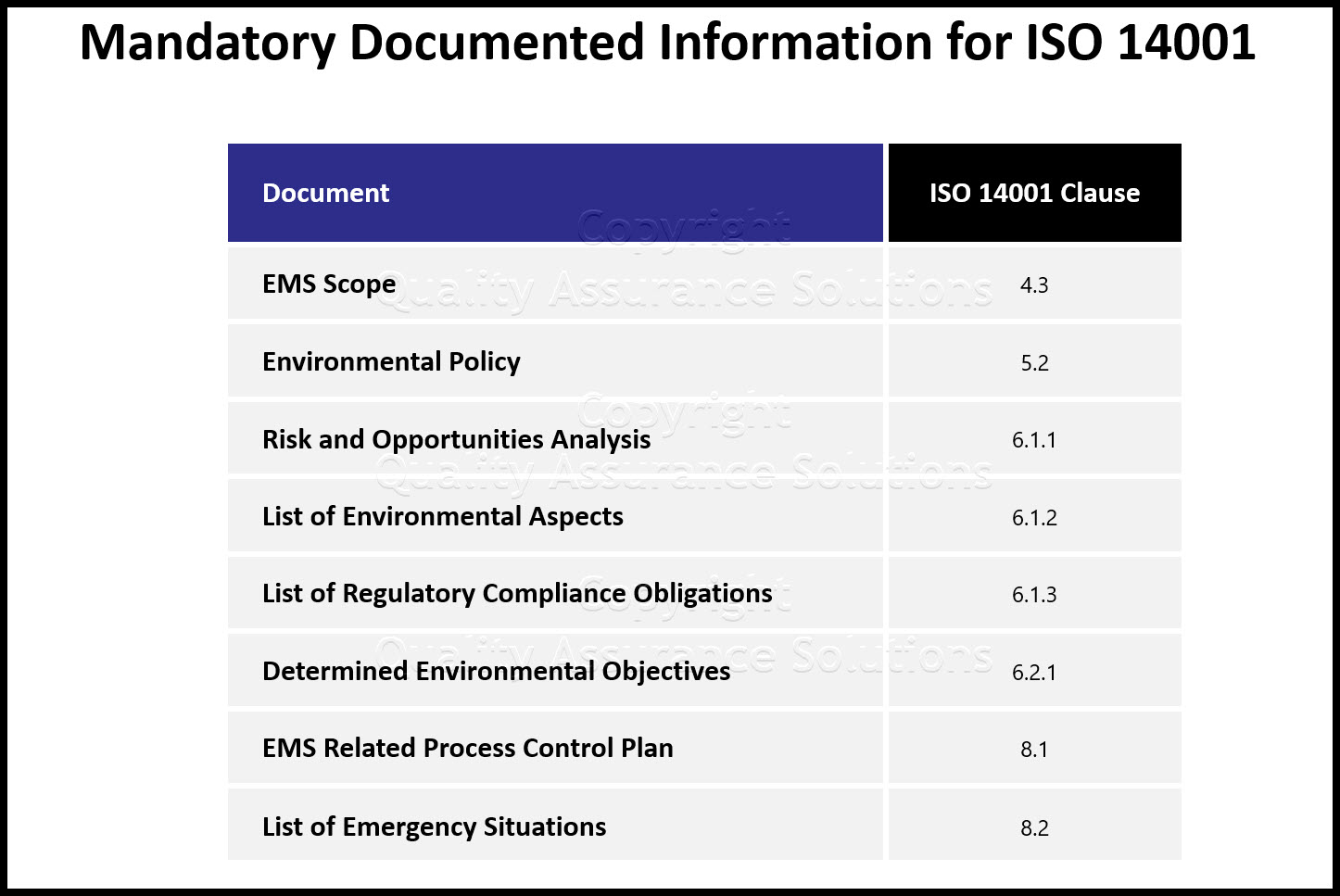 An environmental management system based on ISO 14001 requirements mean an organization or company not only introduces procedures and responsibilities for environmental management but also knows how to integrate new environmental aspects and the associated documented information.

New process descriptions and regulations regarding procedures for environmental management, according to ISO14001:2015, should ensure the company reduces negative impacts on the environment and avoids environmental accidents. Only then does an environmental management system according to ISO 14001 requirements provide useful to your company.
With various procedural instructions for environmental management, your company can transparently and safely introduce these critical components into the existing management system. This includes the responsibilities for certain EMS process owners.
To give you a simple overview of which documented information to implement to "run" your EMS, this article provides explanations on the individual ISO 14001 requirements for this documented information. Then your company can adapt it directly to your current management circumstances.
The ISO14001:2015 EMS standard lists certain kind of documented information as mandatory when establishing an EMS according to the standard...

You can write most of the above listed EMS documented information in your documented EMS manual, strategic risk control plans, control lists, and procedures.


Your ISO 14001 Kit includes Forms, Procedures, EMS Manual, Guidelines, Audits, Examples, Training Material, and Video for your ISO 14001:2015 Implementation

Documented information, which needs to be maintained, usually as internal records, are listed below.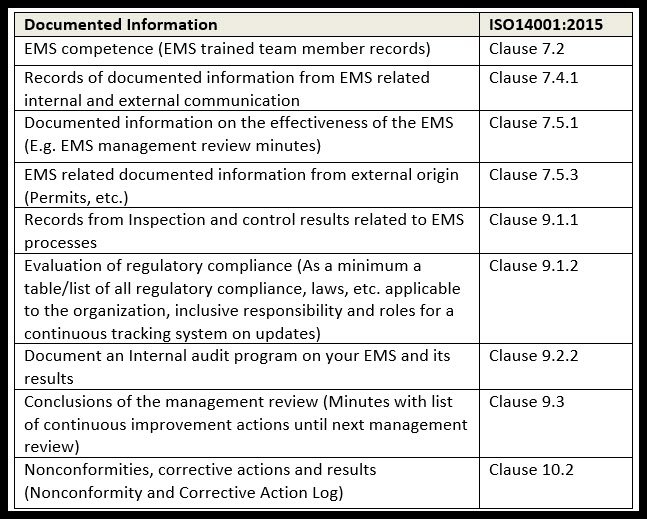 ISO 14001 Requirements Competency and Training

Per ISO 14001 requirements, the organization must identify and provide the resources needed to build, implement, sustain, and continuously improve the Environmental Management System (EMS). This entails identifying certain obligations and requirements for all involved EMS parties involved within the organization.
Only by clearly declaring roles, responsibilities, and powers within the organization, can the company implement agreed environmental objectives and binding commitments through appropriate actions and allocations.
ISO 14001 requirements for roles and responsibilities in the environmental management system
ISO 14001 drives the responsibilities and tasks in the environmental management system in sections "5. Leadership" and "7. Support." The particularly relevant sections include...

    5.1 Leadership and Commitment by Leadership
    5.3 Roles, responsibilities and powers
    7.11 Resources
    7.2 Competence
    7.3 Awareness
Initially, this sounds all quite unspectacular. However, the requirements ensure that top management addresses, considers, and bindingly decides the necessary and released competency and training resources in the company.
However, this does not work like occupational safety and health requirements. OSHA specifications specifically detail the roles and competencies for a particular organization or company.
Instead, a 14001 organization or company can have a designated environmental management representative position established, who holds the responsibility for tracking all the EMS management activities over time. This includes reporting to top management on the performance of the EMS. Alternatively, competency can range from a full-time position to work "on the side" on the EMS. This depends on the company and the environmental requirements.

But what exactly needs to be considered in the context of ISO 14001 when providing resources, competence, and awareness of the staff? This article describes the current requirements and how your company, can achieve this competence relatively easily.

Your ISO 14001 Kit includes Forms, Procedures, EMS Manual, Guidelines, Audits, Examples, Training Material, and Video for your ISO 14001:2015 Implementation

Top Management Responsibilities

Top management has the obligation of leadership responsibility according to ISO 14001 Requirement Clause 5. They are accountable for the effectiveness of the environmental management system within an organization. This includes legal responsibility. Unfortunately, top management is often not 100% aware of this. The education and knowledge, especially in this area, are sometimes unclear.

The leadership requirements around Clause 7.2 Competency and Clause 7.3 Awareness relate to the importance of establishing an effective environmental management system. This includes...

    the importance of meeting the requirements,
    communicated these requirements to all employees,
    achieving the intended environmental objectives,
    ensuring their continuous improvement of the environmental performance.

Top Management must make the EMS everybody's business in the organization or company.
Delegation of Resources
Since the resource power of the personnel lies with the top management, it has unique supervision and monitoring duty responsibilities.  Top management must assign responsibilities and powers to relevant tasks and promote them within the organization or company.

However, responsibilities can only partially be delegated to subordinates. If an interruption or disturbance occurs within the EMS, top management must prove that they have not acted grossly negligent or even intentionally as this can lead to harm.

For this reason, top management must train staff as competent team members, who can manage the EMS effectively and efficiently. Management must prove, even in court if necessary, that they fulfilled this obligation. The training needs to be organized to maintain a compliant EMS.


Your ISO 14001 Kit includes Forms, Procedures, EMS Manual, Guidelines, Audits, Examples, Training Material, and Video for your ISO 14001:2015 Implementation

Competency Matrix and Training Calendar
Establish a Competency Matrix and EMS Annual Training Calendar. This provides transparency and compliance to all EMS competency requirements of the ISO14001:2015 standard throughout the year.

Furthermore, establish a Regulatory Compliance Log which includes all regulative obligations and/or statutory federal, state and local environmental laws and requirements (Clause 6.1.3).

With the matrix and regulatory log, the system of tracking competency and awareness maintains 100% compliance to the standard.  

Make sure to plan out separate EMS awareness training times for top management, supervisors, and employees. Include the "all hands" awareness training throughout the year. Each training should end with a short exam to verify effective training. Somebody responsible  of the EMS should sign off on the training files, which becomes the training history files for the staff.

In addition, to enhance the effectiveness of an EMS, communication between the individual levels is very important. Other sections of the standard (planning, assessment, context of the organization, etc.) document a link/relationship to human resources competencies relevant to the compliant implementation of an organization's binding obligations.

An EMS Committee should discuss EMS competency and organizational awareness for the established environmental objectives on a regular basis (monthly recommended). After all, efforts for the protection of our environment, make it everybody's business. This acts as a motivation trigger for competency and awareness.

By following these guidelines, you create the right awareness for establishing a 100% compliant EMS. This by far, creates the fastest way to establish an efficient and effective EMS, ready for 3rd party audits.
Article written by Robert Jasper of Art of Quality for Quality Assurance Solutions. Article edited and posted by Quality Assurance Solutions

Quality Assurance Solutions
Robert Broughton
(805) 419-3344
USA
email