The History Of Six Sigma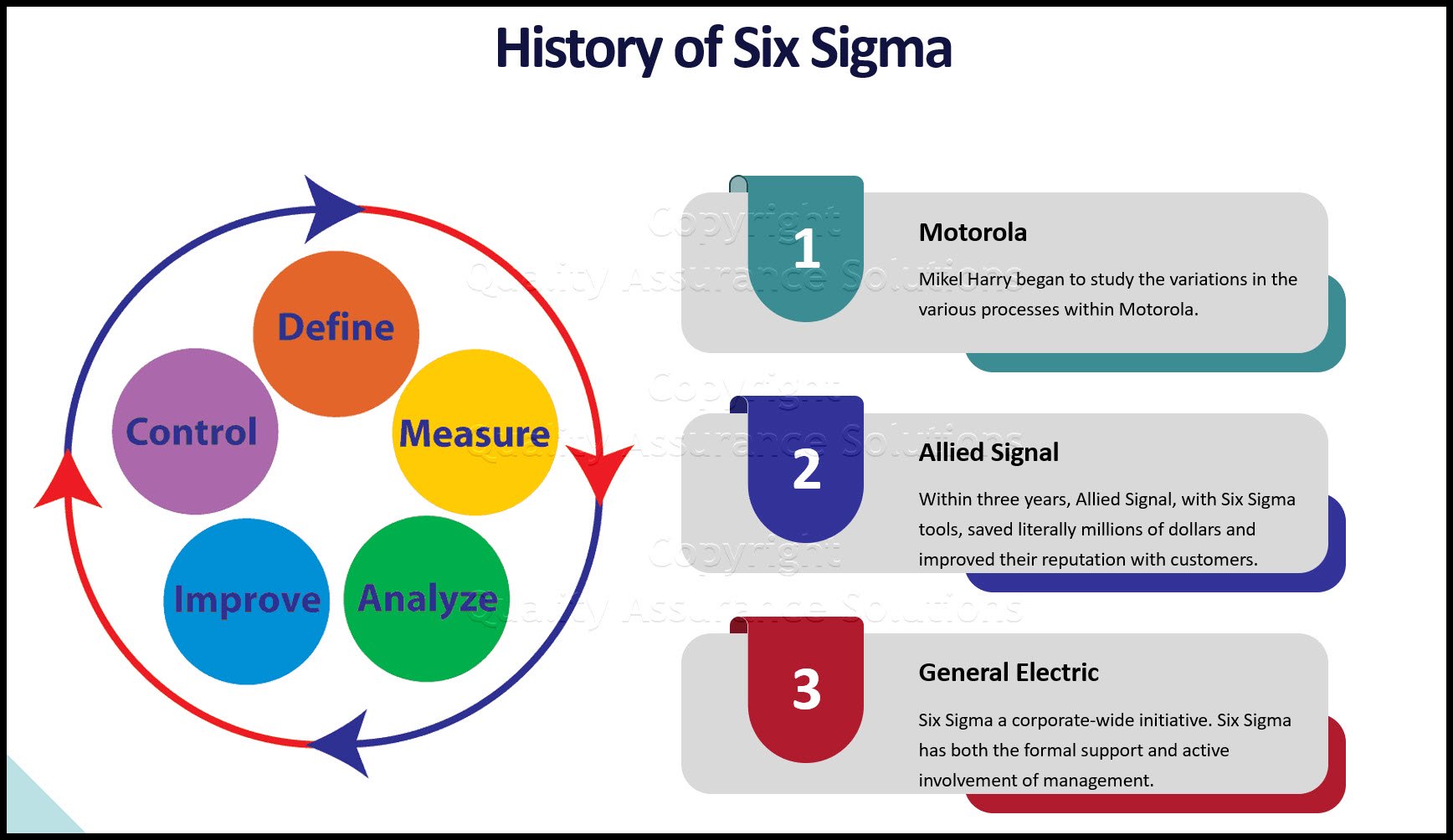 Motorola and the History of Six Sigma

The history of six sigma starts in the mid-1980 with Motorola. A highly skilled, confident, and trained engineer who knew statistics, Mikel Harry began to study the variations in the various processes within Motorola. He soon began to see that too much variation in any process resulted in poor customer satisfaction and an ineffectiveness in meeting the customer requirements.

However, unlike other quality improvement efforts that focused on measurement issues,  Mikel and others at Motorola acted on processes that produced the most variation. To succeed, they actively engaged their Chief Executive Officer, Bob Galvin, in their work. Mr. Galvin further drove six sigma by managing the variations in all of Motorola's processes. 

Allied Signal
Allied Signal plays a major role in the history of  six sigma. Lawrence Bossidy Schooled by Jack Welch at General Electric left General Electric in 1991. He took over a large conglomerate called Allied Signal. Here he wanted to place his own stamp on management at Allied Signal
Within months, Bossidy generated significant improvements with Six Sigma. Improving both effectiveness and efficiency through focusing on customer measures of effectiveness. Within three years, Allied Signal saved literally millions of dollars and improved their reputation with customers. Improvements came without cost cutting through downsizing or lay-offs.
General Electric
Jack Welch at General Electric asked Allied Signal to provide an overview of this six sigma management philosophy at his management training campus By the end of 1995, General Electric decided to make Six Sigma a corporate-wide initiative. General Electric decided to make Six Sigma different than other programs that had been associated with quality. Six Sigma would have both the formal support and active involvement of management. General Electric used Six Sigma most impressively to drive improvement in effectiveness and efficiency.

Six Sigma approaches quality improvement differently.With other quality approaches like Statistical Process Control or Just in Time Manufacturing, management played little if any role other than approval of bringing in external consultants to train the workforce. With Six Sigma, the work begins with management.

Quality Assurance Solutions
Robert Broughton
(805) 419-3344
USA
email