1- The Define Tollgates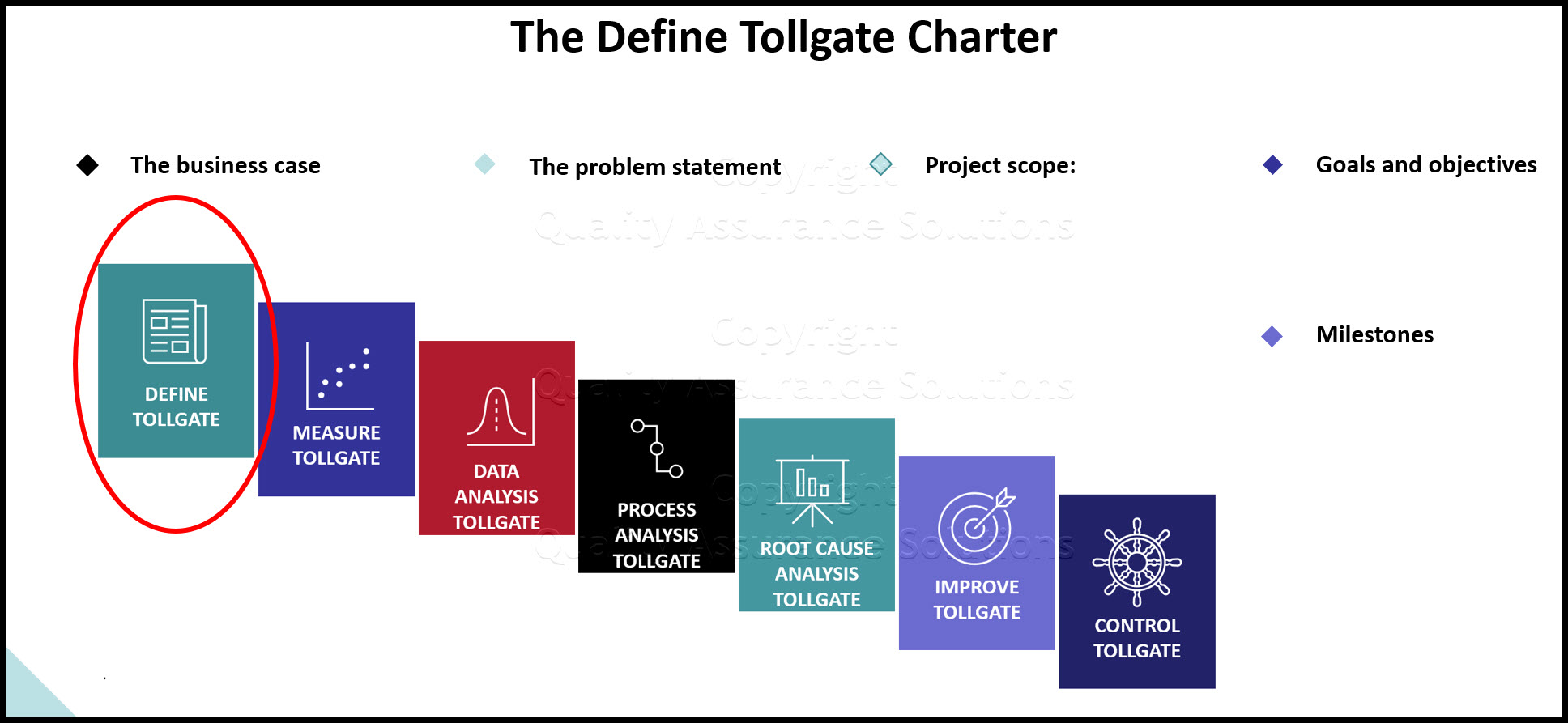 In the Define Tollgates step you form a project team that...
1) Creates a charter
2) Determines and verifies your customers' needs and requirements
3) Creates a high-level map of the current process.

There are three Define tollgates: Charter & Customers needs and requirements & and the High Level Process Map.
The Define Tollgates Charter
The Charter is a collection of documents that provide purpose and motivation for a six sigma team to do its work. It includes:

The business case:  A sentence or two that describes the reason behind this project.
The problem statement:  A short measurable statement that describes the problem.
Project scope: Explains the team focus and items not covered.
Goals and objectives: The team expected end results.
Milestones: Documents the expected dates for each stage of the DMAIC.
Roles and Responsibilities Of The Project Team

There are several roles critical to the success of the Six Sigma team.

1) Champion. The Champion is usually the process owner and guides the project team strategically. They assist in picking the team, provides resources, and removes roadblocks that get in the way of the team's progress.
2) Black Belt. The Black Belt is responsible for the day-to-day activities associated with the team. This includes setting the team agendas and keeping the team on track with meeting the specific responsibilities of the DMAIC.
3) The Master Black Belt is equivalent to an internal consultant. While not a full-time member of the team, they assist the team with the more technical aspects of their work on an as needed basis.
4) The rest of the team are the subject matter experts who conduct the actual work of the project.
Customers Needs and Requirements
A customer (internal or external) receives the improve process, product or service. They determined the targeted requirements and characteristics of the Six Sigma project. For a successful project, the customer must be happy with the project end results.

The High-Level Process Map
For this critical last step in Tollgates step, you create map that represents the current flow of the project process as it exists today. When creating the high-level process map, the team references the suppliers, inputs, process, output,and customers (SIPOC).


Quality Assurance Solutions
Robert Broughton
(805) 419-3344
USA
email