Effective Virtual Team Communication
In today's globalized economy, effective virtual team communication becomes an increasingly important aspect to running an efficient business.
Teams and people are scattered across countries, cities, borders, and some people work from home. As a leader you must reach, communicate, and collaborate with these people effectively in order to produce results in a timely manner.

TrainingKeeper Software. Keep, organize and plan all your employees' training and activities. Software includes multi-user support with reports, certs, and calendars.

Here are 5 Elements of Effective Virtual Team Communication: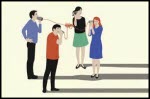 1. Employ technology that works effectively and fits the needs and budget of your business.
2. Develop a community through trust building activities via collaborative software.
3. Make goals, expectations, vision, and deadlines clear.
4. Focus on clear, measurable results.
5. Collaborate on all levels of your project team.

Pick the Right Virtual Team
Like any team, a virtual team is made up of a group of individuals. But an effective leader recognizes a virtual team has special needs, choosing people who thrive in an isolated virtual environment becomes essential to the team's success.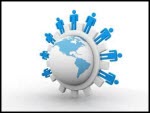 Some people thrive in a virtual environment, some people don't. Choose only those with a track record or an aptitude toward self-starting and crystal-clear communication regardless of the cyberspace boundary.
Virtual teams amplify the importance of communication because folks can't just stop by your office to ask questions. The team loses tone of voice, face-to-face discussion and iteration.
In this case the process your team communicates becomes paramount to delivering projects successfully, meeting deadlines and staving off common aspects of team dysfunction.


This Data Analysis Video teaches you the basic tools for understanding, summarizing, and making future predictions with your collected data. Includes MS Excel templates.
The virtual world can be too cold for some people. You must encourage collaborative team meetings that allow team members to interact on a "human" level, thus building bonds, respect, and comradery throughout the team.
There are many high-quality, no-cost, and low cost tools available to help facilitate collaboration and encourage healthy virtual team communication.
Everything from online conference rooms that incorporate screen-sharing, to collaborative project management software helps move your team toward its shared goals. These tools makes your job easier and more enjoyable.
As technology advances so does the many ways to get work accomplished in a virtual environment.
By leading and managing healthy team communication, more goals reached and more money made.

Virtual Team Communication

Quality Assurance Solutions
Robert Broughton
(805) 419-3344
USA
email