Internal Failure Costs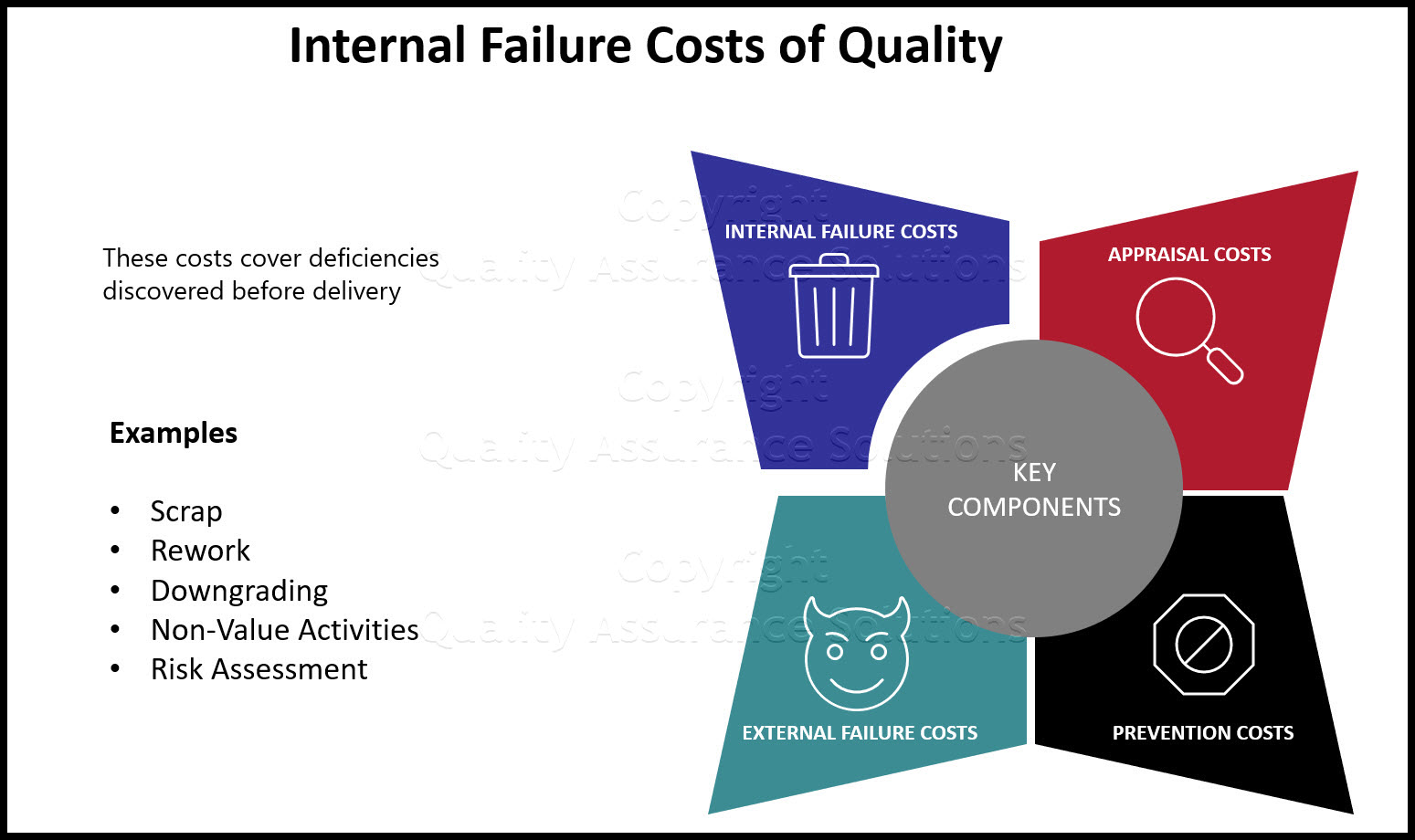 Internal failure costs come from deficiencies discovered before delivery. These include all the costs associated with the failure (nonconformities) to meet the needs of your external and internal customers. This failure cost is one of the 4 key components of quality costs. 

Examples of Internal Failure Costs :
Scrap: The labor, material, and (usually) overhead that created the defective product. The item cannot be economically repaired. The titles are numerous scrap, spoilage, defectives, etc.

Rework: The cost to correct the defective material or errors in service products.

Lost or missing information: The cost to retrieve this expected information.


8D Manager Software with 8D, 9D, 5Y and 4M report generator. Your corrective action software for managing, measuring, and reporting issues.

Failure analysis: The cost analyzing nonconforming goods or services to determine the root causes.

Supplier scrap and rework: Scrap and rework costs due to nonconforming product received from suppliers. This includes the costs to the buyer of resolving the supplier quality problems.

100% sorting inspection: The cost of completing 100% inspection to sort defective units from good units.

Retest: The cost to retest products after rework or other revision.

Changing processes: The cost of modifying the manufacturing or service processes to correct the deficiencies.

Redesign of hardware: The cost to change designs of hardware to correct the issues.

Redesign of software: The internal cost to changing software designs.

Scrapping of obsolete product: The cost of disposing scrap.

Scrap in support operations: Costs from defective items in indirect operations.

Rework in internal support operations: Costs from correcting defective items in indirect operations.

Downgrading: The cost difference between the normal selling price and the reduced price due to quality reasons.

Variability of product characteristics: Rework losses that occur with conforming product (e.g.,overfill of packages due to variability of filling and measuring equipment).


Snap Sampling Plans! software combines all the key industry standard attribute sampling plans into one place.
With over 10,000 sampling possibilities, Snap Sampling Plans! guides you in selecting the correct AQL sampling plan.

Unplanned downtime of equipment: Loss of capacity of equipment due to failures.

Inventory shrinkage: Loss costs due to the difference between actual and recorded inventory quantity.

Non-value-added activities: Cost due to redundant operations, sorting inspections, and other non-value added activities. A value-added activity increases the usefulness of a product to the customer; a non-value-added activity does not.


Quality Assurance Solutions
Robert Broughton
(805) 419-3344
USA
email