Developing a Learning Organization
To start developing a learning organization examine the entire infrastructure for continual knowledge development and delivery. To prove your organization is learning, you must measure the progress. Ultimately, organizations should develop a fully automated system of measurements. But initially, organizations can start with what they know and build better measurements as they learn.


Your ISO 9001:2015 Kit includes Templates, QA Manual, Implementation Guide and a Gap Assessment Internal Audit Tool for ISO 9001:2015
The below diagram demonstrates the phase of developing a learning organization. The steps in the process loop continually in a series of iterations. The knowledge revolution infrastructure and the evolving system of measurements represent the necessary information structure to deliver improved operational knowledge. Seven core processes are presented, but the key is the integration of the measurements, information, and generated knowledge.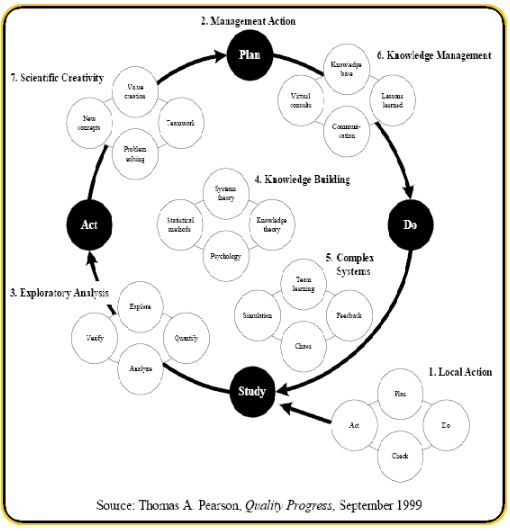 Seven steps for Developing a learning organization
1- Local action (Plan- Do-Check-Act; PDCA)

2-Management action (Plan-Do-Study- Act; PDSA) 

3- Exploratory analysis
To answer the inevitable questions encountered in the PDCA and PDSA loops, Pearson developed the EQAV loop: Explore to find key relationships, Quantify the relationships mathematically, Analyze the effect of proposed actions, and Verify that corrective action works effectively through automated experiments.

StreamLiner is Project Management software that drives your team's Lean and Continuous Improvement activities.

4- Knowledge building

Based on Deming's profound knowledge model, Step 4 provides the architecture for automated knowledge building. Automated knowledge databases can use this model to build and deliver better knowledge products just in time to those who need it most.
5-Complex systems
This loop illustrates how Senge's Fifth Discipline fulfills the need to understand complex systems with feedback, control loops, and lag time. More powerful automated systems can combine dynamic systems views with statistical methods to provide better control and understanding of complex systems.
6-Knowledge management

The emerging knowledge base and knowledge management methods can be applied to the operations management environment. Traditional applications of data warehouses and corporate databases may provide useful summary or historical information for operations management and improvement. But they are typically unable to provide the levels of detail, responsiveness, and flexibility to support exploratory analysis and real-time process monitoring.
7-Scientific creativity
To develop breakthrough improvements, Pearson incorporates Edward de Bono's techniques for creative problem solving. The new operations MIS results in real-time alerts and information that provide powerful provocation to the creative process and then provide low-risk analyses, experiments, and simulations that facilitate lateral thinking and movement.
QAS Home

>
Knowledge Mgmt

>
Learning Organization
---
---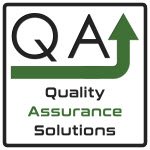 Quality Assurance Solutions
Robert Broughton
(805) 419-3344
USA
email