Planning For Knowledge Management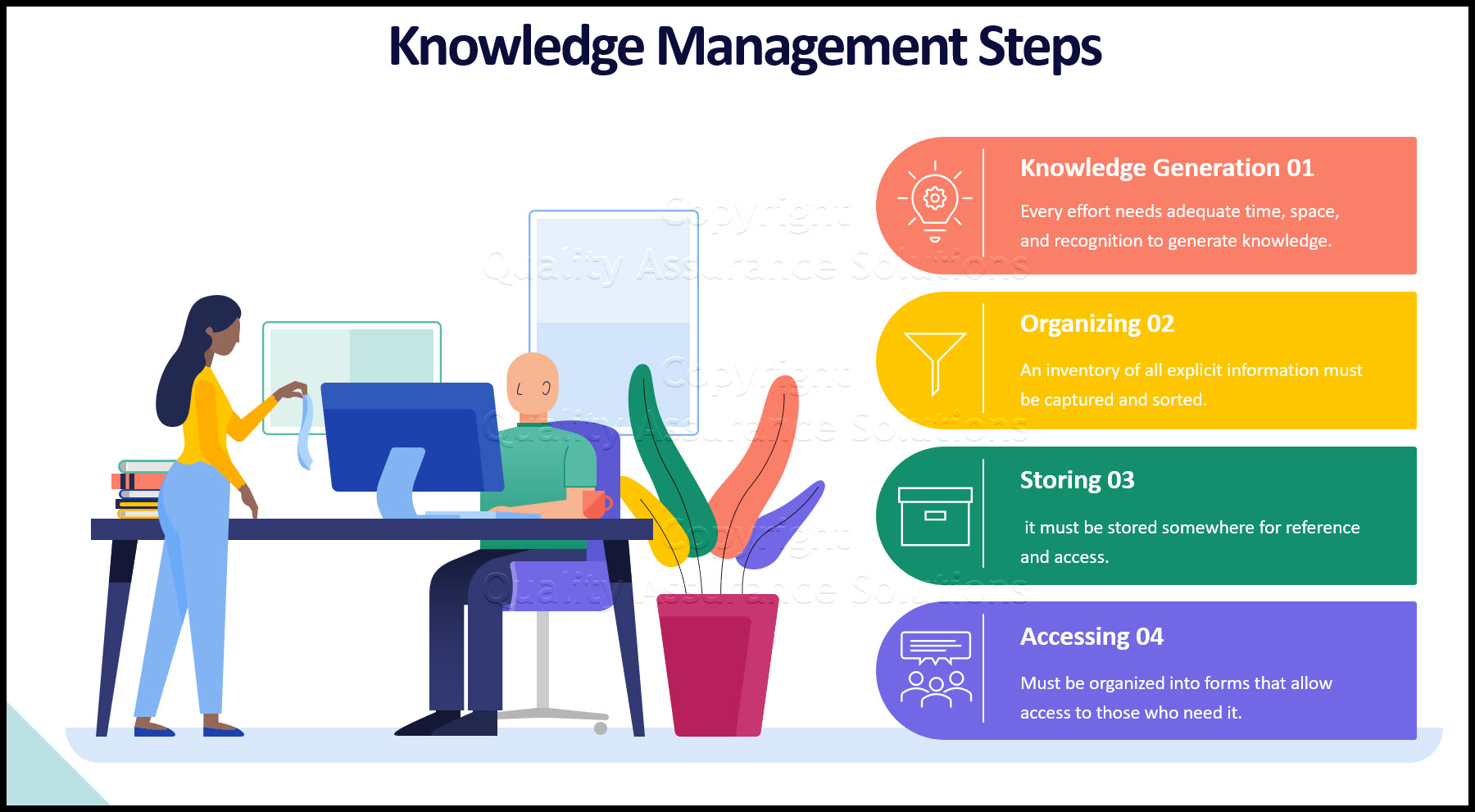 In his article Planning for Knowledge Management, William Shockley defines knowledge management as the collective knowledge (including skills, data, and information) of an organization. Adrian Ward provides a categorization of the internal and external factors that compose knowledge management.

This Information Is Presented Below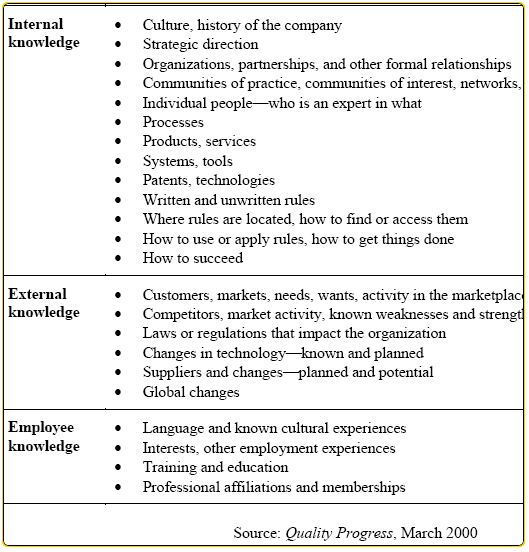 Your ISO 9001:2015 Kit includes Templates, QA Manual, Implementation Guide and a Gap Assessment Internal Audit Tool for ISO 9001:2015
Below Are The 4 Steps Of Planning For Knowledge Management
1- Knowledge Generation
Organizations acquires knowledge in a variety of forms. In the book Working Knowledge, Thomas H. Davenport and Laurence Prusak categorize knowledge generation into the following five methods:
Acquisition. Buy out organizations or hire individuals who possess the requisite knowledge. This is a rather nebulous approach, because it's nearly impossible to establish a value for knowledge. In the case of an organizational buy-out, some of the most critical knowledge may not transfer with the sale.
Dedicated resources. Establish units or groups to generate knowledge, such as research and development departments.
Fusion. Bring together people with different knowledge and experience to work on a problem or project and arrive at a solution. Davenport and Prusak suggest that these sessions create spillover effects that support organizational memory, provide skill variety, and promulgate an attitude of wisdom. Although effective, this is a time-consuming endeavor.
Adaptation. Change is often hastened by a crisis. Some organizations create artificial crises to fuel innovation. The most adaptive resources are employees who can acquire new knowledge and skills.
Knowledge networking. Informal, self-organizing networks within organizations share expertise and solve problems together. For instance, new technologies may be adopted by initial users and then passed along the network.
Without documentation (paper, electronic, or magnetic), the knowledge created may quickly dissipate and be lost. Regardless of the methodology, every effort needs adequate time, space, and recognition to generate knowledge. The space can be laboratories, libraries, or meetings. Without recognition that knowledge generation is a critical activity, knowledge may stagnate and the firm will be outstripped by brighter competitors.


8D Manager Software with 8D, 9D, 5Y and 4M report generator. Your corrective action software for managing, measuring, and reporting issues.

2- Organizing
Organizing knowledge begins by gathering all of the available information. Explicit knowledge will already have some organizational structure, but it may be buried in various functions dispersed throughout the company. An inventory of all explicit information must be captured and sorted.
When this is accomplished, like information can be grouped together and redundant, outdated, or otherwise valueless information can be purged. This makes finding the valuable information less cumbersome.
When planning for knowledge management, tacit knowledge is a greater challenge to organize. Intuitive approaches can't easily be distilled into step-by-step processes. For this reason, it's critical to determine where the rich knowledge deposits lie so they can be surfaced and organized. 
3- Storing

Once information has been collected, it must be stored somewhere for reference and access. So when planning for knowledge management, storage systems can be physical or electronic.
The most common physical storage systems are filing cabinets, index cards, and notebooks. A library can be established to house physical filing systems or information stored in books, magazines, files, films, and other research materials.
Electronic storage systems require computer hardware and software. Information can be stored on a database, and any information that has broad application should be available through a company network for ease of access. Documented information can be entered manually or scanned in. 

Your ISO 9001:2015 Kit includes Templates, QA Manual, Implementation Guide and a Gap Assessment Internal Audit Tool for ISO 9001:2015
4- Accessing
It isn't necessary to codify all corporate knowledge. Relevance is the key issue. During the planning for knowledge management, the organization should first determine the potential uses for the information and then prioritize the knowledge codification process in order of importance and impact.
Data and information must be organized into forms that allow access to those who need it. In organizations, knowledge may be converted into codes (codified) so it is explicit, convenient, and easy to understand.
Davenport and Prusak suggest that to successfully codify knowledge, companies should consider the following four principles:
 
Managers must decide the business goals for the codified knowledge. (For example, firms whose strategic intent involves getting closer to the customer may choose to codify customer knowledge.)
Managers must be able to identify the knowledge existing in various forms appropriate to reaching those goals.
Knowledge managers must evaluate knowledge for usefulness and appropriateness for codification.
Codifiers must identify an appropriate medium for the codification and distribution.

TrainingKeeper Software. Keep, organize and plan all your employees' training and activities. Software includes multi-user support with reports, certs, and calendars.

The Knowledge Map
Tacit knowledge is nearly impossible to codify. However, a knowledge map points seekers in the right direction. The map can be a floor plan with names and competencies or a database that lists everyone in the company along with their skills, experience, job description, and interests.
During planning for knowledge management, one develops knowledge maps in a number of ways. All of the employees in an organization have their own expertise and research methods. Survey or interview the employees and then patch their individual maps together creates an organizational knowledge map. Another method includes following a trail of knowledge sources. Start with the recommended source and then follow up with people they suggest. Through the process, catalog each source's areas of expertise and relevant information along with their contact information.
The critical factor is locating the knowledge and then publishing where to find it. This saves time tracking down resources and serves as an inventory of corporate knowledge.
Making tacit knowledge available when the source is not can be difficult. In addition to a knowledge map, institute a mentoring or apprenticeship program so all of the knowledge isn't concentrated in one individual.
Planning for Knowledge Mgmt

Quality Assurance Solutions
Robert Broughton
(805) 419-3344
USA
email