ISO: 9001-2015 New High Level Structure - Future Format of ISO Standards
by Praveen Kumar
(Rewari, Haryana, India)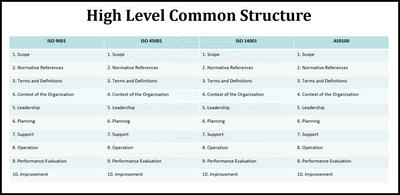 Do you know, A recent change in ISO 9001-2015 is happening in ISO standards. ISO realized the importance of commonization and similarity among various standards to effectively implement for an organization.
That's why a new High Level Structure is defined by the ISO and recent chnages started from ISO: 9001-2015 standard as a basic fundamental standard for all standards.

ISO:9001-2015 standard will be common to ISO:14001 standard and then OHSAS: 18001-2007 standard. These will be structured on a common platform as below:

1. Scope
2. Normative Reference
3. Terms and definitions
4. Context of the organization
5. Leadership
6. Planning
7. Support
8. Operation
9. Performance evaluation
10.Improvement

This high level structure will be used for better integration and similarity among standards such as ISO:9001-2015, ISO:14001-2004 in first stage & OHSAS: 18001 on later stage.
This not only support organization to implement a better QMS within their organization but also reduce the stress, workload of MRs within organization as it will reduce paper work and comonize many aspects.