5S Slogans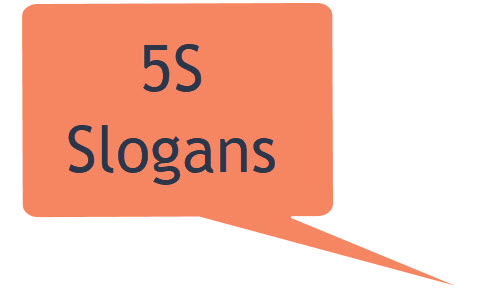 Below we list popular 5S Slogans in English. 
General 5S Mottos
Do your best, follow 5S
5S begins with removing excess
Never rest with 5S
We request, please follow 5S
One goal, one passion 5S
World shines with sunrise Your (Company name) shines with 5S
5S practice is a Good beginning Never ending practice.
Everyday is 5S day
Good factories develop beginning with the 5S's; bad factories fall apart beginning with the 5S's.
Don't guess, 5S
Get Lean, Get Mean, 5S it.



StreamLiner is Project Management software that drives your team's Lean and Continuous Improvement activities.

5S themes without mentioning 5S
Clean - The Clever Way
A place for Everything, Everything in its Place
Think Different, Think Clean
A place for everything and everything in its place, clean and ready for use
To get things right to the right place at the right time, the first time, while minimizing waste and being open to change

5S statements with methods
Sort, Sparkle, Store, Standardise, Sustain
Seiri now, Seitong now, Seiso now
Sort - what's needed, what's not, Set - locations for tools, information etc., Shine - Clean everything, Standardise - Implement standard routines, Sustain - Monitor & Improve.
CAN DO - Cleanliness, Arrangement, Neatness, Discipline, Order

Click here to learn about 5S project software, StreamLiner

---
---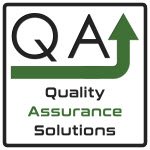 Quality Assurance Solutions
Robert Broughton
(805) 419-3344
USA
email