Free Monthly Attendance Sheet
This article discusses our free monthly attendance sheet which you can download by filling in the below QA Solutions Free E-zine form. It also discusses using TrainingKeeper Software for a better and easier to use solution to tracking attendance activities.

To meet customer commitments and to satisfy production schedules, a business expects an employee to be reliable, and to be punctual in reporting for scheduled work. Once determining one's particular work schedule, the company expects one to be at work on time and to work the scheduled full number of hours . Everyone must assume this responsibility, in fairness to co-workers and clients.
To track attendance, your company can use Quality Assurance Solutions' free monthly attendance sheet. Sign up below!

Some positions require that an employee be at his / her workstation during a specified time frame. In such cases, being at one's workstation during this time is an essential function of one's job. Other positions simply require the production or completion of certain assignments to meet a deadline, but there can be flexibility as to when and where they produce their work.

Notification
Absenteeism and tardiness place a burden on other employees and on the company. Poor attendance and excessive tardiness are disruptive!
In the event that an employee cannot avoid being late to work or unable to work as scheduled, one should notify one's manager directly, not via voice mail or email. Notify as soon as possible, in advance of the anticipated tardiness or absence, in order to give the manager as much time as possible. Make the notification verbal. This lets management potentially juggle personnel to provide coverage.
Upon notification, management updates the monthly attendance sheet.
Performance Ranking
Unapproved excessive absence and / or tardiness feed into performance evaluations. This then feeds into the employee ranking process scores. 
This also ties in to the employee compensation planning methodologies. Ranking ensures the company rewards and retains their best and most reliable people. Ranking legally justifies, in a time of economic downturn or in the case of excessive unapproved absence, how the company let go personnel.

Free Monthly Attendance Sheet
Our customizable monthly attendance sheet easily adapts to literally any business type. Most of all, there is no waiting! This tool will be available via download after signing up for our free QA Solution E-zine. You could be utilizing it in a matter of minutes.
It comes with completed examples and totally hidden-formula driven.
Highlights:
This document comprehends time-off for:
vacation
floating holiday
Christmas or special recognition
illness
excused absence
unexcused absence
tardiness
hire date
vacation eligibility
floating holiday eligibility
extra time-off approved at Christmas or for special recognition eligibility
comments
provides running totals of what has been spent and what is still available.
It is set-up with a worksheet for each individual, and includes the master template and example employees with example entered activity
TrainingKeeper
A better solution to tracking attendance activity is to use TrainingKeeper software. TrainingKeeper lets you track training and any employee activity you desire. You can set up an activity for attendance. Then setup any type of attendance issues. As employees encounter attendance issues, you can quickly enter the data into TrainingKeeper.
Instead of separate worksheets for each employee, which can become cumbersome, all the data is centralized in TrainingKeeper. No need to find an employee worksheet, just enter the data in the main screen and TrainingKeeper does the rest. Plus you can generate pictorial calendars and more reports that show attendance.

---
---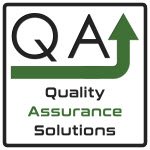 Quality Assurance Solutions
Robert Broughton
(805) 419-3344
USA
email