Document Control Starts with Well Define Procedures
by Marcy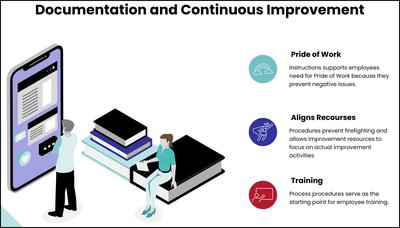 The vast majority of people like to take pride in their work. And so it is best to assume that a person who has been assigned to a production job has the desire and ability to do well. (ie... produce A LOT of GOOD product.) So a critical step of quality control is to provide the documented instructions as to how to perform the tasks required.

Without the complete (or at least sufficient) information being provided to the shop floor, resources that should be used for process improvement get tied up in fighting constant fires of tools not getting started. Then crashing when they do and being down for longer than necessary. But that downtime may actually be a blessing. Because it is also all too common for a machine to spend hours producing scrap because the operators do not know what the their product specifications are. Which includes documented defect criteria. Or perhaps the operator uses the wrong incoming material because "it is there". Irregardless of whether or not it is the "correct material".

Without well defined and documented procedures it can appear as if "it is just too hard to get good employees" when orders don't ship on time. Or worse, get returned for quality issues. And failure to recognize this documentation as critical can allow for efforts meant to improve quality (and quantity) to take the form of corrective action on the employees.

Workers will usually be the first ones to realize that they do not have what they need to be successful. Feeling as if they are set up to fail, they are robbed of the feeling of taking pride in their work. They will become frustrated. Until they either move on or become the poor workers that the work environment is dictating. And no longer caring, they tend to do just enough to ensure they keep getting a paycheck. Even the best workers after enough "corrections" begin to degrade into poor workers with bad attitudes.

With that said, it is also a reality that the occasional difficult person may slip through the hiring process. But with properly documented procedures in place it is possible to eliminate all other parts of the process and know that the issue is of the human element. Then the documentation serves as a starting point for improved training. Or if need be, for justification of supervisory and possibly HR involvement. Of those options, from a quality technicians point of view, the improvement of documentation and training to that documentation is where efforts need to be focused.
Join in and write your own page! It's easy to do. How? Simply click here to return to Quality Discussion Forum.